Gold – any more upside?
Friday, 5/18/2007 18:34
Beyond the sound & fury, gold keeps getting stronger vs. government money...
WALL STREET says the bull market in gold is off. Dealers are bearish, too. Bullion has "underperformed" in the last six months, says David Gornall at Natexis.
"For long-term money, there doesn't seem to be too much more for the upside."

So no wonder private investors are selling out, too.

"We broke through major support levels, and there was also follow-through liquidation from the ETFs," said another dealer to Reuters this week. The world's largest exchange-traded gold fund, StreetTracks GLD had already sold 8 tonnes of bullion on the Wednesday alone as investors quit the trust.

Total redemptions in the last month tot redemptions have now forced the sale of 6% of GLD's gold. But "the funds' selling is not done yet," reckons Wallace Ng, chief trader at Fortis Bank in Hong Kong. "Gold might continue to weaken."

Ng puts a floor under this move at $652 per ounce. Standard Bank is more bearish still. "The next key support to look to lies at the $650 level," it warns, "with a break lower suggesting another move lower toward the 200-day moving average currently around $635."

Wow – what a great market to sell short! And what a funny market, too. For beyond the sound and fury, gold just recorded its highest-ever monthly average in Dollars...four bucks above the top of last spring at an all-time high of $679 per ounce...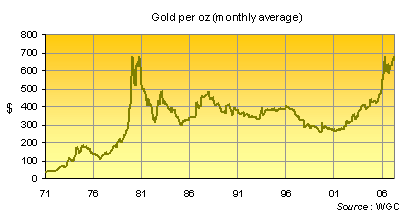 Versus the Pound Sterling, darling currency of central-bank managers everywhere, gold hasn't been this strong since its own all-time record of May 2006...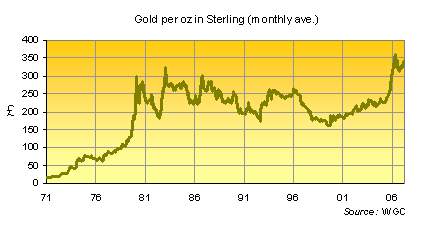 In fact, if you look at gold priced on a 90-day time-frame – short enough for hedge fund traders to bear, but long enough for the mass of private investment cash, too – you can see gold hitting new highs almost right across the board...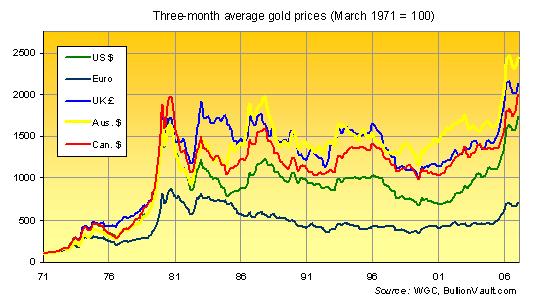 The only exception is the Euro price of gold bullion. But even for Frankfurt gold traders, the metal finished last month with its best 90-day period in 26 years.

The South African Rand has never been weaker against gold across any rolling 3-month period. Nor has the Canadian Dollar or Indian Rupee. And if you were wondering whether the Japanese Yen can go any lower from here, the answer is yes – measured against gold, at least...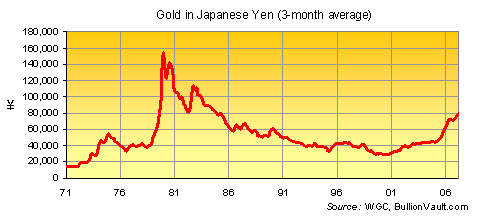 Gold priced in Yen hasn't traded this high in 22 years. But the Japanese currency would have to halve in value again to hit an all-time record low versus the metal.

Could that happen? Be warned – if you ignore the sound and fury for too long, you might see gold going higher against all government money today.

You might see its six-year bull market rolling on in the long-term. You might even see this week's 5% setback in gold as a great chance to buy cheap!
(NOTE: If you'd like to buy gold at what might prove a discount, be sure to save on dealing spreads and storage costs too. You might also welcome a free gram of pure gold stored on behalf right now in Zurich, Switzerland...compliments of www.BullionVault.com – click for full details now...)