Gold: Technical Support at 200-Day Average?
Wednesday, 6/18/2008 12:20
Technical analysts at UBS point to strong support at the 200-day moving average...

IS THE GOLD PRICE about to shoot higher by 50% or more?
Big institutional players in the New York futures market slashed their bullish betting on Gold in the week to June 10th.
Data from the CFTC – the US regulator – shows a net reduction of 11% in the long gold positions held by what it calls "large speculators". And this "reduction in the gross longs maybe a further sign that Gold is losing its attraction," reckon analysts at UBS, the Swiss banking and wealth management giant.
But less pressure from large investment funds, could alternatively, show more froth coming off the Gold Market since it shot 54% higher in the seven months to mid-March.
Topping out at a new all-time record above $1,032 per ounce just as the Federal Reserve lent $29 billion to support J.P.Morgan's fire-sale purchase of Bear Stearns, the Gold Price has gone on to drop 15% of its value against the Dollar.
Versus the Euro and British Pound, the loss has been just as dramatic. But looking at the technical action on its charts of the Gold Price, "any meaningful bounce from the 200- day moving average could bring back a lot of money into gold," the UBS comment goes on.
That's what "happened last year," it adds.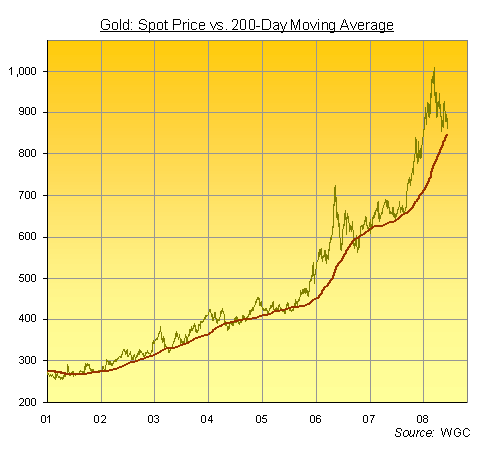 The 200-day moving average, as the name says, measures the average
price of an asset over the last two hundred days. It's called "moving"
because, as time rolls ever onwards, so too does the average – used by
chart-loving technical analysts to see what the deeper, underlying
trend is up to.
And why 200 days? Because that's roughly the number of trading days
during one year. So the chart here, therefore, shows both the daily
Gold Price as well as its 12-month trend. And you can see how the
200-day average has indeed acted as "strong support" during the bull
market so far.
Well, kind of. Most of the time.
Nine times since Gold quit its 20-year bear market in 2001, the price
has either bounced off or moved sharply higher through its 200-day
average. The following surge – lasting an average of 21 weeks –
delivered a 28% gain before the price of gold tipped lower again, back
towards that ever rising up-trend.
The leap starting in late Sept. last year was the most spectacular, as
UBS notes. By the top of 17 March 2008, the Gold Price moved some 54%
higher. Might that happen again now?
Two points to note if you're chasing the bull market in gold for short-term gains to shoot out the lights:

Summer Lull – as the chart shows, Gold typically moves flat to lower
during the middle four months of the year. And even as the global
banking crisis hit in August 2007, a hugely bullish event for Gold's
Safe Haven Appeal, it still took another six weeks before gold started
to vault higher;

Pre-Empting the Bounce – prior to last year's jump – sparked by the US
Federal Reserve slashing the cost of borrowing below the rate of
consumer-price inflation – the Gold Price had dipped below its 200-day
average seven times during this bull market so far.
Buy Gold now, in other words, and a keen market timer might well have
to endure a further drop first, even if the apparent magic of the
200-day average does come good once again.
But with the 200-day moving average now just above the $850 level,
longer-term investors who've been considering a purchase – but were put
off the huge volatility of 2008 to date – might want to stop waiting around. Precisely because larger investors are sitting it out, and precisely because technical analysts like the UBS team are pointing to a possible dip before advising you buy.
You see, that price of $850 marked the bottom of gold's fast & furious
sell-off in March. It was also the previous bull market's top, hit just
as Soviet tanks rolled into Afghanistan on 21 Jan. 1980. So a return to prices below that level might actually signal a longer term drop. If the price is to push higher from here instead, a drop below $850 might be a long time in coming.
Hanging on for another pullback from today's current Gold Price and so trying to nick a little extra off your investment outlay might prove
expensive, in short. If you're looking to take a position in Gold for longer-term
or deeper fundamental reasons, the kind of low-profile flat action we're seeing this June could offer your best chance to get in.
Just ask anyone who tried to wait for a
pullback once the last surge in Gold Prices had started in Sept. '07.