How Volatile are Gold Prices?
Friday, 9/02/2011 19:09
Many commentators have been waxing lyrical about gold's volatility. The numbers tell a different story...
JUDGING BY the newspaper and online headlines, you'd think Gold Prices had just gone through the most almighty and turbulent summer, writes Ben Traynor at BullionVault.
Yet volatility is running nowhere near the levels hit when Lehmans collapsed in late 2008.
Back then you had daily price swings – taken as the difference between the PM London Fix price one day to the next – coming in above 4%...above 5%...and, on two occasions (18 Sep. and 24 Nov.) even over 6%. In a single day.
The biggest one-day move of summer 2011 – the 5.6% between August 23 and 24 – was, granted, a biggy. Also of note was the 3.4% move two days later as the price recovered.
But these were exceptions. You have to go back to the first week of October 2009 for another move larger than 3%. And, of course, these are one day moves. Some days are exceptional – they do not, of themselves, confirm a trend.
To see the picture more clearly, take a look at daily volatility smoothed out as a rolling one-month average: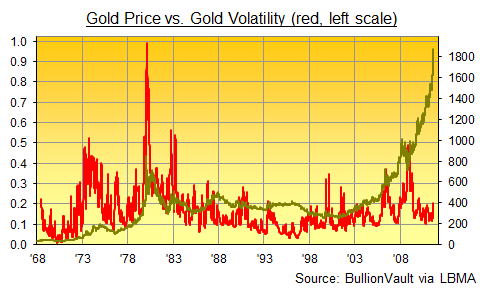 Barely a ripple compared to post-Lehmans – and positively comatose next to the frantic days of gold's last bull market in the 1970s.
What about the year-on-year change in Gold Prices? Gold has gained nearly 50% since this time last year – a belter of a return in anyone's book. But does this automatically make gold a volatile bubble?
Gold's Z-score – a measure of how big a given move is compared to historical averages – suggests not. Going back to 1968 – the year the London gold market began setting its prices in Dollars – daily Gold Prices in that currency have, on average, been just under 12% above where they were one year previously (there have obviously been some downwards move, but the net effect is a positive upwards trend).
The standard deviation of these percentage gains – a measure of how much 'spread' there is around the mean average – comes out at around 29. So a 50% move is not insubstantial. But neither is it as big a deal as you might think.
Crunching the numbers, gold's current Z-score (that 50% move, minus the average, all divided by the standard deviation), comes in around 1.3 – way below what it hit at gold's last peak: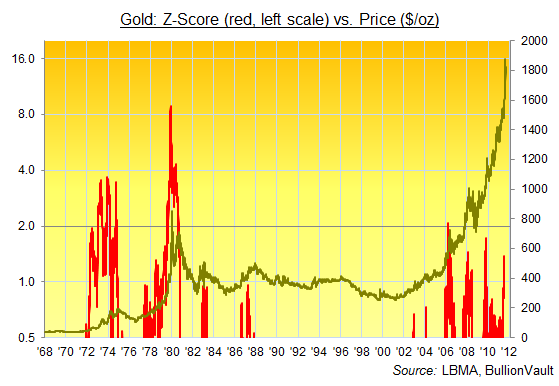 Lessons from recent asset bubbles suggest the Z-score will need to hit at least 2.0 to qualify for that category – and even that doesn't mean an imminent 'pop' (a fuller discussion of the Z-score - including how it relates to this year's run up and subsequent fall in Silver Prices – can be found here).
None of this is to say we won't encounter choppier waters ahead. The months of September and October have historically thrown up some nasty financial surprises – witness the Panic of October 1907, the Wall Street Crash in October 1929, Black Monday in, erm, October 1987, or indeed the Lehmans collapse of September 2008.
But the current news flow suggests there's a substantial chance any fresh calamity will serve to further erode investor confidence – and see Gold Prices head higher as even more people look for a safe haven.
A portfolio allocation of zero percent to gold would – in the current environment – suggest an investor who is intensely relaxed about the clear and present risks out there.
Get the safest gold at the lowest prices with BullionVault…