Gold: Supply vs. inflation
Thursday, 9/27/2007 17:12
Gold is being squeezed higher by lagging gold-mining supply & soaring inflation of the world's money supply...

SPOT GOLD PRICES have been on a roller-coaster ride since peaking at $740 per ounce last Friday, a 27-year high.
Bouncing its head on $736 per ounce three times already this week, the Gold Price pulled back 1.6% from that level during Monday and Tuesday...followed by a 1.2% pull-back on Wednesday...and a 0.8% drop on Thursday.
So where next for gold and, by extension, the value of gold-tracking trust funds such as StreetTracks GLD...now holding more gold bullion than the Bank of Japan? (Clients of BullionVault now hold more gold than the Bank of Canada. Unlike GLD shareholders, they also own gold outright, with full legal title and for minimal fees...)
Will the Gold Price break $736 before Friday ends and deliver its sixth weekly gain running? Or will the fourth time prove charmless?
"We think after the large run we have seen since mid-August that a correction looks likely," says John Reade, head of precious metals analysis at UBS in London, "especially in light of the large net-long positions held in US futures market."
Reade advised clients on Wednesday to switch out of gold and into platinum, pointing to the heavy build-up in speculative positions in Comex gold futures. They now represent a net-long investment equal to 545 tonnes of Gold Bullion.
Net long positions held by speculative Comex traders were barely half that size prior to the 12% surge in Gold Prices starting in mid-August – the very day the US Federal Reserve began slashing its interest rates. And while the build-up in Comex longs might point to a near-term top, the Fed continues to pump extra liquidity into the New York money markets.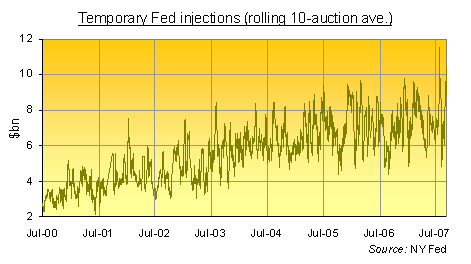 The Fed's counterparts in Frankfurt are doing the same, and even the Bank of England is now offering short-term loans – and agreeing to accept mortgage-backed bonds as collateral – in an unprecedented series of auctions that both reverse the Old Lady's previous tough stance and that look highly pressured by the inept and amateurish UK Treasury.
"Investors have to look for assets which cannot multiply as fast as the pace at which the Fed prints money," said Dr.Marc Faber, editor of the Gloom, Boom & Doom report, at a CLSA conference in Hong Kong late last week. He advises Buying Gold and agricultural land as a defense. And while they're certainly not making any more of the latter, the world's supply of Gold Bullion is also "facing headwinds" as the Toronto Globe & Mail reports.
Speaking at the Denver Gold Forum, president and CEO of Newmont Mining – the world's second largest gold mining company – Richard O'Brien said Wednesday that his total production costs are set to rise above his previous guidance of $400 per ounce.
Newmont's stock dropped 7% on heavy trading on the news. But the greater problem for the gold mining industry remains the lack of significant new finds.
BHP Billiton, the world's largest diversified mining group, was rumored at the start of this week to have found a huge "elephant deposit" at its Olympic Dam mine in southern Australia. BHP itself, however, yesterday upgraded reserve estimates for Olympic Dam by less than 10%.
"Year on year, we believe the industry is struggling for growth," Newmont's O'Brien went on in his presentation. "In fact we believe the industry is probably not growing. That is, there is a lack of growth in production."
Barrick Gold, the world's largest gold producer, also told Denver delegates this week that its cash-costs are rising. Third-quarter mining costs will be the highest so far in 2007, warned vice-president of investor relations Deni Nicoski, driven by Barrick's recent buy-out of Placer Dome and current mine-stripping expenses.
Ironically, the surging Gold Price is also adding to Barrick's costs, he added, as it increases royalty fees.
"No doubt it is getting harder to replace reserves and resources at mature properties," added senior vice-president Alex Davidson – a hard fact of world gold-mining right now, not least given the sector's own view of where the Gold Price is headed.
"I think before the end of the year we'll see $800," Barrick's CEO Greg Wilkins told reporters in Denver yesterday.
On the other side of the trade, meantime, that historic auction of three-month money at the Bank of England actually met with zero demand on Wednesday. Charging a "penalty rate" of 6.75% annualized, fully 100 points above the BoE's main base rate, the auction failed to find any takers at all.
"It's clearly good news," reckons Ben Broadbent of Goldman Sachs, because it implies that everyone now seeking short-term funds in London is judged to be credit-worthy by their open-market lenders. Indeed, the City's three-month interbank lending rates pulled back sharply on the news, dropping to 6.32%.
No more Northern Rocks hiding here, right?
But does the lack of bids really mean London's banks are happily getting the cash they need inside the Square Mile? The US Fed added another $5 billion in short-term liquidity to the New York market on Thursday; that took the sum total lent in Sept. so far above $198 billion. Most of these loans were overnight only, but London banks applying through their US subsidiaries could have picked up Thursday's offer of 14-day cash more than 150 basis points below the Bank of England's penalty rate.
London banks were doing exactly this in Frankfurt earlier this month, according to a report in the Financial Times Deutschland. And on Wednesday this week – just as the Bank of England's auction at 6.75% was deserted – the European Central Bank lent €3.9 billion ($5.5bn) at a rate of 5%, its largest one-day auction in nearly three years.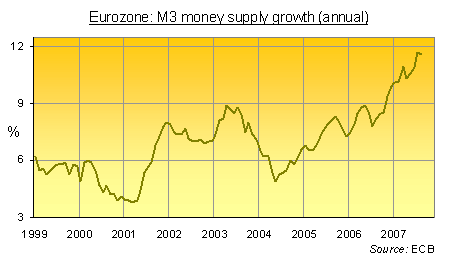 Priced fully 100 points above the ECB's key target interest rate, that auction still came at a 1.75% discount to the Old Lady's short-term loans. Nor has the ECB said which banks asked for the money, leaving analysts to guess who might still need a helping hand from the official sector because they're struggling to raise funds in the open market – whether in London or Europe.
"No-one knows where the bodies are buried," says Stuart Thomson, manager of $46 billion in bonds at Resolution Investment. And for as long as the Bank of England holds its penalty rate 1.75% above the equivalent charge in Frankfurt, then the Old Lady's auction room will remain empty.
Accepting help at the highest price charged by G5 central banks would be a sure admission of impending doom. Just look what it did to Northern Rock!
As for Dr. Marc Faber, "he recommends holding physical Gold Bullion in gold-friendly countries such as Hong Kong, India and Switzerland," reports Finance Asia magazine. "He counsels against holding gold in the US for fear that it might be nationalized by the government."
Choose to Buy Gold at BullionVault today – outright, in your name alone – and you can select Zurich, Switzerland for secure storage of your personal property.
To open a no-obligation account now, and to begin your Gold Bullion Investment with a complimentary gram of gold vaulted in Zurich, click here and read on...