Gold: Over-Owned or Over-Reported?
Thursday, 7/08/2010 10:53
More journalists than potential buyers pack the Gold Investment market right now...

DID YOU HEAR about the giant Gold Coin auctioned in Austria in June?
But of course you did! And courtesy of Bloomberg if not CBS, the Daily Mail, BBC, BusinessWeek, USAToday, France24, Vancouver Sun, Wall Street Journal, Financial Times, Daily Telegraph, San Fran' Chronicle, Khaleej Times or The Australian...
You couldn't kick the cat for tripping over this story. Which is more than can be said for bidders missing the auction.
Not even the final buyer turned up. Madrid's Oro Direct sent a written bid instead.
"There were no counter offers," as Reuters let slip, "in an auction room packed with more journalists than potential buyers."
Still, it made good copy. Or it would have done, if only the story had gone to plan. Because the 100-kilo Gold Coin – one of only five $1m Canadian Maple Leafs ever produced by the Royal Canadian Mint – sold for just melt value (€3.27m), rather than the 28% premium touted to the financial pages by the auctioneer's advisors.
But hey, let's ignore the facts. Just feel the frenzy! There's a crazy gold rush going on. Everyone agrees! Or at least, everyone in the financial media.
Search-busting finance site Finance.Yahoo, for instance, now quotes the latest Gold Futures prices in its Market Summary box, right there on the homepage, next to the Dow, S&P, crude oil contracts, and 10-year Treasury-bond yields. Reuters' homepage also features Gold Investment stories whenever it can, putting news of a $2 rally in wholesale prices second-only on Tuesday morning to the Nikkei hitting 7-month lows, and ahead of crude oil's drop to 4-week lows "on economic pessimism."
So never mind that Reuters' gold piece didn't feature in the top 10 either shared or viewed stories. No matter that – up there at the top – "Jessica Simpson" continued trending on Yahoo searches, as did poor Lindsay Lohan...with Bruce Willis and his new cologne now hot on her heels, and Orlando Bloom's Hugo Boss contract not far behind.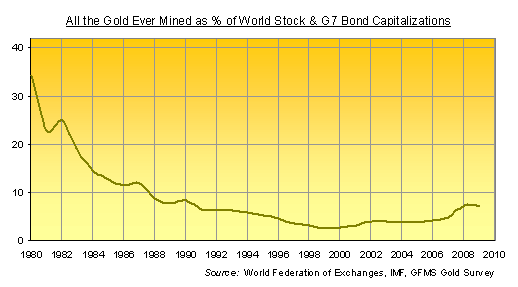 See, humanity isn't fixated on celebrity, oh no. It's actually been filling its boots with Gold Bars and coins instead...a sure sign of global financial panic and thus a clanging bell that the top must be in.
Gold is over-owned, not over-reported. Saturation is here! Those guys shouting "Bubble!" at the Wall Street Journal and the Sydney Morning Herald...they're smart contrarians, not jobbing hacks simply pitching for this year's "Phil Space" award. Oh sure, they didn't call gold when it hit 20-year lows a decade ago. But they can spot a bubble when they see one. Right?
"Gold Investment is very visible, but expression is low," said John Levin, HSBC's head precious metals trader in London, at the FT's Silver Conference in the City last month.
On a show of hands from the audience – some 100-odd delegates (and some were very odd) – less than half owned or were invested in precious metals. And that was amongst the most qualified sample of the world's population you could wish for...an institutional precious metals conference in the City of London, heart of the world's professional bullion market.
"We're only now seeing big money accounts," he said, "true investment...portfolio allocations seeking gold and silver in a secure location, where they can just put it to bed."
"We're almost at the beginning of the real run," Levin added, inviting delegates to ask their friends, family and acquaintances just how much gold and silver they'd rushed into lately when next they met.
Put down your iPad, newspaper or TV remote, perhaps...and try doing the same.
Gold Investment now simple, secure and cost-effective at world No.1 BullionVault...