Gold's Inflation Bogey, Part II
Sunday, 1/31/2010 17:19
It isn't rocket surgery. Gold appeals – and thus rises – when the better alternatives don't...


DURING THE 1980s and '90s, when US consumer prices rose at what would have been a record rate of inflation if it hadn't been for the 1970s, the Gold Price fell by three-quarters, writes Adrian Ash at BullionVault.
Peering back at the recent past therefore, analysts and economists all agree:
When looking for a sure-fire "inflation hedge", you surely won't find it in gold.
Thing is, however, US investors and savers didn't need an inflation hedge back in the 1980s and '90s. Not in Gold, at least. Because the better alternatives – productive assets such as real estate and stocks...or the "risk-free" assets of cash, Treasuries and investment-grade bonds – all paid way more than inflation anyway.
Who needs a lump of dumb metal if just holding cash pays 4.5% real returns each year on average, as it did in the '80s?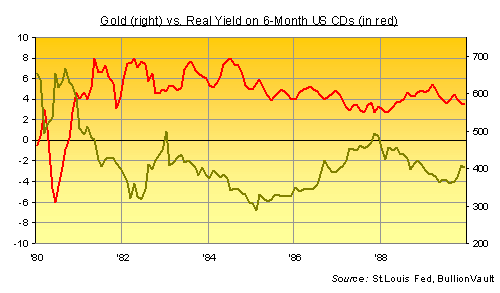 Why bury your savings in a rare, deeply liquid but unyielding asset when stocks keep rising by one-fifth per year – and paying a 2.4% yield each year on top – as they did in the '90s...?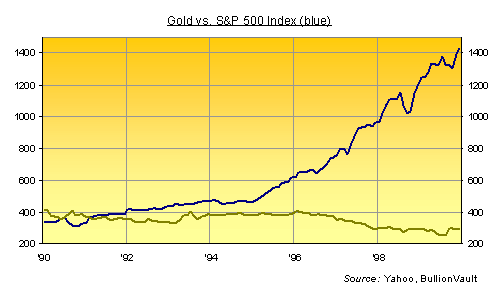 And why buy and hold anything else when stocks, cash, bonds and property all fail together, as they have so far this century...?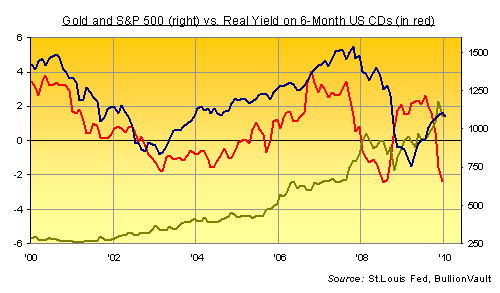 It isn't rocket surgery. In two of the last four decades, people have twice turned to Buying Gold...pushing the price higher...when alternative stores of wealth failed at the task.
Whereas during the two intervening decades, gold wasn't required. Because you don't need an "inflation hedge" if cash-in-the-bank is paying 4.5% per year over and above the race of increase in consumer prices. And nor do you need a "safe haven" when stocks keep rising by 20% per annum.
Whereas today? Decide your outlook for the major alternatives – meaning cash and stocks, but also real estate and, perhaps most critically in our world of record government debt issuance, bonds – and you might just work out whether you need reliably rare, indestructible gold in 2010 and beyond.