Gold's Record-Breaking May
Thursday, 6/03/2010 16:20
What do May's new closing highs for gold mean for investors in 2010...?

IT'S PRETTY RARE for gold to make a new monthly high for the year in May, let alone for all time.
But when it does (or so history suggests), new buyers might expect better-still prices come Christmas – and gold in 2010 just happened to finish May with a new record monthly close against all major currencies bar the Japanese Yen and Australian Dollar.
Only 10 previous Mays since 1968 have finished with the best monthly close of the year-so-far. More typically, the "summer doldrums" had already begun, with prices peaking in March or April, before dipping or moving sideways and then picking up as autumn drew on.
After seven of those 10 previous May highs – all but one of which (1993) came during longer-term bull runs in gold – the Dollar gold price rose again to hit new month-end highs for the year by the end of December. Overall, the average year-end gain for May's buyers in those 10 years currently stands above 14.7%.
Note: That's skewed by the blow-out jump of 1979 – gold's final blow-out during its prior bull run – with a near-94% rise.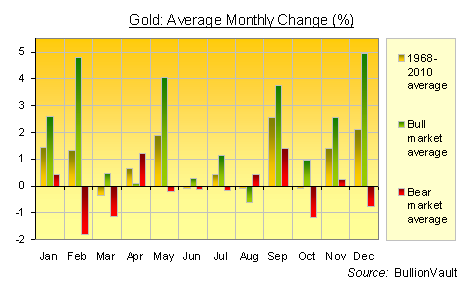 What with Bullion Vault users growing their privately-owned hoard above 20 tonnes of gold bullion last month – as well as German coin dealers being emptied, the US Mint enjoying a record month for Gold Eagles, and London's wholesale market having to cope with a one-day purchase of 30 tonnes by the SPDR Gold Trust – it's little surprise that May 2010 also finished with a new record high monthly close on Bullion Vault's Global Gold Index.
Beginning at 100 on 4th Jan. 2000, the GGI prices gold against a weighted basket of the world's top 10 currencies by GDP. The Global Gold Index thus removes currency noise and replaces it with a deeper "paper vs. metal" growl. It shows the (entirely notional) price of gold for those 2.5 billion people who account for over two-thirds of world economic activity...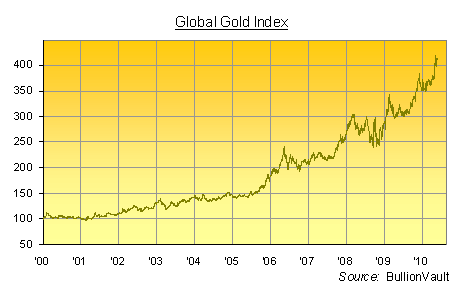 As you can see, the GGI doubled between Jan. 2000 and the start of 2006, and has since doubled again. Last month, the GGI rose 5.2% from the end of April 2010.
The constituent Gold Prices – in descending order of GDP weight in the index – are shown below next to their May 2010 gains.
| | |
| --- | --- |
| Gold priced in... | May 2010's % change |
| US Dollar | 2.4 |
| Euro | 10.4 |
| Chinese Yuan | 2.5 |
| Japanese Yen | -1.0 |
| British Pound | 8.5 |
| Russian Ruble | 7.6 |
| Brazilian Real | 8.1 |
| Canadian Dollar | 6.3 |
| Indian Rupee | 7.3 |
| Mexican Peso | 7.7 |
| Global Gold Index | 5.3 |
Most telling, perhaps, is that jump against the Euro. Long considered a serious challenger to the US Dollar's status as world currency No.1, the Euro is in fact the world's most heavily-issued currency...used by 330 million people across 16 of the world's richest nations...and accounting for around one-third of emerging-market central bank reserves.
If, like Iran today and Russia last month, those Asian central banks decide to reduce their Euro exposure, they'll no doubt raise their Dollar holdings. We'd expect them also to add a little more gold to their comparatively small stashes, too.
Buying Gold today...?