Making Gold Great Again
Thursday, 11/10/2016 18:40
Trump's victory already defied the biggest investment certainty before Tuesday's election...
The TRUMP BUMP in gold prices has vanished and more, writes Adrian Ash at BullionVault.
That might sound odd given the horror stories forecast for
The Donald
's rein at the White House.
But gold isn't only for ghouls, and seen against the surge in world stock markets – which looks odder still against the horror stories – its retreat simply reflects in miniature what the metal tends to do for investors longer-term, offsetting losses in equities but easing back when stock markets do well.
Zoom out and look at the last 12 months. Global equities on the MSCI World Index are basically flat. Eurozone shares stand 10% lower while Japan and China have done worse.
Gold priced in Dollars, in contrast, has meantime gained 18% – and that's a valuable counterweight, enabling investors holding gold to review and rebalance their other assets for the New Year ahead as 2017 approaches.
Yes, this year's strong upturn in physical precious metals demand has continued with the US election. Trading on BullionVault's online platform totalled £12.8m on Wednesday, the highest volume in gold and silver since Brexit Friday, 24 June, but barely one-third that record day thanks to lower levels of selling, even amid gold's price spike.
So net-net, BullionVault users have now added more gold to their holdings in the last week than during all of October, itself the fourth strongest month of the last 4 years.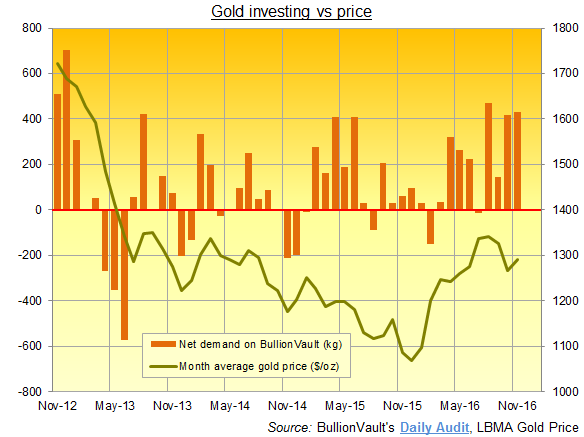 To date 2016 already marks the strongest year since 2012, with more than 2 tonnes added to client holdings to reach a fresh record at 36.7 tonnes.
So between them, BullionVault users worldwide now own more physical gold than all but 46 national central banks.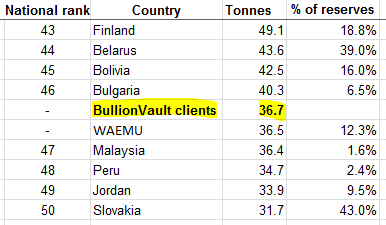 Early signs are that, despite the surge in world stock markets after Donald Trump's victory, gold's investment revival looks likely to roll on. Especially if prices ease further.
Web traffic from the US jumped 3 times on Wednesday above last month's daily average. BullionVault had more US visitors register an account than any day since December 2011. Whether or not all those investors now choose to fund their accounts and buy however, it's not just US citizens looking to add gold or silver to their investments.
So far in November, new account fundings globally are currently 116% ahead of the last 12 months' daily average. That average itself stands 52% higher from the previous 12 months, marking the strongest year of new buyers since 2013. So it's not just 'shock' headlines like Hillary Clinton being rumbled as unelectable by half of US voters that have driven this year's rebound in gold.
Brexit, the US election, Italy's
constitutional referendum
– these events aren't the reason for gold's 25% recovery in 2016. They just give a focus to the underlying switch in the political, financial and investment backdrop. And while the gold price is down from Trump's election spike, and still further below its post-Brexit peak at $1375 per ounce, private investors clearly think something is up.
Looking ahead, America's new anti-government Government has a lot to deliver if Donald Trump isn't going to disappoint his supporters. (The UK faces a worse challenge in making "Brexit mean Brexit"; at least Trump announced his shopping list of radical revisions.) The Republican Party's hatred of deficit spending might delay his policies progressing through Congress and the Senate. But the electoral imperative of making good on Trump's promises looks likely to beat that "default position" as Edward Harrison explains today on Credit Writedowns.
Put simply, delivering the policies already posted on Washington's newly official GreatAgain.gov website means there's a wall of money coming to defense, infrastructure, and through tax cuts.
No wonder Treasury bond prices are down, pushing the 10-year yield up through 2.00% today for the first time since January. Some pundits think broader inflation fears are also driving this flight of money from fixed-income. After all, German Bund prices have also fallen hard alongside pretty much all other major economy government debt.
But the 30-year Bund still pays less than 1% per year right now – a fresh all-time low when first reached at the start of 2015, and a level failing to threaten the 30-year yield's long-term downtrend just yet. Calling the three-decade bond bull market a bust looks a little premature so far.
An end to gold's 5-year price drop also remains pending, with the metal's 2011-2016 downtrend still very much in place as technical chart analysts have been quick to note after the Trump bump failed at $1336 per ounce. Other analysts and money managers note that the
jump in bond yields also hurts gold
. Because higher interest rates raise the opportunity cost of an unchanging, unyielding rock.
But what counts for gold however – besides the direction of typically better-paying investments in equities – is the real rate of interest and bond yields, after you account for inflation. With inflation ticking higher, but bond yields falling, that real rate fell to a 44-month low at last count, in September. It had turned sharply lower just as gold prices found their floor at 6-year lows last December.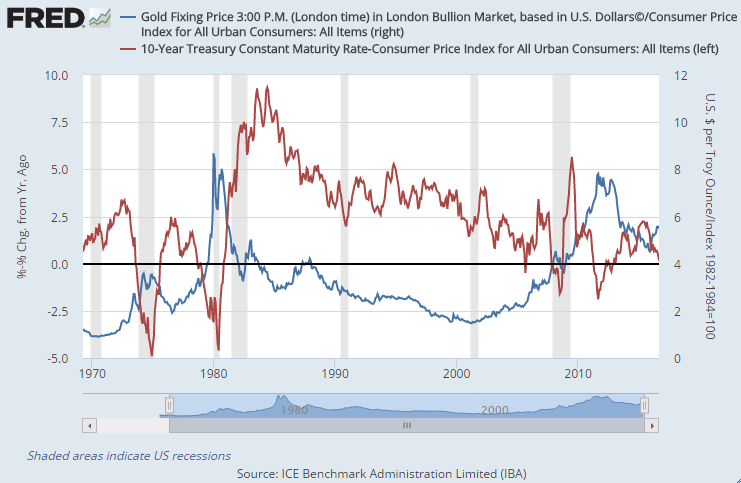 It's not something you can trade tick-by-tick of course. Nor is it the absolute level of real rates which mirror gold prices.
For inflation-adjusted bond yields, it's the
direction of travel that counts for gold
. That direction has pointed down all through 2016. Gold prices hit better than 2-year highs. And should the losses in bond prices turn into a sell-off, gold is likely to suffer only if inflation doesn't rise faster than bond yields. Or so the last 50-odd years of history and data suggest.
Still, "Now that
old certainties are gone
, what will take their place?" asks
The Economist
magazine oh-so-humbly of America's bright new dawn, having called it wrong both on Brexit and Trump in 2016.
For traders and investors, the biggest certainty to go so far is that Trump would be bad for stocks and good for gold. "All it took was one Presidential-quality
acceptance speech
to change that," says Harrison at Credit Writedowns.
Well, maybe. Perception is everything after all. But maybe the markets aren't paying attention or can't really tell just yet, misreading Trump on the stump for Trump the conciliator. Not knowing in advance, anyone trying to defend and grow their own savings might choose to own a little gold alongside their stocks and bonds.
You might be glad of it if Trump proves to be the belligerent, high-spending protectionist of his election campaign.