Gold Trading? Whole Lotta Profit-Taking Going On
Wednesday, 6/26/2019 20:10
China and Comex trading drive gold's sudden 6-year highs...
GOLD TRADING usually gives pundits, dealers and investors a break at some point over the summer, writes Adrian Ash at BullionVault.
But like 2007, 2008, 2009, 2011 and 2016...this year is proving no time to take your eye off the market.
And if 2019 is going to see an old skool
summer lull
in gold trading, it won't feel much like a discount up at these prices.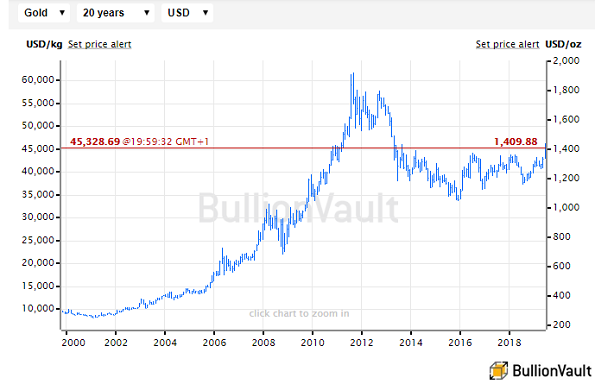 Alongside this month's 10% jump in US Dollar prices, gold trading has seen the metal break sharply higher to multi-year highs for everyone outside the greenback as well.
Shanghai gold prices, for instance, leapt to touch their highest since end-March 2013 at Tuesday's benchmark auction, gaining 11.0% for the month in terms of the Yuan...
...which has meantime strengthened against the Dollar...
...helping drive the premium for gold landed in China up to the equivalent of $15 per ounce above London quotes...
...offering a 70% bump to the average incentive for buying and booking a new bullion import into the world's No.1 gold consumer nation.
Over in No.2 buyer India, Rupee prices are nearing fresh all-time highs,
denting jewelry demand
but perhaps putting a shine back on coins and bars according to industry players.
Despite Euro gold hitting its own 6-year highs meantime, world No.4 gold consumer Germany has seen no change in the size of its large gold-backed ETF, the Xetra-Gold product.
Yes, US
gold-backed ETFs
have swollen, but only a little, as fund managers and the rest buy shares in non-dissolving trusts whose debts are denominated in gold...
...mostly piling into the biggest (and priciest) such US fund, the SPDR Gold Trust (NYSEArca: GLD, still charging 0.40% per year in management fees)...
...but still only taking New York's 5 largest gold ETFs back up to January's size (the GLD, IAU, 2x Sprott and Aberdeen Standard)...
...while
'cheap' gold ETF newcomers
the mini-GLD and GraniteShares (now charging 0.18% and 0.175% per year respectively) have expanded only 2.1% so far this month, adding less than two-thirds of a tonne.
Sure, demand here at the largest physical market online has leapt on the price jump.
Tuesday was BullionVault's strongest day for new account openings in 18 months. As a group, our total client-base bought over 96 kilograms of gold...some 8 large wholesale gold bars in total...worth $4.3m and 354% above the last 12 months' daily average.
But selling was once again stronger still, up 390% to 112kg worth $5.1m.
As for gold in Sterling terms – the poor currency denominating the lives of around 49% of BullionVault's users – the precious metal has only ever traded higher than Tuesday's London PM Fix of £1124 per ounce on 18 days in history.
Either now is a historic opportunity to take profit, or this bull market in gold is going to crush the Pound as the Tory leadership race runs into Halloween's hard Brexit deadline.
Over with the hot-money meantime, "There is a growing 'FOMO risk'," said a Dollar gold-trading note after last week's US Federal Reserve statement from bullion bank Scotiabank, "where gold could attract more buyers at $1400 than $1300, reaffirming the belief of some well-known investors that if $1400 breaks, $1700 (somewhat of a stretch) will happen 'very quickly'."
'Buyers' is perhaps a moot term versus 'betting' when talking about futures and options, rather than bullion. But that 'fear of missing out' certainly looks the trade since Friday.
"Professional investors have undoubtedly lifted their exposure to gold," agrees independent consultancy
Metals Focus
. "In particular, Comex managed money long positions..."
On last week's data – taken the day before June's dovish US Fed statement, and before President Trump's latest demands for
zero rates now!
– the betting of so-called Managed Money traders was bullish overall for the 8th week running. Net of that group's bearish bets, its long position increased for the 4th week running, up 21% from the week before to its largest since February 2018.
That data however, "does not capture investor activity during gold's charge towards $1440," Metals Focus note. So while "we would expect to see Comex positioning strengthen...[yet this still allows] considerable room for investor positioning to grow further later this year, when we believe conditions will begin to turn decisively more supportive of a higher gold price."
How much higher?
I suggest you sit back, see what the summer brings, and try to relax regardless.
Just as soon as you've decided whether to buy, or sell, on what looks a marked move to multi-year highs in gold.