Silver & Gold Volatility: Calm Before Storm Over
Tuesday, 3/18/2014 20:23
Volatility in silver and gold prices just jumped from pre-crisis and pre-crash levels...
Silver prices had lagged gold badly during that run, struggling to make 1-month highs. But here on the drop, that relative calm counted for little, sending it back to last Monday's 3-week lows and forcing a spike in silver volatility.
Dropping $30 from Monday's new 6-month high, meantime, gold prices first hit $1361 per ounce Tuesday morning – a level seen as key resistance thanks to
marking the previous rally's high
in October.
Gold prices then dropped back to $1350 as volatility rose, taking it right around the various Fibonacci and Elliott Wave "support" levels now identified by technical analysts as marking
key "retracement" points
in this 2014 rebound to date.
Still, no worries, said Reuters as
volatility hit and the drop began
. This is just "profit taking". The 2014 uptrend "still looks healthy" says bullion bank Scotia Mocatta's technical note. The drop "will be viewed as a corrective phase within a bullish trend," agree Swiss bullion bank UBS.
Perhaps the lessons of last year really do need learning again.
Gold dropped 30% of its Dollar value in 2013. This 2014 uptrend started on New Year's Eve at $1180...a 3-year low when first hit last summer. Next month marks the first anniversary of gold's historic crash...and the 3-year anniversary of silver touching $50 per ounce. It's fallen 60% since then.
Stable this ain't. But more recently, both silver and gold have in fact been unusually quiet. And low volatility often marks the calm before a storm.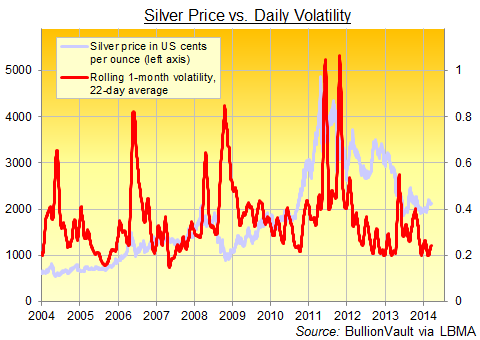 Late February saw volatility in silver prices, as measured by daily changes over the previous month's trading, turn higher from its lowest levels since June 2007. That was right before the financial crisis got started, with the summer credit crunch
blowing up Northern Rock
, the over-borrowed UK mortgage lender which played "canary in coalmine" for the Western world's financial system.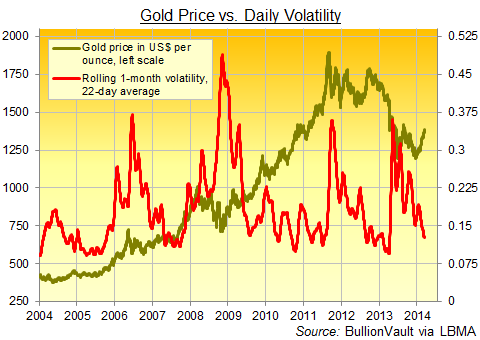 As for gold, daily volatility on that same rolling 1-month basis...a statistical measure of how fast prices are moving compared to their standard rate of change over the last year...last week turned higher from its lowest level since
Thursday 11 April 2013
.
The very next day, gold dropped $30 per ounce...ready to dump $140 when trading re-opened after the weekend on Monday morning.
So we've had the calm. A storm may be due. But in financial assets or precious metals?