Gold Prices? 'Meh' Says LBMA 2017
Thursday, 10/19/2017 18:39
Barcelona conference loved palladium, shrugs at gold prices...
GOLD PRICES again proved the least interesting and least discussed issue at this year's LBMA conference, writes Adrian Ash at BullionVault.
Palladium everyone loves. It's got narrative (gasoline hybrid autos need pall' catalysts, while platinum's diesel market is hated by lawmakers and headline-writers) plus momentum (it traded 49% higher year-to-date as Monday's conference sessions began) plus the story-confirming fundamentals (visible demand exceeds visible supply, confirmed by rising lease rates in the wholesale market and with output set to stagnate as
NorNickel's pitch
showed).
So never mind the question marks...
Palladium finds 90% of end-use from gasoline autocats (against 40% from diesel for platinum)...
If diesel is dying, gas won't last much longer, not with its much worse emissions of CO2...
The last and only time palladium prices traded above here, they sank 85% over the next 2 years...
...because narrative and momentum are everything in today's financial, tech stock and crypto-crazed markets.
Gold lacks those essentials right now. So what if it's over 25 times the size of palladium by value of end-user demand? Just buy me something that's already leaping, agree investors.
"We've got a couple more years of this bumbling along," said one senior bullion exec' to me over coffee this week. "Stock markets are too strong, and investors are more likely to take profits" on a rising gold price than to buy more.
Any rise in the gold price will likely fade, a couple of analysts agreed catching a blast of Barcelona's October heatwave outside the conference hotel. Gold prices need sustained inflows of big-money investment for the market to make sustained gains like we got in the 10 years ending 2011. And investors are finding strong competitors for their dollars right now.
"Gold has in fact done remarkably well in 2017," said James Steel of HSBC, chairing Tuesday morning's whirlwind tour of gold investment issues and noting the fresh all-time record highs in world and especially US stock markets.
Given how clearly the US Fed has now signalled rate hikes ahead, gold must surely have already accounted for that "tightening...actually, more like reduced accommodation..." said Steel.
"And if you'd told me a year ago where equities would be today, I'd have said gold would be much lower than this."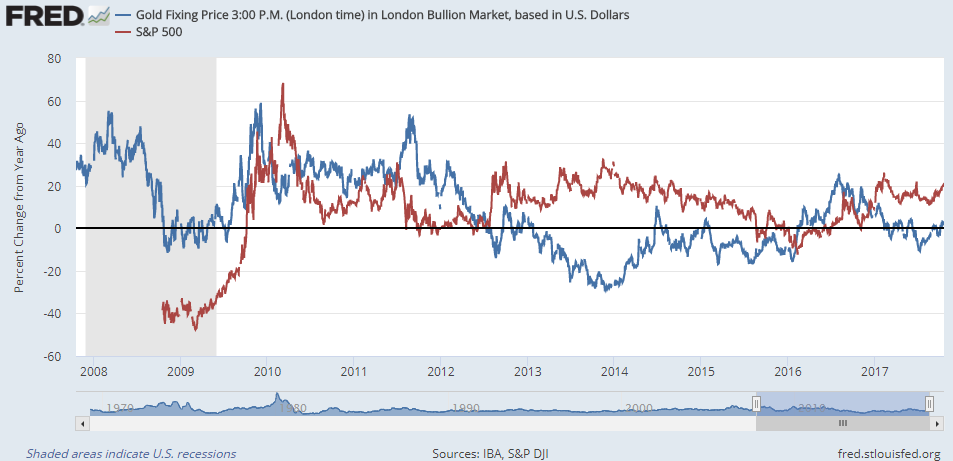 No, the inverse correlation isn't perfect. No, you can't trade it tick by tick.
But years of weak returns on other assets tends to see gold prices rise. Most especially, check your outlook for the stock market and the real rate of interest, after you account for inflation, paid on debt investments.
Naturally, this means a strong stock market should be poor for gold, as you can see from late 2012 to end-2015 above. But supporting gold in 2017 – and very possibly for a long time to come – is the lack of
anything like a solid real rate of interest
on bonds.
"Lower for longer"
was the conclusion on rates of this week's macro-economics session at the LBMA conference. "More equity-market gains to come" was the happy-go-lucky tone of the macro-investment panel.
Between them, gold prices found neither a screaming sell or buy signal as far as the bullion market's premier annual event could be bothered.
But gold's negative correlation with equities "grows stronger the longer a bull market in equities runs," according to one investment manager speaking on Monday. So if you are looking for investment insurance up here at the Dow's new nose-bleed highs, the case for gold should only become more compelling.
Telling then, perhaps, that so few investors attended this year's event. You could barely move for them when gold prices surged and peaked at the start of this decade. Maybe next year's LBMA conference in Boston will prove close enough to home for US hedge funds and advisors to find at least some interest from the kind of people who can push prices higher.
Unless a plunging stock market already makes the case for them.