2021 Gold Price to Rise 11.5%: LBMA Forecast
Thursday, 2/04/2021 12:21
Gold bear sees $1650, new bull says $2300 in LBMA's price predictions...
The GOLD PRICE will average $1974 per ounce across 2021, a rise of 11.5% from 2020's record-high annual average as mass vaccinations worldwide spur a strong economic recovery from the Covid pandemic but central banks and governments continue their unprecedented monetary and deficit-spending stimulus.
That's according to the consensus outlook from analysts entering today's precious metals price forecast competition from the London Bullion Market Association.
Twelve of the 32 analysts predict that gold will average $2000 or more across 2021. The median
forecast for 2021
– with half of the forecasts above and half below – is $1965 per ounce.
2020's annual average gold price beat the LBMA entrants' consensus forecast of $1559 by 13.5%, the strongest beat in at least 15 years of the competition.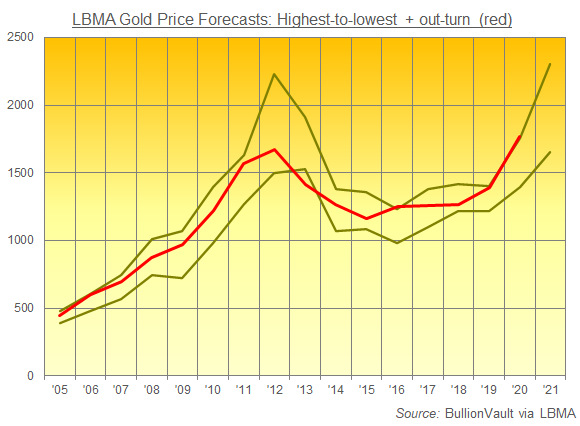 This year's highest gold price forecaster, Thorsten Polleit of German small-bar brand and retailer Degussa, is a first-time entrant to the LBMA competition. Leading the next most bullish forecast by almost $140, he predicts an annual average of $2300 in 2021, with a peak at $2680 and a low of $1750 per ounce, citing "the politically dictated lockdown crisis...artificially low interest rates...[and] unprecedented growth rates [in] the money supply.
"It is far from certain that an extremely easy monetary policy will pave the way towards a sustainable economic recovery. In any case, price inflation – be it in the form of consumer and/or
asset price inflation – will be the result."
Polleit also tops the bull forecasts for silver, some 64.9% above the LBMA competition's average $28.50 prediction at what would be a record $47 per ounce, fully one-third above silver's annual average peak of $35.11 in 2011.
The lowest 2021 gold price forecast comes at $1650 from René Hochreiter of Noah Capital Markets/Sieberana Research in Johannesburg. Winner in 2013 – the year of gold's historic price crash, but with a forecast over 13% away from the outcome – he also won in the bull year of 2012 and again as joint winner in 2019 as well as winning silver in 2015 plus 5 other forecasts before that.
Hochreiter now forecasts one of the tightest ranges for 2021 gold prices with a spread of just 15.7% and a peak at $1840, saying that "After the fastest recovery in the history of the global equity markets, gold may see an equally sharp decline as risk and volatility fall," and pointing to this year's consensus outlook for vaccine roll-outs, Chinese and global GDP growth, plus perhaps a US rate rise despite weak inflation thanks to businesses "scarred [by] the pandemic nightmare.
"Technically, gold has not convincingly broken out of the bear market it has been in since August 2020 and seems intent on not doing so."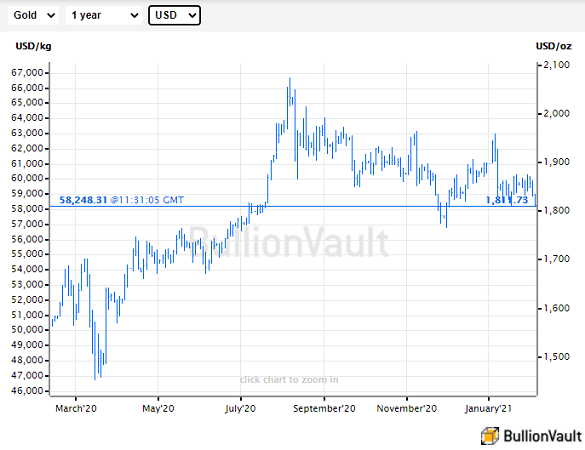 Next most biggest bear at $1775 is Bernard Dahdah of French investment and bullion bank Natixis – winner in 2019 for silver and
2015 for gold
, when the metal set its lowest annual price in 6 years at $1160 – who also expects the global vaccination programs to spark the "resumption of normal economic activity and stronger growth" and so "increase investor risk appetite, at the expense of gold."
But "notwithstanding the weak labour markets," says leading LBMA competition winner and 2020 victor in gold Ross Norman – now at Metals Daily – "with the recovery comes demand-pull as well as cost-push inflation, further fuelled by the higher velocity of money leading to expectations of much higher inflation."
Now predicting an annual 2021 gold price average of $2025, "we see concerns shifting from herd immunity to herd insolvency," Norman goes on, because "financial markets remain vulnerable and we think investors will continue to see gold as the near perfect antidote."
Most in line with the consensus, Japanese conglomerate Mitsubishi's Jonathan Butler and Bhargava Vaidya of B.N.Vaidya & Associates in Mumbai predict an annual gold price of $1960 and $1970 respectively, leading their analysis with the "gold-supportive macroeconomic environment of low yields" and heavy government "relief packages round the globe."
Butler however forecasts a much more volatile gold price, predicting a 2021 range of 37.5% while Vaidya predicts a high-low gap of 20.1%, more in line with the 25.0% consensus average.