Gold 'Below $1000' by April: Top Forecaster
Thursday, 1/07/2016 11:15
Gold forecast to average $970 in 2016 by analyst who called 2015 down to the dollar...
GOLD will drop below $1000 per ounce within the first 3 months of 2016 according to the analyst behind last year's winning forecast.
Beating 30 other professional analysts
in the London Bullion Market Association's 2015 gold forecast (and coming a very close second in the silver forecast), Bernard Dahdah of French investment and bullion bank Natixis called last year's annual average of $1160 per ounce down to the dollar.
Predicting a wider trading range for last year than the eventual $1046 (Dec. 2015) to $1306 (Jan. 2015), Dahdah
based his 2015 forecast on the view
that the "biggest driver" would be "the strength of the US Dollar...benefiting from higher employment and lower oil prices [with] growth in the US expected to accelerate."
The Dollar rose 11% against the world's other currencies in 2015, with the gold price falling 11.4% in US Dollar terms.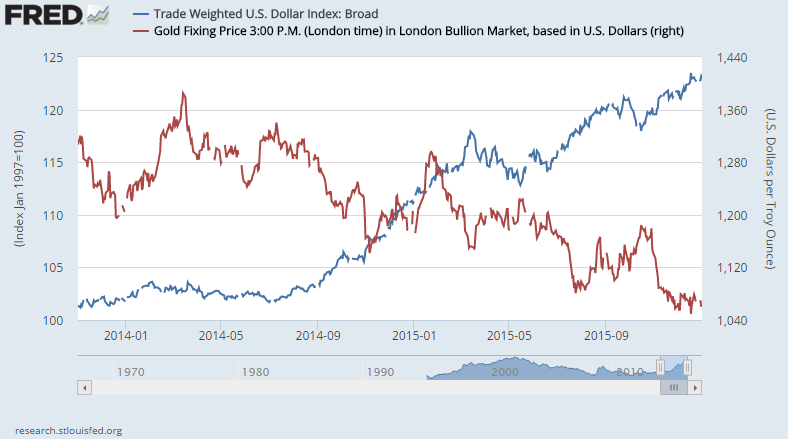 Now in 2016, Dahdah forecasts that gold prices "will be mainly driven by the expected path of interest rate hikes" from the US Federal Reserve.
As a result, Dahdah expects the gold price to drop through $1000 per ounce in the first 3 months of 2016, "gradually declining" to end this year at $950, with an annual average of $970.
Gold last month set new 6-year lows at $1046 per ounce, and averaged a daily price across 2015 of $1160.
That put the metal some 8.3% below 2014's annual average, dropping almost one-third from 2012's record-high average of $1669 per ounce.
In a note to Natixis clients on 17 December, immediately after the US Fed's first rate hike in a decade, Dahdah wrote that "Higher interest rates mean a higher opportunity cost of holding gold," because the metal pays no income.
This will lead in 2016, he believes, to "further outflows" from physically-backed exchange-traded gold funds held by Western investors.
The largest such product, the SPDR Gold Trust (NYSEArca:GLD), was the world's largest ETF by value at gold's peak of $1920 per ounce in late-summer 2011.
The GLD has now halved by weight from its peak holdings of end-2012. Those 710 tonnes equate to 20% of last year's record-high global gold mining output.
Gold imports into India, the world's No.1 private consumer, won't return to pre-2014 levels, Dahdah went on, unless import duties are cut – something the 'pro-business' government of Narendra Modi has so far failed to deliver, moving instead to try and
mobilize some of the country's estimated 20,000 tonnes
of existing privately-owned gold to meet ongoing demand.
"Central bank demand for gold is [also] expected to remain weak compared to the 2009-13 period," Natixis' analyst forecasts, as emerging economies struggle to maintain foreign currency reserves and lose the need to diversify US dollars with bullion.
"As with 2015, we expect for most addition to occur from gold-producing countries," Dahdah concluded, led by China and Russia – now vying for second place in the world league of unmined gold reserves behind South Africa, according to the latest estimates from consultants EY.
World No.1 gold producer every year since 2007, China is now the largest central-bank reserves builder of the last half-century. World No.3 producer Russia is now widely seen as buying gold
to support its domestic industry
, because international sanctions over Moscow's annexation of Crimea are blocking exports.