Bond Yields Up, Gold Price Up?!
Monday, 1/15/2018 17:51
The end of days hits New Year 2018...
GOLD PRICES have jumped over 8% from this point last month, says Adrian Ash at BullionVault.
At the same time, major government bond prices have dropped as 2018 gets started, pushing up the yield offered to new buyers.
Bond yields up, gold up?
Let's put this in context before anyone declares the end of days are upon us.
First, gold is only jumping against the fast-falling Dollar.
It has barely moved in the first 2 weeks of 2018 for UK, Euro or
Japanese Yen gold
investors.
Priced in Dollars, it has risen in January 11 times in the last 15 years, six of them in the last 6 years.
Third, silver has so far failed to join the fun. That might mean it's about to play catch up...jumping towards $18 or even $19 per ounce if you think
the Gold/Silver Ratio
will revert to its 10-year average around 70.
Or you might instead call it "non-confirmation" of the jump in gold and platinum so far.
Fourth, these 2018 gains in gold have so far seen physical demand go missing.
BullionVault users have played it smart as ever. Overall they were heavy buyers on last month's drop. Since New Year they have been slight net sellers.
The giant
GLD trust fund has meantime shrunk
as shareholders liquidated stock in the ETF since gold prices began turning higher after December's US Fed interest-rate rise.
And Chinese wholesale demand is also soft...even with mid-February's Lunar New Year of the Dog coinciding with Valentine's Day.
Shanghai gold prices are running at 80% of their average premium to London quotes so far in 2018...offering just a $7.50 per ounce incentive to new imports into the world's No.1 gold consumer nation.
So how come prices are up?
If you're taking profits today, say "Thank you" to the hedge funds trading Comex gold futures and options.
Latest data say
the hot money mob halved their bearish bets against gold over the last 5 weeks. At the same time, they grew their bullish bets by 75% as a group up to last Tuesday night.
Gold's action since then says they have only cuts bearish bets and bought yet more bullish contracts again.
The real question is why. Because so far, the stock market has only pushed higher to new record levels in New Year 2018.
Most dramatic, major government bond prices have fallen. That has pushed up the rate of interest they offer new buyers (the "yield"). And that should, all other things equal, spell trouble for the stock market, rather than a bull run, plus a drop for gold prices.
But no. The US stock market keeps rising as the Dollar sinks on the currency market. Gold is also rising with bond yields...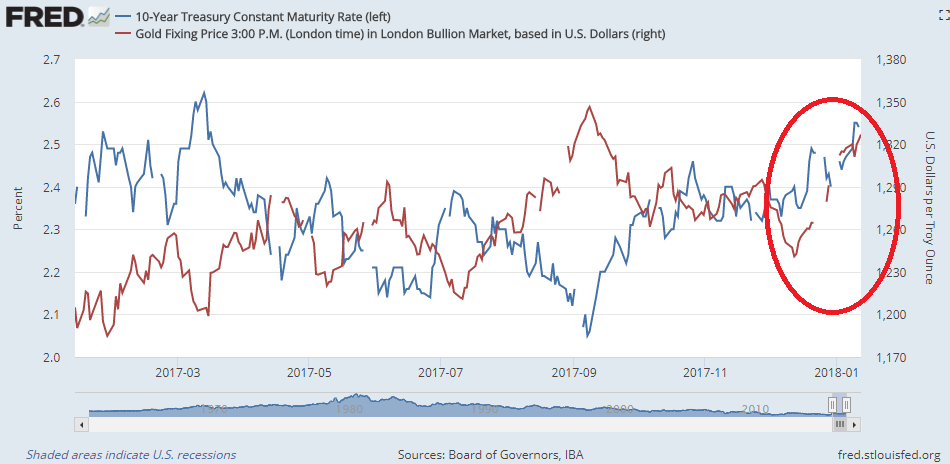 ...and not just in nominal terms either.
Adjusted for market-based inflation forecasts, real US Treasury bond yields are also rising alongside gold.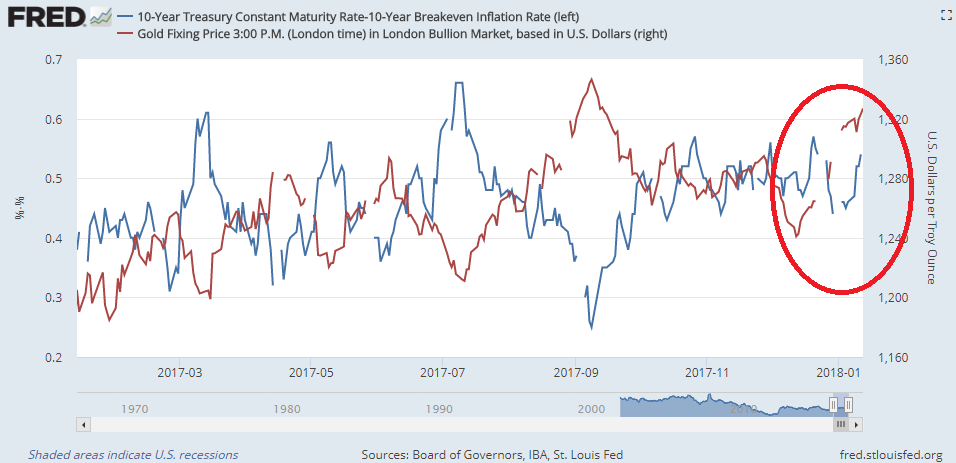 This does not compute. It probably cannot last. Something's got to give.
That thing will most likely be the Federal Reserve.
Yet the bond market has instead decided that inflation is surging, and that the Fed will raise rates sharply as a result. The fact gold is also higher – but only in Dollar terms, and only thanks so far to Comex speculators – only confirms the confusion.
Adding to the noise (and in contrast to silver prices), the major gold-mining shares are rising to multi-month highs together with gold prices. (Well, outside Barrick anyway.) This confirmation of gold's move says it could have legs to run further, even as the four points above say we should curb our enthusiasm.
Meantime, all this New Year confusion over inflation, bond yields and gold is only worsened by the continued bull run in world stockmarkets.
That, for now, remains the real question for 2018. At least until this break-down in gold's negative correlation with Treasury bond yields becomes entrenched.