US Election: Gold Price Brexit-Shock Warning
Tuesday, 11/08/2016 13:29
Trump bad man, good for gold prices says consensus. But Clinton...?
SO SUDDENLY gold is all about the US election, writes Adrian Ash at BullionVault.
Never mind that gold already gained 25% in 2016 before The Donald won the Republican ticket. If Hillary loses, this year's jump in precious metals prices will have been all about the US presidential election, with a little Brexit shock thrown in.
Whereas if she prevails, pundits and headline writers will need to blame something else.
Short term, "a Trump victory could spark a rally to $1400 and maybe even $1500 in our view," says a note from specialist analysts GFMS, "while a win for Clinton would likely see prices ebb lower."
But away from all the spitting and shouting, and "with gold prices stabilising...physical demand particularly in Asia will spark to life," GFMS predicts, perhaps a little hopefully given what they call the
"pitiful" state of global consumer demand
right now, a plunge from 2015's weakened level which is frankly "parlous" according to the mining-backed
World Gold Council today
.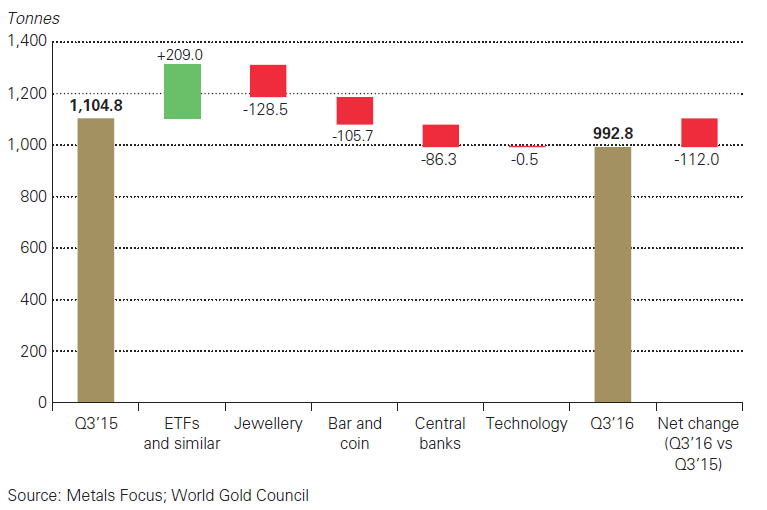 Key to prices, however, remains investment demand – not for small bars and coins, but from larger allocations and money managers – and "ETF demand in the West is...set to remain at healthy levels," GFMS goes on, "with a growing number of financial institutions recommending gold in a world with trillions of dollars of negative yielding bonds.
"Consequently, we forecast gold prices to average $1420 in 2017" – the highest annual average since the current record of 2012.
"Buy gold no matter who wins the election," agrees investment, retail and bullion bank HSBC meantime.
"The precious metal could reach levels not seen since 2013," explains the bank's specialist James Steel, saying that – yes – the victory of Donald Trump would boost prices faster, but "it'll enjoy at least an 8% jump [further ahead] whoever wins the race."
That modest bump matches the average 12-month forecast of delegates at this year's
London Bullion Market Association conference
, the premier industry event for gold, silver, platinum and palladium. Perhaps it's too safe – a mildly bullish prediction reflecting a safe complacency that the investment backdrop for gold looks solid.
But 2016 has not only proven a year of sudden shocks and surprises. It's also shown that, a half-decade after the peak in gold prices, investment risk has returned, with the former financial sources now joined by political trouble. That doesn't look like receding simply because America's voters get past their hate for Clinton slightly more than they overcome their hatred of Trump.
Prices right now look primed for a Clinton victory, relaxing as the US stockmarket and Mexican Peso shrug off their panic of the last few weeks, and forgetting the Democrat candidate's commitment to
higher deficit spending
, and a
rollback of free trade
globally, plus the deep division and loathing she inspires in so much of America.
Like Brexit, in contrast, a Trump win would be like falling through a trap door without hitting the floor below. Yes, we know his stated policies (building that wall at Mexico's expense, for instance, or
defaulting on America's sovereign debt
) just like we knew that Brexit means Brexit. But that means nothing at all at this stage, because Brexit's reality has become a mushy blob of maybes and coulds. So too Trump's policies, if elected. The certainty of vowing to "make America great again" will become a highly uncertain set of promises, plans and actions. That would very likely support gold prices beyond any initial Trump shock which Wednesday morning trading in Asia may bring, long before Wall Street opens.
Is gold guaranteed to go up on a Trump 'shock' victory? No more than the S&P would be guaranteed to go down. London's stockmarket has boomed post-Brexit, but only when priced in the new banana republic currency of Pounds Sterling. Fresh money-printing QE plus an interest-rate cut to new record lows also helped – a gambit from the central bank which the UK's new Brexit-enacting Government has since disowned (despite approving it) and which a Trump presidency would surely block. Unless The Donald isn't quite the president his supporters imagine.
A further warning:
There's also the chance that a Trump shock overwhelms gold, dragging it down even as financial panic spreads.
Recall Lehman Brothers' collapse
, for instance. Strategist Tom Kendall at China-owned investment and bullion bank ICBC Standard says a Trump win "would almost certainly see a further rise in volatility across most assets. Gold could easily rally to $1350, unless liquidity in equities and fixed income markets became constrained to such an extent that investors started liquidating gold positions to raise US [Dollars]
.
"That scenario could result in gold going rapidly in the opposite direction, perhaps even falling below $1200. But we think the probability of that is small (<10%)."
Today's softening prices meantime suggest that, at least when compared against the
latest pro-Hillary opinion polls
, gold should gain on a shock to the complacent consensus. It gained 22% versus the British Pound over the 6 hours it took for the Brexit shock to be confirmed on Friday 24 June. Trading on BullionVault
continued throughout
, with customers dealing $13 million of physical gold and silver between them before breakfast time in London.
A repeat in Dollar terms would see gold jump above $1500 per ounce. Anyone holding since that price last showed in early-2013, as HSBC 's Steel suggests, might race to cash out. But they might also struggle to take profits if they've gone and got the wrong kind of gold in the wrong place.
Again, BullionVault will be available throughout. US coin dealers, online shops and even the stock market, in contrast, won't open for another 10 or 11 hours after the results start pointing one way or the other tonight.