$2000 Gold to Boost ASM Mining 13% in 2021
Thursday, 10/15/2020 13:46
Miner-stock investing driven by ESG, falling reserves and M&A...
GOLD PRICES will average a record $2000 per ounce in 2021 according to market-leading analysts, boosting new supply from informal mining in emerging economies while output from major stock-market listed producers faces declining reserves in the ground plus growing demands for tighter environmental and social standards from equity investors.
Specialist consultancy
Metals Focus
said in an industry webinar Wednesday that the gold price – now showing a record-high annual average of $1774 so far in 2020 – will rise further next year on fresh monetary stimulus from central banks, weak global economic growth, and continued geopolitical uncertainty.
2021's forecast average of $2000 will spur a 13% jump in gold output from artisanal and small-scale mining (ASM), the consultancy believes, reversing the drop caused by this year's global coronavirus pandemic making it more difficult for this often illegal supply to reach buyers.
With temporary
mine closures also hitting the formal sector
due to this year's pandemic, total mined gold production is set to decrease by nearly 5% in 2020 on Metals Focus' latest forecasts, before rallying nearly 9% to set a fresh all-time record in 2021 as Covid-19 disruption eases and prices rise further.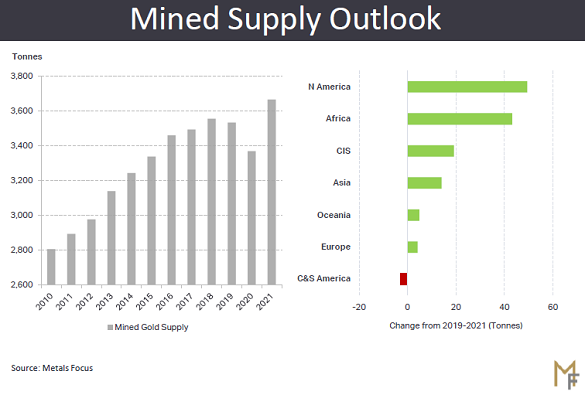 Payments received by ASM gold miners have fallen from 80% of London bullion prices to just 50% in 2020, Metals Focus estimates, reflecting the extra costs hitting "middlemen" in that supply chain and offering less incentive for what is hard and often highly dangerous manual labor.
Only 5 gold-bar refineries on market association the LBMA's London Good Delivery list currently take in any ASM doré (the pre-processed ore usually received for refining), the Association said last October, calling on the refineries it approves to
expand their use of ASM gold supplies
to help both improve pay-rates and conditions at small-scale projects while also plugging the shortfall starting to develop from larger, formal gold mining projects.
While "inherently difficult to quantify", ASM output – some 60% of which comes from Africa, with a further 27% from Central and South America – totalled 597 tonnes in 2019 on Metals Focus' data, built by cross-referencing government statistics, trade flows, NGO and aid-charity estimates plus on-the-ground research.
ASM accounted for 17% of total world output last year,
up from 15% in 2018
, a "huge number [that is] probably the minimum" says former refining executive Grant Angwin, also speaking on Wednesday's webinar.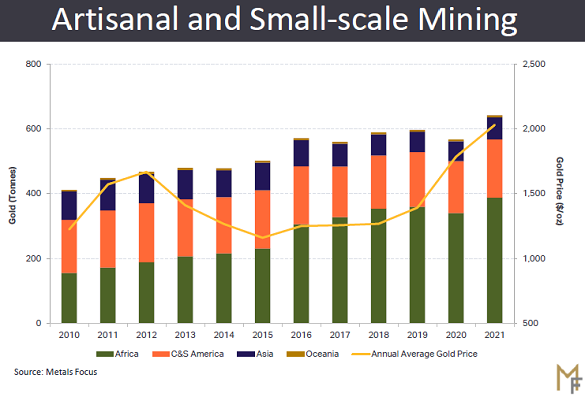 2020 aside, ASM output – mined in poorer regions of the world, and booming over the last decade thanks to higher gold prices, local population growth, a lack of economic alternatives, the spread of mining expertise, and mobile telecoms – is "far more responsive" to market prices than larger, formal projects, says Metals Focus' director of mine supply Adam Webb, which take at least 2 years to build and can take 5-10 years for underground mines.
The delays and expense that involves means the large cashflows now being enjoyed by stockmarket-listed mining companies are more likely to find their way into mergers and acquisitions than developing new projects, Webb said on Wednesday's webinar.
"M&A offers a simple way to grow and get immediate exposure to the gold price."
Combined gold output after
2018's mega-mergers
fell nearly 10% year-on-year at Newmomt-GoldCorp (NYSE: NEM) and Barrick Gold Corp (NYSE: GOLD).
Those two giant groups now stand "head and shoulders above the rest" of the world's listed gold miners in terms of cashflow and resources, says Metals Focus' senior consultant Mike Bedford, adding that the major producers "are [slowly] running out of gold" and now have the opportunity to buy lower-rated companies using their more highly-rated shares.
Barrick CEO Mark Bristow – formerly chief at Randgold Resources, which merged with the Canada-based giant 2 years ago – last week called for further consolidation among Africa's listed gold miners, hailing the
merger of Australia's Northern Star
(ASX: NST) and Saracen (ASX: SAR) as a "great example" while warning of a "serious reserve crisis" for the wider industry as it fails to discover and exploit new resources.
More pressing still is the sharpening focus among equity investors on environmental, social and governance issues (ESG), "now
vital and unavoidable elements
in determining how investments are chosen, managed, and measured," writes John Mulligan at the mining industry's World Gold Council.
ESG analysis is driving $40 trillion of asset management decisions, noted Matthew Keen of Emergent Technology and managing director, Responsible Gold Trading DMCC, also speaking on Wednesday's Metals Focus webinar. That's
twice the value of 4 years ago
, a study from research firm Opimas reported earlier this year.
Presenting data from Metals Focus' new Gold ESG Peer Group report on Wednesday, Bedford identified 7 criteria the consultancy is now tracking, from greenhouse gas emissions to water use, waste production, health and safety, and female representation both at board and total workforce levels.
Among those rankings, Barrick's merger with central and west-Africa miner Randgold saw its carbon footprint surge in 2019, with South Africa-based Sibanye (JSE: SSW) showing the heaviest greenhouse gas emissions in total and Harmony (JSE: HAR) the heaviest per ounce of gold mined, all thanks to the region's reliance on coal-fuelled power plants for electricity.
Average margins across the world's top mining stocks more than doubled year-on-year in the second quarter of 2020, reaching $739 per ounce on Metals Focus' analysis.