Gold Mining's Mega-Merger Output -10% as M&A Eats Exploration Spending
Thursday, 12/05/2019 18:57
Record M&A 'critical' in denting exploration budgets...
GOLD MINING spending on M&A deals has jumped to a new record this year, eating into exploration budgets and most likely leading to lower output from newly-combined companies in 2020.
Gold exploration budgets, in contrast, have shrunk by nearly one-eighth according to news and data providers S&P Global,
dropping to less than $4.3bn
and erasing most of 2018's spending growth.
This drop
snaps the typical link
between gold exploration spending and underlying bullion prices, now rising 9.3% on an annual average basis so far in 2019.
Last week Canada and Australia gold miner Kirkland (TSE: KL)
confirmed its purchase
of Ontario-site owner Detour (TSE: DGC) last week in a deal worth US$3.7 billion, to be paid in KL stock – currently at all-time record highs on the Toronto Stock Exchange – rather than cash.
China's state-backed Zijin Mining (SHA: 601899) on Monday
agreed to pay nearly $1.4bn
for Toronto-listed Colombian miner Continental Gold (TSE: CNL), a premium of 29% to the target's recent average stock price.
Tuesday saw the board of London-listed Centamin Plc (LON: CEY) – owner of top 10 global gold project Sukari in Egypt – reject a £1.5bn bid from Canadian Endeavour Mining (TSE: EDV), saying the proposed merger didn't reflect the target's true value.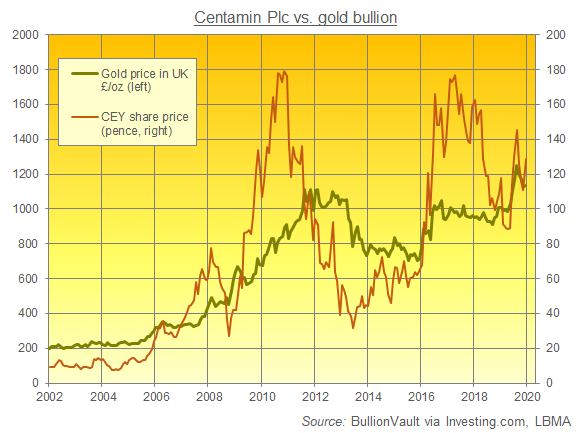 "M&A activity has played a critical role in lowering planned spending," says S&P metals and mining specialist Mark Ferguson, "[because] exploration budgets by the combined entities are much lower than the collective amounts allocated premerger by the individual companies."
Most notably, New Year 2019's two 'mega mergers' – first of
No.1 Barrick with Randgold
, and then of No.2 Newmont with No.3 Goldcorp to create a new No.1 gold-mining group – cut over $100m off the 4 companies' pre-merger exploration budgets.
The two mega-mergers have also reduced combined gold-mining output, even before the newly-combined group's begin selling off less profitable assets.
On BullionVault's analysis, 2019's third quarter production from Newmomt-GoldCorp (NYSE: NEM) and Barrick Gold Corp (NYSE: GOLD) fell 9.2% from the 4 pre-merger corporations' Q3 2018 figures.
Barrick's first sale in a planned $1.5bn divestment by end-2020 only came this November, when it sold its half-stake in the giant Kalgoorlie 'super pit' venture to Australia-listed Saracen Mineral Holdings (ASX: SAR).
Newmont Goldcorp also began its post-merger divestments well after Q3 ended,
agreeing the sale
of its Red Lake complex in Ontario, Canada to Australia-listed Evolution Mining (ASX: EVN) last week.
"Miners are buying each other out, but they're not investing in a lot of new capacity," said Canadian brokerage TD Securities' Bart Melek, global head of commodity strategy, presenting this week at the London Bullion Market Association's Gold Price Centenary Seminar.
"So what we could very well have [in 2020] is a situation where gold doesn't flow from inventory into the broader market," Melek went on, because central-bank and investment demand will divert newly-mined metal away from meeting consumer jewelry demand.
Weaker jewelry demand, however, means "a deteriorating supply/demand backdrop may well put pressure on the upside for gold prices," says the latest annual Investment Focus from specialist analysts Metals Focus, because "a record level of mine output and a price-led rise in scrap will drive total supply to a decade-high in 2019, with growth carrying over into 2020."
Thanks to high prices also deterring consumer demand while boosting reselling of existing items, "The structural surplus in 2020 is projected to double that of 2018 [at] the second-highest since 2010," Metals Focus says.
An annualized drop in Australia's total gold-mining output for Q3 was
due in part to gold bullion's record-high price
in Aussie Dollar terms, according to analysts Surbiton Associates, because it meant producers could dig lower-grade ore yielding fewer ounces.
Canada's minerals industry is meantime struggling to raise finance on the stock market, reports the
Financial Post
, with new private placement – most notably debt –
outstripping listed equity almost 3-to-1 in 2019
, with total funding reaching barely one-third the sum raised by new stockmarket listings alone in the 2011 peak.
"The cost of mining capital has increased, equity investors in some markets won't touch explorers with a barge pole, and private equity is more interested in buying up producers than juniors," agrees Mining Journal.
"One of the main contributing factors," claims law firm King & Wood Mallesons, "has been the
decriminalisation of cannabis
in Canada and a number of states in the USA. Risk capital that had previously been assigned by investors to the mining sector has been diverted into companies developing cannabis businesses, both for medical and recreational purposes."