Rent Seeking + Politics 'Set to Cap' Gold Mining Output
Friday, 8/04/2017 15:48
But Trump's Pebble Mine boost will grow US gold production...
GOLD MINING output will hold flat in 2017 at last year's record level, writes Sam Williams at BullionVault, thanks to contrasting political interventions in the emerging and developed worlds, according to leading analysts.
New research by Metals Focus says mine output will flat-line overall as the impact of "drastic changes in policy" take hold after a run of unbroken growth in global production.
Year-to-date mine production was unchanged by the end of June says the specialist consultancy, ending a run of rising output since 2008 and making 2017 look the year that output plateaus following subdued growth for the past two quarters – a pattern also reported by competitor analysts Thomson Reuters GFMS in their recent H1 update.
Supply is falling from emerging-economy producers, Metals Focus reports, partly as a consequence of reduced capital expenditure over the last bear cycle in prices but also as "political risk [begins] to undermine future gold mine supply."
China's gold output, the world's largest since 2007, dropped in the first half of this year by 9.9% compared with the same period of 2016 according to
data from trade body the China Gold Association
– a fall in part blamed by analysts on a government-led tightening of environmental standards.
But the most acute political problems for gold miners in emerging-market nations have hit the giant Grasberg project in Indonesia. Operated by Freeport (NYSE:FCX) and one of the largest gold producing mines globally, Grasberg produced some 4% of global gold mine output at its peak, Metals Focus reports.
Earlier this year however the Indonesian government banned Freeport's exports of unrefined metals after the company refused to sign an unfavourable contract demanding it uses local refining capacity and divest some mine assets into local ownership.
Although a temporary export permit has since been granted, some operations at Grasberg remain suspended and the lack of certainty is damaging investment.
"The President does not want to shut down Freeport for good," a senior government official
told the Financial Times
, "but they have to give us more."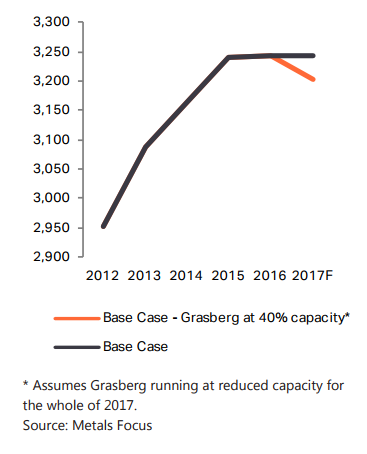 In early March a similar situation in Tanzania saw a ban on the export of newly-mined concentrates, damaging the operations of mining company Acacia (LON:ACA). The gold miner says its Bulyanhulu project will be put on "care and maintenance" if no resolution is reached by late September, threatening the 9 tonnes produced at the mine last year.
The Tanzanian government has also issued a $190 billion bill to Acacia – equal to 180 times their annual revenue or 4 times Tanzania's 2016 GDP – for unpaid taxes, penalties and interest related to what it called "undervaluation" of historical export.
Metals Focus warns of further excessive
rent seeking
by Tanzania as "a new bill calls for the government to receive a minimum 16% free-carried interest in all projects, increases the royalty rate from 4% to 6%, and imposes a 1% clearing fee".
South Africa's black empowerment drive has meantime seen a new mining charter – currently on hold since mid-July – declare that black shareholders must account for at least 30% of mine-asset owners. Court action by a protest group in Guatemala regarding a range of issues, including connections with nearby seismic activity,
led to the suspension
of Tahoe Resources' (TSE:THO) Escobal site in early July, the fourth largest silver-producing mine in the world in 2016.
Political changes in the US, in contrast, are inviting continued investment in gold and silver mining, Metals Focus says. This will counterbalance reduced output elsewhere as the administration of President Donald Trump eases regulation by slashing the budget of the Environmental Protection Agency.
Chief among so-called
"Trump's Gold" projects
is Alaska's Pebble Mine, now being developed by Northern Dynasty Minerals (NYSEMKT:NAK). The
company's estimates
put the project's total gold resources at 2,177 tonnes, making it the third largest single deposit ever discovered. Northern Dynasty's stock leapt on Trump's election in November; it is now worth seven times the 21 cents it bottomed out at last fall.
Such action reflects a wider trend for mining investment to focus on regions where the local authority is more accommodating and the political background more certain.
Canada-based world No.1 gold miner Barrick (NYSE:ABX) saw its shares hit a 3-month high last week after it reported second-quarter production up 6.9% from a year earlier at 44.5 tonnes. Newmont Mining Corp (NYSE:NEM) hit a 5-month high after the world's second-largest miner increased Q2 production by 13% to 43.5 tonnes.
Based in South Africa, world No.3 producer AngloGold Ashanti (NYSE:AU) is not due to report until 21st August.
Despite the short term strength of developed country output, Metals Focus notes, and "even with this preferential investment, these nations' share of global gold production is [still] expected to fall given the extensive mining that has already been undertaken."
Their conclusion is that, in the end, "miners will have to look to other, often riskier, countries, to sustain gold mine supply over the longer term."