Gold Miner Hedging 'Iceberg' Grows on 20% Price Jump
Thursday, 3/10/2016 13:21
Russia's Polyus Gold joins Harmony Mining, Evolution and New Gold in hedging to lock in price jump...
GOLD MINER hedging jumped in February as bullion hit 13-month highs in the spot market, with a fast-growing number of producer companies locking in profit margins by selling future output at current prices.
February's average daily gold price rose 9.3% from January, the fastest month-on-month gain since Dollar prices shot to their current all-time record peak in summer 2011, and taking bullion prices higher by one-fifth from end-2015's new 6-year lows.
World gold mining output set a fresh record in 2015 around 3,550 tonnes.
Polyus Gold – the largest gold miner in world No.3 producer nation Russia – today said it has used the rebound to hedge around 6% of annual production for the next 3 years, with 17% then hedged for 2020.
All told, those contracts equate to almost 19 tonnes of future gold production from Polyus,
formerly listed
on the London Stock Exchange (LON:POLG) until being taken private last December by Russian billionaire Suleiman Kerimov's 20-year old son Said.
Canada-based New Gold (NYSEMKT:NGD) said Wednesday it has hedged all of 2016's remaining output from April, likely to total 8 tonnes, while South Africa's third-largest producer, Harmony Gold (JSE:HAR), meantime locked in last month's near record-high US Dollar exchange rate versus the Rand for one-third of its projected 50-tonne output.
Australia's Evolution Mining (ASX:EVN) meantime hedged 4.5 tonnes of production between now and mid-2020 at Aussie Dollar prices currently equal to US$1257, telling Bloomberg that it intends to grow the hedge-book to 25% of its 14-tonne annual output.
Gold miner hedging
classically sees the producer borrow metal, sell it at current prices, and then deliver future production to repay the contract. The
industry grew its hedges
throughout the bear market of the 1990s, seeking to protect against further price falls but angering investors who felt those forward sales only worsened the pressure on prices.
Those gold miners choosing to hedge then angered shareholders by either missing the metal's gain or spending money to buy back those positions as the long bull market began in 2001.
By that time, the industry as a whole owed almost 1.5 years of annual production in price hedging contracts.
"Iceberg growing?" one bullion-bank sales desk now asks in a trading note, commenting on the latest news from Polyus of gold-miner hedging.
"Miners have been pretty busy in the past two months," it goes on, calling the growth in price hedging "a broad-based move" with producers from Australia, Russia, South Africa and the US "selling through Forwards" – a contract with a bullion bank which will see future output delivered in return for a price agreed now.
Similar to the time it takes for large investment funds to decide a new gold allocation, this move "might not abate too soon, as it involves a series of approvals from stakeholders" in each organization.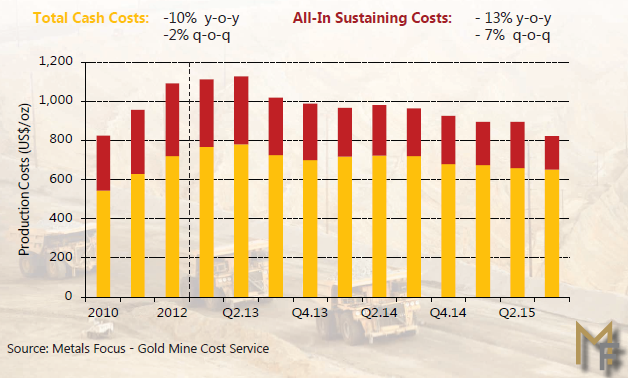 With gold-miner output costs falling throughout 2015, the drop in bullion prices to new 6-year lows had seen almost 21 tonnes of "net de-hedging" across the industry globally according to mining-backed market development organization the World Gold Council, contrasting with 104 tonnes of new price-protection added as the metal had stabilized in 2014
"This development [was] unsurprising," the World Gold Council said in its
latest Gold Demand Trends report
, "as the lacklustre gold price towards the end of [2015] reduced the incentive to hedge."