Gold Investing: Retail Out, Bigger Money In
Friday, 4/06/2018 18:37
Google searches to 'buy gold' hit pre-crisis lows...
"ON SALE!" says yet another email from yet another gold coin dealer, writes Adrian Ash at BullionVault.
It isn't the gold that's on offer. Bullion itself is trading near the top of its last half-decade range priced in US Dollars.
But coin and small-bar retailers are having to cut their margins to try and juice sales. Because demand for smaller investment units has sunk.
"A degree of retail saturation played its part," says the new
Gold Focus 2018
from specialist consultancy
Metals Focus
. But with higher Dollar prices inviting profit-taking (and loss-cutting) by previous buyers, almost half the global decline – falling to the lowest annual total so far this decade in 2017 – was "down to the US," says Metals Focus, "where [net] investment slumped by 59%" in physical bar and coin.
"Demand for physical precious metals products is still present," add analysts Thomson Reuters GFMS, "but a lot of trading has shifted to the secondary market, where discounts to newly fabricated products retreated to unprecedented lows of around 50 basis points during the beginning of [2017]."
This slump isn't easing. Gold sales from Australia's Perth Mint have
fallen by one-third
over the last 12 months from the prior 12-month period. For the US Mint, January-to-March saw
sales of new gold coins
fall 61.5% versus the previous half-decade's Q1 average. In fact, and despite the first quarter including the annual bump of new-date coin collecting, sales during the first quarter of this year totaled less than a quarter of the Q2 2013 peak, when gold's hardest price drop in 3 decades spurred a surge of retail investor demand, looking to buy a bargain.
That 25% crash in Q2 2013 turned out to be a way-station on route to a further 12% loss by the time of gold's final low at end-2015. Whereas here in early 2018, with prices climbing back towards pre-crash levels, far fewer people are looking to buy gold coins or small bars right now.
The fewest since before the financial crisis got rolling in 2007, in fact...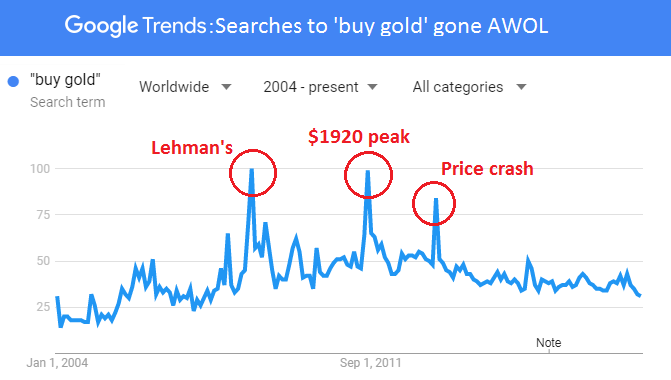 While gold demand keeps slowing among coin buyers and other retail investors, it has been quickening among funds and wealth managers.
First, March 2018 saw gold priced in Dollars rise for the third calendar quarter running, ending with its highest quarterly close in nearly 5 years;
Second, these gains came as US bond yields also rose for the third quarter running, defying a tendency for gold to move in opposition to longer-term interest rates;
Third, gold rose in Dollar terms as the US stock market fell. That's exactly what portfolio managers would want it to do. So it's no surprise they have, as a group, been buying.
The continued drop in coin and small-bar sales marks a contrast with gold-backed exchange-traded products.
Launched some 15 years ago, these ETPs enable money managers and other trusts who cannot own physical property to trade shares tracking the gold price. And the trusts behind these ETPs ended March with their largest gold holdings in 5 years
according to data
compiled by the mining-backed World Gold Council.
Investor interest grew 2.0% in Q1 from New Year 2018, led by the US-listed SPDR Gold Trust (NYSEArca:GLD) and iShares Gold Trust (NYSEArca:IAU). Institutional investors held around 42% of shares in those two funds at last count, and
that level of institutional involvement
is likely to have held firm in Jan-to-March (filings are due over the next few weeks) because portfolio managers will likely have kept or grown their exposure to gold prices as the stock market hit trouble.
Private investors in contrast have been cutting their coin and small-bar holdings, either to buy the drop in equities or to take profit at gold's recent highs, most notably in US Dollar terms. But among those retail investors, larger accounts are also bucking the trend and adding gold.
BullionVault's typical user has $15,000 or so in gold, and the underlying growth in client holdings is being driven by larger customers – albeit with a close eye on price. You can
see this on the Gold Investor Index
. It measures the balance of net buyers over net sellers each month, and it has now moved opposite to the direction of USD gold prices in 16 of the last 18 months.
So while total BullionVault client holdings last month reached a new all-time high by weight, the number of buyers versus sellers edged back on March's price rise, pulling the Gold Investor Index lower.
Even the safest, simplest and best-value gold investment provider, in other words, isn't immune to the drop in private-investor interest worldwide. And because BullionVault also enables you to sell as easily as buy, we are exposed to the weird flat-lining in price volatility.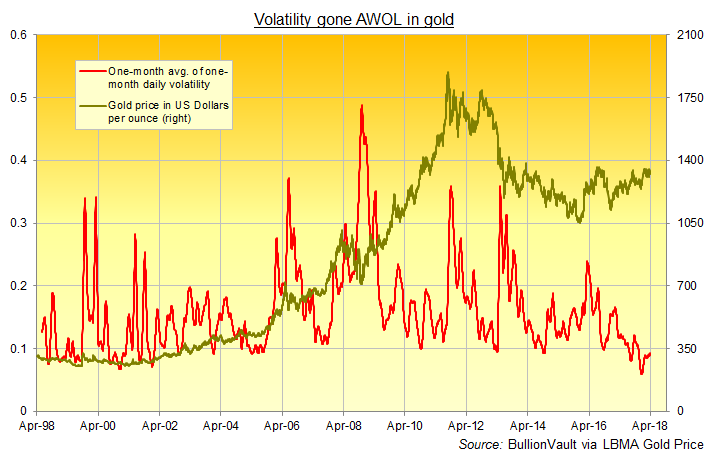 Given all the excitement in world stock markets, you might expect gold prices to show some lumpy action, swinging sharply as the wholesale market digests those new gobbets of cash from money managers.
US equities, after all, just put in their first back-to-back monthly losses since 2015. And gold priced in Dollars is, as we say, trading near the top of its last half-decade range.
But no. Even against the Dollar – itself whipping last month to the most volatile since Feb' 2017 against the world's other major currencies – gold volatility has drifted into the doldrums.
That is plainly reflected here at BullionVault in the volume of trading. The total number of gold investors changing their holdings across the month fell to a new 2-year low in March. As a proportion of all existing owners it fell to 9.4%, the smallest percentage since prices set multi-year lows in Dollar and Sterling terms at the end of 2015.
Last month's number of new first-time users also fell to the lowest since end-2015, back when gold priced in Dollars and Sterling finally found a floor at 6-year lows. Germany continued to show the strongest new interest for precious metals investment, with March's number of first-time bullion buyers in Eurozone's largest economy almost matching February to stand 15.8% above the prior 12-month average. But elsewhere, the number of first-time users has fallen hard.
Put simply, wealth and money manager interest in gold is rising just as retail-investor demand declines to notable lows.
If this behavior points to expectation for gold's price direction, then only one of these two groups will prove right.