Making Jam from China's Gold Investing
Friday, 2/03/2017 17:47
China's gold demand is turning from consumers to big investing...
"SO I PICKED up the phone...and it was one of the brokerage's regular clients," recalls Adrian Ash at BullionVault.
"Retired army major...somewhere out in the Shires.
"I want to buy sugar, he shouted. Now!
"Certainly sir, I replied. Can I just ask why the sudden rush to go long of the white stuff?
"Well it's perfectly simple, he barked. It's midsummer, and it's jam-making season!"
Thus did an old broking friend...since moved onto the greener pastures of hedge-fund trading...recount a 1970s' tale of how private investors sometimes think world markets work.
Here in midwinter 2017, sugar futures might look a raging buy to some 'retail' punters once again, what with bearded men in tartan tights boiling their own
artisan marmalade
from the New Year's crop of Seville oranges.
Gold might look a good investment too, what with China just celebrating the new Year of the Rooster.
Luxury retailers also got busy retailing...and luxury manufacturers everywhere are hoping they can
squeeze a few more sales out
of the world's No.2 economy before its debt bubble explodes...
Gold investors everywhere are meantime hoping that the world's heaviest consumers celebrated this auspicious event by buying yet more of the yellow stuff.
Chinese New Year certainly marks a key event for the global gold market, beating even Diwali as the single heaviest peak in consumer demand worldwide. Mainland China's household gold buying in the first quarter of the year has outweighed India's Q4 demand every year since 2012 on the best available data.
The world's No.1 gold mining nation since 2007, China overtook India as the largest full-year buyers in 2013. Its jewelry and investment demand has quadrupled in the last 20 years, and the Lunar New Year holidays are key to this growth.
Only once since 2002, when Beijing really began deregulating China's gold market, has household demand in the January-March period not outweighed the previous 4 quarters' average demand.
Most notably, China's return to the global precious metals market after 80 years of Communist control has seen world prices rise more often as the Lunar New Year approaches.
Eight times in the last 10 years
gold prices in US Dollar terms have ended January higher than they started. That contrasts with a strike rate below 50% over the previous four decades.
So fill your boots? Maybe.
China's underlying consumer demand meantime tends, at root, to respond to gold prices, rather than leading them.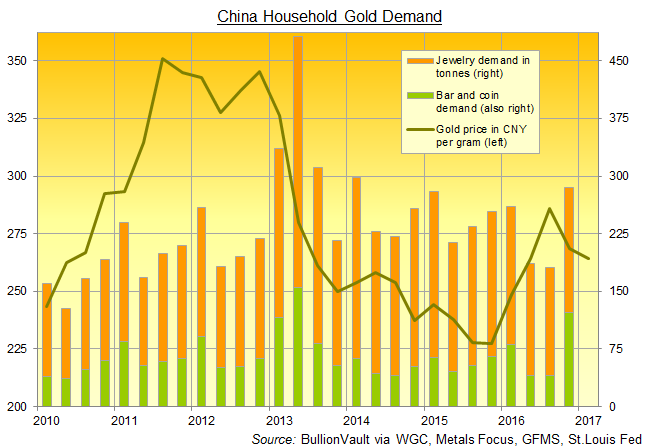 That applies to household demand worldwide, in fact. Prices down, demand up.
Whereas larger investors...in the main...prefer to chase prices higher, and sell when prices fall. Because they're oh-so smart, of course.
All told, this creates this rather startling chart here from our friends at Thomson Reuters GFMS.
It's worth spending a little time with this chart, just to check you get quite how spooky it is.
The chart shows an inverse connection between ETF trust fund flows and consumer demand. ETFs grow when consumer demand falls, in short. And vice versa. So much so, in fact, that it might simply prove an accounting identity according to one China-watching analyst we know. But what links them is price.
As it is, Chinese traders got back to work from their New Year holidays on Friday, after the long shutdown of the
Shanghai Gold Exchange
– the only legal route for bullion to reach the world's No.1 consumer market.
That No.1 consumer market just enjoyed its single heaviest week of demand. But in the main, it will have come for retail products – such as coins, necklaces, bracelets, smiling cats, chopsticks and gilded roses – rather than the kilobars traded for delivery out of SGE warehouses.
That more wholesale form of bullion needed delivering in advance of the New Year, so that manufacturers could transform it into the objects people want to buy.
If you wanted to bet on a 2017 Chinese New Year pop in world gold prices, in other words, you missed it before the New Year arrived.
But if you want to look ahead...and perhaps look beyond the inevitable bust in China's growth bubble...then it plainly makes sense to buy a little of what the world's increasingly wealthy new consumers are using to store their wealth.
Either of these drops might suggest a risk to prices if Western investor demand now fades. But it also suggests that...starting from the trinket prices of 15 and 16 years ago...the underlying upturn in gold bullion has seen the metal "re-monetized" by investors and private households worldwide.
If there is a risk to gold prices, it's that segment of demand which matters more. And just as Asian consumer demand helps pull jewelry sales down to 28-year lows (or a 7-year low) worldwide, so Asian investors are apparently stepping up instead. Most notably in China.
"There has been a strong demand for gold and forex trading over the past two years due to the increased volatile stock and currency markets," says Rosita Lee Pui-shan at Hang Seng Bank to the South China Morning Post.
"The stock markets in Hong Kong and China were not doing well," agrees Jasper Lo, chief strategist at service provider King International, also launching new products to meet investor interest and also noting how "a variety of political tensions have led to high volatilities in many currencies.
"This has led more investors to pay attention to gold and foreign currency...and we have
seen more banks and brokers launching
gold and forex trading for customers. The trend is likely to continue."
Haywood Cheung, president of the Chinese Gold and Silver Exchange Society, meantime notes an upturn in the number of his members seeking accreditation to produce physical gold investment bars.
"This is a positive sign that there are increasing numbers of customers wanting to have gold bars for collection or as investment," says Cheung. "The growing number of Chinese middle class is going to increase the demand of physical gold. This has attracted more traders to come here to issue gold bars."
Will this trend continue? "Currency devaluation and restrictions on property purchases favour gold investment in China," predicted specialist analysts
Metals Focus
back in October. Looking ahead, they noted how:
While China's jewelry demand fell in 2016, physical investment weakened only "a modest amount" from 2015, and ETF holdings surged, albeit from "a very low base";
Volumes in the Shanghai Gold Exchange's main contract dropped by one-third, but the rolling futures contract grew more than 60%. Off-exchange products offered by local banks also proved "popular", again showing a rise in institutional gold investment;
High-net-worth investors got busy too, raising the average size of gold investment bars sold in China from the previously "dominant" 10 gram, 20g and 50g units towards the 1 kilo bars traded on the SGE.
All told, China's "relative lack of investible assets...[leaves gold] one of few popular options for investors to park their money in," said Metals Focus three months ago, especially after the early 2016 crash in the stock market and the fresh restrictions then imposed on speculating in real estate by the largest cities "in order to cool the market".
More gold investing with bigger investors including institutional buyers?
Maybe China's world-beating gold demand is about to impact world prices more directly at last. And maybe only to push prices higher if
China's ban on bullion exports
remains in place.