Gold Investing a Safe Haven Again. Like, Surprise!
Friday, 1/31/2014 17:39
Risk off, gold investing on for Western funds and Asia's rich...
GOLD INVESTING
died last year, right? Y'know, back when "
Gold loses safe haven status
" was the only headline gold got,
says Adrian Ash at BullionVault.
Yet 2013 in fact proved that claim wrong, even as it was being splashed everywhere. Because
gold investing prices
fell hard as world stock markets and other "risk" investments rose. Meaning that safe havens were less urgent...but not undoing one jot of the "anti-crisis" tendency in gold prices.
Here now in 2014, gold has risen some 4% this month in Dollars, and better again in Sterling and Euros, never mind emerging-market currencies like the Turkish Lira.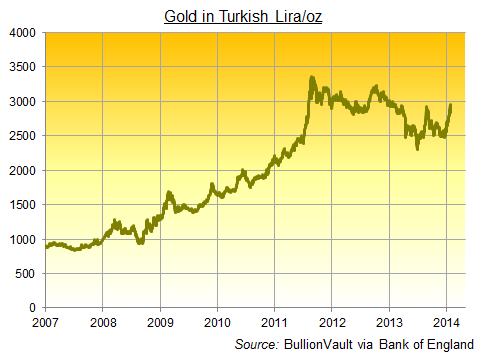 World stock markets, in contrast, have gone the other way. So have "risk" assets led by emerging-market bonds and currencies.
Shades of 1997 perhaps? So the financial media say, clawing around for a narrative. And it's true that emerging-markets (especially Asia) account for the lion's share of world gold demand. That was also true during the Asian Crisis of 16 years ago. And back then, when a rise in the returns offered by US Dollar investments sucked foreign cash out of Asia, it dented first their stock markets and currencies, and then their economic growth.
Yet gold didn't rise. It lost 20% across the year. Because with Western investor interest still missing (as it had been for a decade and more by the late 1990s) all that Asian demand could do was support prices. And that support weakened as Asian economies shrank. The US stock market, in contrast, rose 22% as if it didn't have a care in the world.
Two big differences today. First, Western investor interest has only recently gone AWOL from gold. So buying bullion remains front-of-mind for anxious money managers. Second, emerging Asia is now plumbed into rich world economies far deeper.
Yes, as we keep saying...and like specialist analyst
Philip Newman notes in this great new interview
...it's investor allocations that drive gold prices. Household coin or jewellery demand doesn't count, no matter how large in sum. People who buy gold because it is gold don't move the needle. What matters is new demand (or selling) from people who
buy gold (or sell it)
because it isn't anything else.
So looking at the money that counts, Western hedge funds today are now positioned for range-bound gold, if not lower prices. The so-called
"net spec long" of money managers
betting on gold futures and options started 2014 at just 30% of its size at New Year's 2013. So where it took ever-more new betting on gold to move prices higher as the weight of money-managers' cash built up during the bull-market's peak in 2011, a much smaller amount would shift the balance dramatically today.
More than that, Asia's richest investors are now very much richer than in 1997. There are many more of them, too. Nearly matching the US with almost 3.7 millionaires by end-2012 according to one PR puff-piece, Asia is also the
fastest-growing region for new billionaires
in 2013, says another. And they all have very much more to lose if other, so-called "risk" asset classes fall hard.
So rather than pulling the rug from beneath gold investing prices, Asian crisis alone may spark a surprise rally in bullion. Contagion to Western assets would only add to that rise. Because it never stopped being the ultimate "safe haven" for money fleeing trouble elsewhere. It's simply that, in 2013 at least, that trouble ended. Or maybe just took a pause.