Gold, UK Inflation & Mark "Miracle" Carney
Tuesday, 1/14/2014 18:03
Gold in Sterling rightly sank in 2013. But can Mark Carney walk on water...?
INFLATION in the UK ended 2013 at a four-year low of 2.0% on the official CPI measure, writes Adrian Ash at BullionVault.
Gold priced in British Pounds meantime had a worse year than even gold in Dollars. Falling near 4-year lows as 2013 gasped its last on New Year's Eve, gold priced in Sterling dropped nearly 30% from 12 months before.
Inflation matters, of course. And with 2013 costing UK gold investors 32% all told, only two years come close, as our
Annual Asset Performance Table
shows...
1981 saw the GBP gold price drop 28% in real terms, after you account for inflation;
1975 saw gold priced in Pounds do even worse, losing 38% of its real value.
So which did poor British gold investors suffer in 2013 – a repeat of 1975's way-station in a long bull market? Or a crashing end to gold's bull run, just like 1981 marked the start of a 20-year bear market?
The answer lies, we think today, in three variables. First, the UK and other Western stock markets. The FT-30 leapt in 1975, more spectacularly than even 2013, giving investment capital a much more exciting home than boring old gold. Second, the rate of inflation. But third, only when inflation is judged against interest rates. Meaning the return on cash (and bonds) after you account for inflation.
This real rate of interest pointed higher in 1981, dragging real returns to UK bank accounts and gilt-holders further away from the mid-70s' floor. It has pointed higher since the Sterling price of gold peaked in late-summer 2011 as well.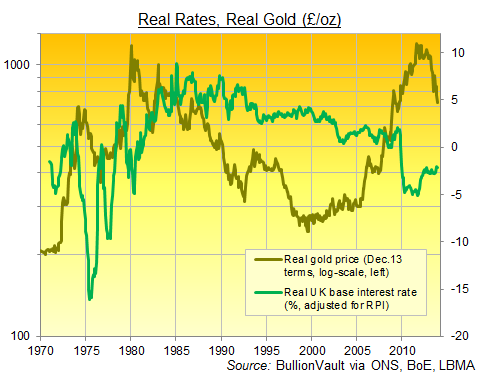 We have written many times on the impact of real interest rates on gold prices. But it wasn't until 2013 that we figured out how
the direction of real rates affects gold prices
, not the absolute level. You can see the inverse relationship, most especially at key turning points, on the chart of real gold vs. real rates above.
Now, real interest rates edged higher in 2013, albeit not enough to make any difference to the miserable returns to cash being paid to UK savers. The stock market also rose. In the face of these two improving competitors, gold crumpled.
The outlook for gold, inflation and UK shares from here? Your newspaper was no doubt filled with pundits (and stock brokers) sharing their view on equities as 2014 began. But for interest rates, and with the Bank of England's nominal rate held at 0.5% since the start of 2009, it's becoming plain that "the only way is up." Thing is, UK inflation is also near its floor of the last 20 years (and barely one-third its 4-decade average in fact). So irony, if not history, says there's a very real risk the cost of living will rise sharply as well, if not first and faster.
Meantime, and with a record-high peacetime national debt still to service, the UK government needs the Bank of England to repeat the blinding game it played in 2013. We doubt it's possible, George Clooney in charge or otherwise.
As an import-heavy economy (whose trade deficit remains entirely unfixed), a good deal of the UK's inflation comes via the Pound's exchange-rate value. The Pound rose in 2013, buoyed by expectations that improving GDP growth (led by retail spending, not capital investment, again unfixed) will force the Bank of England to raise interest rates sooner than later.
Maybe, maybe. But teasing the forex market into buying the Pound whilst deterring the gilt market from selling off on the same expectation of higher interest rates will prove a big ask. Pulling off that gambit for more than six months, Mark Carney would next be walking on water. Which is just what his
annunciation by the British press suggested
when he started in June 2013. But if interest rates don't rise (and the Bank of England's forward guidance says they won't), then the 2013 rally in Sterling might well keel over one or two US cents north of here.
Weak rates and rising inflation? UK investors and savers might want to revisit the late 1970s for a glimpse at what those factors meant for the Pound, government debt, and for gold.