Inflation Down, Gold Up...?
Wednesday, 1/14/2015 20:26
Gold has jumped so far in 2015. Inflation data, however, point lower...
SO the CONSENSUS amongst analysts, fund managers and longer-term traders is unchanged, writes Adrian Ash at BullionVault.
Inflation is low and falling, yet the Fed will start raising US interest rates in 2015, and that will be bad for gold and silver prices.
Perhaps. It would more surely be bad for US Treasury bond prices. Because higher rates mean lower bond prices. Something which fixed-income investors haven't really suffered since the 1990s.
You can see the long bond bull market of the last 15 years on this chart. It shows the yield offered to investors by US Treasury debt...adjusted for inflation in the cost of living...falling steadily since 1999 as bond prices rose.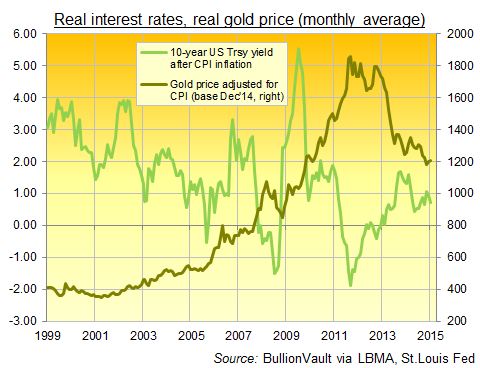 You can also see how gold prices have moved in tandem...rising as those inflation-adjusted yields fell...up until what clearly marks a big turning point for both in late 2011.
Contra-trend, note also the surge in both gold and real bond yields of 2009 on our chart, breaking the pattern. As you'll recall, 2009 brought QE money creation and deflation in consumer prices in the United States.
That's pretty much what the Eurozone...the world's single largest economic bloc...now faces this year.
So is that what's behind gold's early 2015 surge? Three things to watch...
#1. It's January, and gold is making an annual habit of dashing higher after the Christmas break. The Chinese New Year now looms (the Year of the Goat starts on Feb.19), and while China's consumer demand doesn't push prices higher, it makes a great story for traders hunting a fast buck off a simple idea. Fact is...
#3. Interest rates are falling, and falling in real terms adjusted for inflation. Even though inflation itself is dropping. And the link between real rates and gold prices is plain.
Most people assume gold is an inflation hedge, full stop. But
Tuesday's UK inflation report
, for instance, says the cost of living is rising at the slowest pace in 15 years. So why did Sterling gold just pop to £820 per ounce?
In truth, consumer-price inflation across the UK was below the dread 1% level all through 2000 when the DotCom Bubble crashed. Deeper down, on a 5-year basis, CPI inflation has now been running twice as high since 2010 as it did a decade ago.
Still, with headline inflation rates falling worldwide, interest in buying gold has eased back amongst private investors. But is that the right move?
UK bond yields...the rate of interest paid on UK government debt...fell faster than inflation at the end of 2014. This month's strong surge in gold prices to date is also mirrored by the sharp decline in real interest rates.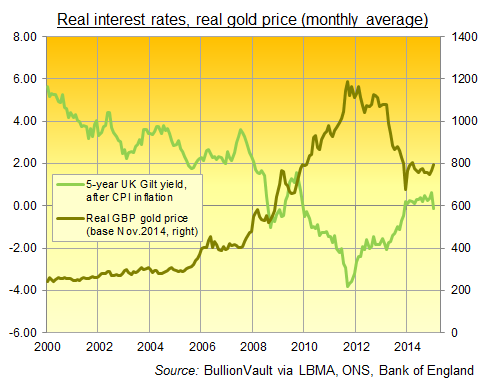 The same applies to German Bund yields and Euro gold prices.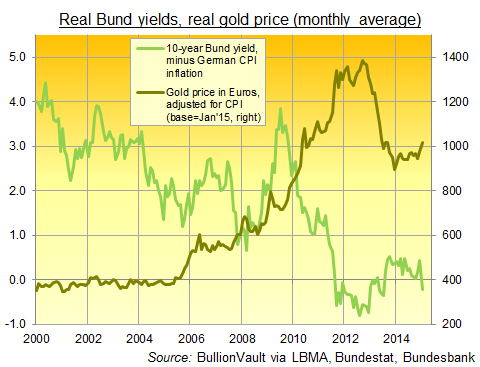 Real interest rates have sunk. Bullion has jumped. Because inflation is only half the story. Interest rates are also key. And the data say gold tends to offer an inflation hedge when you need it. Which is when cash savings don't.
Now, it's not the absolute level of real yields which count, but the
direction of travel
. Interest rates can pay less than inflation and gold can still fall, as it did from late 2011.
But here in 2015 so far, these "real yields" have fallen hard, even as the latest inflation data say that growth in the cost of living is slowing again. That's a big reason for the jump in gold prices.
It also means the consensus in Frankfurt, La Defence, the City and on Wall Street is only half wrong.
Because when central banks do move to defend the real value of cash by hiking interest rates, gold is likely to suffer. But only if those hikes actually outpace inflation. And there's very little reason right now to think that the ECB, Bank of England or the US Fed are planning strong interest-rate rises any time this side of never.