LBMA's Crystal-Ball Shocker 2019
Thursday, 10/10/2019 16:20
A remarkable thing just happened in gold...
A REMARKABLE THING has happened to gold in 2019, writes Adrian Ash at BullionVault.
Prices have risen so far, so fast, that gold has actually reached the 12-month forecast made last October by the 800-or-so attendees of the annual LBMA conference.
On average, those industry players said gold would rise over 25% by the time of the 2019 event, starting next weekend in Shenzhen, China.
Everyone I spoke to was stunned. First because they'd all gone nearer $1300 than $1500...
...and second because gold had delivered 20% or more only twice in the last decade...
...and only during the go-go years at the very top of the bull market.
Compared to 2009-2010, the gold market looked very different at last year's LBMA event in Boston, Massachusetts.
Both Western investor demand and Asian jewellery demand were weak.
Mining supply was meantime set for a new annual record, but the refining industry still showed
huge overcapacity
.
Only central-bank buying was positive...and that
proved essential in 2018
. Because it pretty much rescued the physical market from its worst supply/demand balance since 2009.
Altogether, this made the LBMA conference's average attendee forecast remarkable.
Even more startling, however, is the fact that it very nearly proved spot on!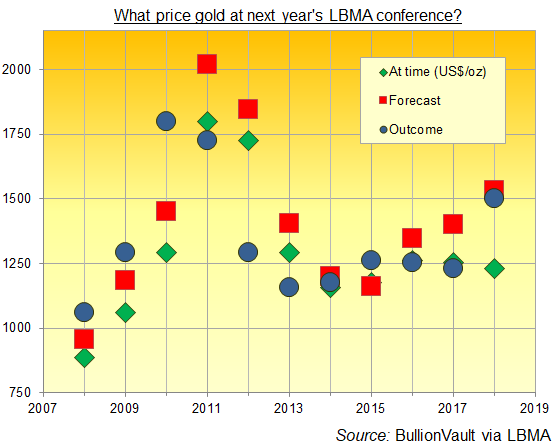 See the green diamonds?
They show the actual path of gold prices in US Dollars per ounce over the last decade, roundabout the end of October each year.
That's when the London Bullion Market Association holds its annual conference in some jolly location...
...bringing together miners, refiners, assayers, vaulters, shippers, insurers, brokers and dealers, central bankers, regulators, micro-chip fabricators, investors, jewellers, retailers and all the other parts of the market from across the world...
...with a jolly gala dinner...
...stacks of business meetings...
Then look at the red squares. Those are the average 12-month gold-price forecasts from attendees of that year's LBMA conference (held jointly with the London Platinum & Palladium Market, of which BullionVault is also a member).
Finally look at the blue dots. They show the actual outcome for gold prices 12 months later.
As you can see, delegates have rarely got it right. Never closer than $20 wrong, in fact.
Most times people simply forecast what they had just seen.
A surge after gold surged. A drop after gold dropped.
This time again, the LBMA's average forecast hasn't quite hit the target...
...not unless prices rise to $1532 by next Monday morning, when the opening speeches are made at LBMA 2019 (this year held jointly with the Shanghai Gold Exchange).
But the Boston forecast for a near-record rise came with gold dipping to $1230...down from a year earlier, and the lowest October level since the ugly wash-out of 2015.
We didn't know then, and we don't know now.
But we do know that a few key factors have changed in the wider world...
...falling way below zero on trillions of debt which investors are now paying to own.
Investors are also still paying to keep dopey tech-stock ideas afloat too, quite literally handing consumers their cash in the hope that size will somehow prove its own reward in the absence of profit.
How these bubbles peak and burst will no doubt decide the size of investor inflows to rare, indestructible gold.