Confusion Rules for Gold vs. Complacency
Tuesday, 9/29/2015 18:25
Do precious metals investors need more patience...or a hole in the head?
SO the U.S. Fed will "likely" raise its key interest rate from 0% "this year," says one policy-maker, writes Adrian Ash at BullionVault.
Or at least, the long-delayed
"lift-off" looks "appropriate
...sometime later this year," says another, meaning it's got to pull the trigger at either the October or December meeting.
Something for everyone then, yet again, from Monday's latest raft of Fed speeches. But while the world's single most important central bank wrestles with the promises it made about finally starting to "normalize" 7 years after slashing to zero, the rest of the world is moving the other way.
Inflation remains the big problem everywhere in fact. Or rather, its absence. Not too hot, not too cold, the Western world's target of 2.0% per year is now a distant dream. And only by abandoning the inflation half of its legal mandate could the US Fed possibly hike from 0% any time soon.
Confusion rules, in short, as this week's trading shows so far.
The collapse in raw materials prices maps the worst drop in Hong Kong's stock market since 2011, if not the Asian Crisis of 1998. This century's famous 'commodity supercycle' made a lot of rich people richer, and its downturn is hurting them and their investments, as
the Saudi example shows
. Over-capacity in everything...from US shale gas to London buy-to-let apartments to Chinese factories...threatens a deflationary slump worse even than 2007-2011.
Gold and silver are doing a little better than industrially useful stuff like platinum, energy inputs like crude oil, or base metals like copper. But that really isn't saying much. The breakdown in US stock markets hasn't yet switched the relative trends of rising equities, falling gold either.
Do precious metals investors need more patience...or a hole in the head?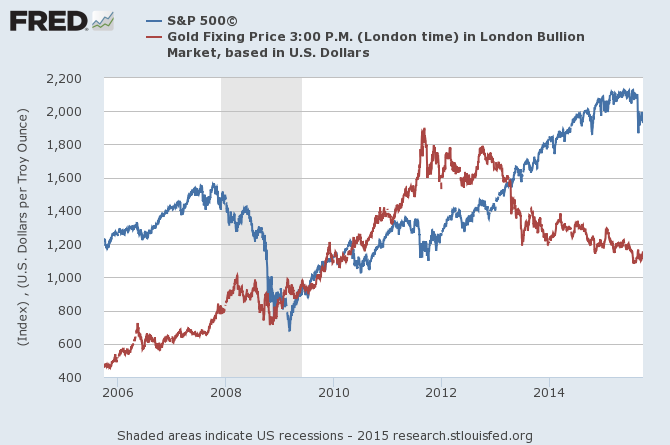 Professional wealth managers are split right down the middle, and it's their (clients') money which matters. If you have time, scroll through
this summary of 6 big-money viewpoints
polled by
CityWire
. Ignore the errors littering the gold bears' opinion. Because what counts is sentiment, not facts. And after the long bull market of 2001-2011, those fund managers who see gold as crisis insurance have already got it, and won't let go. Those who do not still can't imagine they will need it any time soon.
One group is wrong. The gap between them is widening. The same is
true of economists too
. Commodities point to a global slump. Or maybe just to rising disposable incomes. And where one side sees only blind panic amongst the other, the opposite side sees dangerous complacency.
Maybe it's the end of the world. Or nothing to worry about. If that feels oddly like mid-2008 to you...when gold slid 25% in 4 months, even as the collapse of Lehman Brothers drew near to mark the sharpest plunge in global trade since the 1930s...you aren't alone.