Gold Discoveries 25% Short of Last 2 Decades' Output
Friday, 9/20/2013 16:27
Potential future output badly lags despite budgets trebling...
GOLD MINING discoveries over 2 million ounces have collapsed despite exploration spending trebling since 2006, according to a leading consultancy.
Gold mining exploration budgets reached a record $6 billion in 2012, says SNL Metals Economics Group in its new Strategies for Gold Reserves Replacement 2013: Update.
But a chart accompanying MEG's report shows the amount of gold discovered in deposits of 2-million ounces or more falling sharply from 2006's peak at 100 million (3,100 tonnes).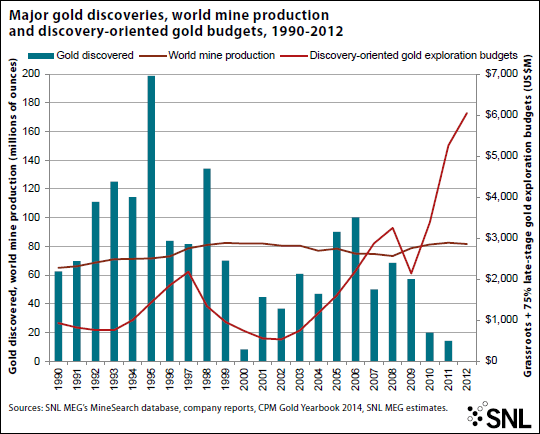 Between 1990 and 2012, says MEG, the "estimated potential future production" from new gold discoveries matched only 75% of gold mining output.
Large discoveries – offering more economical output – would meet only 56% of production between 1990 and 2011, the consultancy said last year.
Gold miners were warned by MEG as long ago as 2006 about looming difficulties in replacing their ongoing production with new discoveries.
Precious metals consultancy GFMS, now part of Thomson Reuters, says the average ore grade of gold mining output declined by 23% worldwide in the 7 years ending 2012.
This year's largest output gains so far, said GFMS at the start of this month, have come in Peru, where deforestation by illegal gold mining in the Amazonian region of Madre de Dios has doubled since 2011 according to the government.
Peru's environment minister Manuel Pulgar-Vidal told Reuters today that state-owned Banco de la Nacion may soon buy gold from these "informal" miners, to legitimize their output and encourage them to register and operate within environmental laws.
Up 7% from the first half of 2012, gold mining in Peru dumps over 70 tonnes of mercury every year from "wildcat" sites into rivers and forests, says MercuryWatch.
People around the south-eastern Amazon's Madre de Dios region have 5 times the World Health Organization's safe level, according to a new study this month by Carnegie Amazon Mercury Project.
Large gold discoveries have been centered in Latin and North America over the last 15 years, the new MEG report says.
World No.1 producer China does not show any 2-million ounce discoveries. Asia accounts for fewer than 2.5% of the large-discovery ounces worldwide. It also has the highest discovery cost per ounce, at $75.
Large Latin American gold discoveries cost $49 on average per ounce. North America was the third most expensive region at $49.48 per ounce.