Gold Jewelry Demand 'Recovering' as Scrap Sales Slide
Thursday, 2/12/2015 13:00
India's gold jewelry demand hits new high, net demand globally now half pre-crisis levels...
GOLD JEWELRY demand continued to recover in late 2014, recording the strongest fourth quarter worldwide since 2007 according to a new report today.
Across the year as a whole, gross demand fell more than one-fifth by value, says the new
Gold Demand Trends
from market-development organization the World Gold Council.
But with lower prices deterring sales of 'cash-for-gold' scrap from existing owners in 2014, net jewelry demand held near 2013's six-year high.
2014, says today's report, "was always going to be a difficult year" for jewelry after 2013's big price fall – the sharpest in three decades – sparked a surge in consumer demand.
Gold jewelry demand in India, the world's heaviest gold-buying nation, reached a new record high in 2014, growing 8% to 662 tonnes.
China's jewelry demand in contrast fell by one-third from what the Council calls 2013's "phenomenal" surge.
Added together, Chinese and Indian jewelry demand still accounted for 40% of all the gold sold to private households worldwide.
That compares with 64% in 2013.
"The last two years," the World Gold Council goes on, "have seen net jewelry demand recover to exceed 1,000 tonnes. This is partly due to a firming of jewelry demand as the world has emerged from the crisis. But by far the greater impact comes from the recycling sector and the sharp reduction in the volumes of gold being sold back onto the market."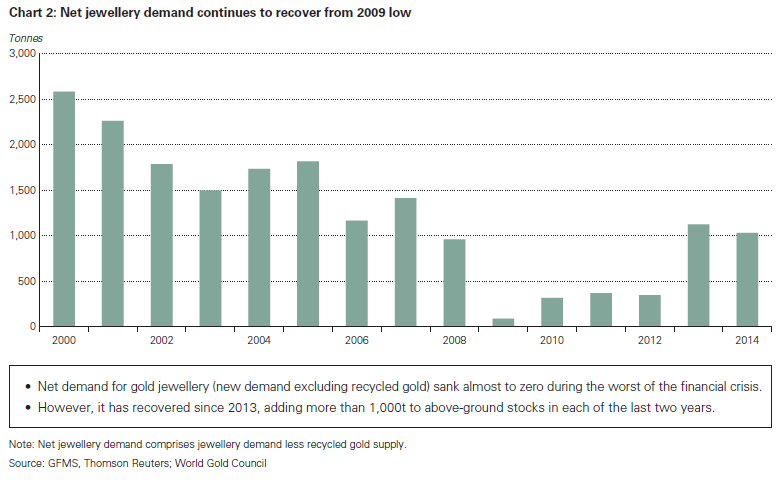 Today's report says supplies of scrap gold from existing owners – primarily private households selling jewelry to raise cash – fell 11% to 7-year lows in 2014.
Deterred by a 10% drop in average annual prices, scrap gold flows fell to the lowest level since 2010. For total supplies to the world market, that negated most of the 2% rise in 2014
gold mining output
to new record levels.
"With gold having weakened from its 2011 high," said
market consultancy Metals Focus
in its latest report Tuesday, focusing on US jewelry sales, "retail margins have improved noticeably.
"This has encouraged the trade to shift back to better quality precious metals," that report adds, pointing to a re-stocking of retail display space with higher-carat items after the financial crisis and surging prices of 2007-2012 forced consumers to seek lower-grade pieces at lower cost.
US gold jewelry demand "was again noticeable for its improving trend," agrees the World Gold Council today, noting how the last 3 months of 2014 marked the seventh consecutive quarter of annualized gains.
However, 2014's full-year US jewelry demand still lags the pre-crisis levels by almost two-thirds.