Gold Price Jump Whacks Consumer Demand to Worst Since 2009
Friday, 1/31/2020 13:01
Gold ETF and central-bank buying drive gains...
2019's STRONG rise in gold prices saw household demand to buy the metal fall to its lowest total for a decade, according to new data released this week.
Demand for large bullion bars for investment, in contrast, rose steeply as central banks continued their heaviest gold buying since the 1960s and exchange-traded products backed by gold needed their 3rd largest annual inflows ever.
"The huge rise in
gold ETF
inflows almost equalled the sharp drop in consumer demand in 2019," says the mining industry's World Gold Council, presenting data compiled by independent specialists Metals Focus.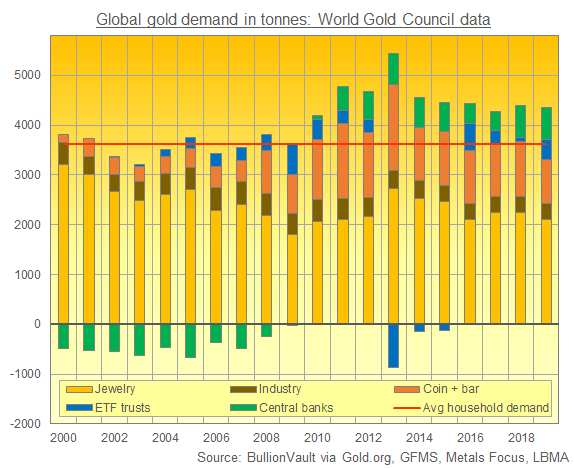 Away from large-bar investment demand, purchases of fabricated products – whether used in medicine or industry, or for jewelry, coin or small bars – fell to 3,304 tonnes on
the World Gold Council's figures
.
Down 8.6% from the 21st Century's annual average so far, that marked the lowest total since the global economic slump of 2009 – the
only year in the last 60
that World Bank data says global GDP fell in real inflation-adjusted Dollar terms.
Jewelry consumption dropped 5.9% by weight on the World Gold Council's presentation, while retail investment dealers saw net demand for gold coins drop 7.9% across 2019 from the previous year.
Sales of small gold bars sank by 25.5%.
"China and India held sway over global consumer demand," says the World Gold Council in its commentary on the
Metals Focus
data.
Looking just at the last 3 months of 2019, it adds, "The two gold-consuming giants accounted for 80% of the year-on-year decline in jewelry and retail investment demand."
Data on retail gold investing demand compiled by competitor analysts
Refinitiv GFMS
are less dramatic, showing an 11.4% drop in small bar demand for 2019 and a fall of 4.7% across the year for gold coins.
But for the wider market, GFMS' figures show total fabrication demand sliding 9.2% last year from 2018, while large-bar demand from ETFs and central banks combined rose 58.0% to top more than 1,000 tonnes – over one-fifth of the total market.
"The spike in the gold price," says Cameron Alexander, manager of precious metals research at Refinitiv GFMS, "was largely attributed to a pick‐up in investor interest, particularly among the professional investor community...evidenced by positioning on Comex [derivatives] and a surge in inflows into gold ETPs."
Commenting on the Metals Focus data this Friday, the 2019 drop in household demand by weight masks a rise in consumer spending on gold, said Louise Street of the World Gold Council, with the US Dollar value of jewelry buying reaching a 5-year high above $94bn.
Thanks to the Dollar's strength on the forex markets, that growth in household spending gold was "starker still in local currency terms," Street went on, saying that jewelry consumption in India – the No.2 market – set an all-time Rupee record last year around R1.7 trillion.
With next-to-no domestic mine output, India's highly sensitive gold demand relies almost entirely on bullion imports for new supplies. In 2019 it was hit both by high global prices and a falling Rupee, plus the BJP Government's hike in gold import duty to 12.5% at last February's Budget.
"Weak economic sentiment [then] curtailed gold sales" at October's peak festive season of Diwali, says the World Gold Council, but demand in China ahead of January 2020's New Year holidays – now the world's heaviest single gold-buying celebration – "was as expected [thanks to] the traditional belief that gold can bring good luck, combined with the fact that many companies grant year-end bonuses ahead of the lunar new year."
Through the festival itself, in contrast, "Demand in China has hit record low levels [at] Chinese New Year in 2020 due to the coronavirus," says Samson Li, Refinitiv GFMS' analyst in Hong Kong,
speaking Friday to Reuters
.
Amid worries that China's outbreak of deadly coronavirus will now hit economic growth and consumer spending, "The Year of the Rat will
continue to be a strong year
for gold prices," the
South China Morning Post
quotes Haywood Cheung, president of the Chinese Gold and Silver Exchange Society in Hong Kong.
"There are a lot of political uncertainties worldwide."