Gold Slips Amid the China Meltdown. So Far
Friday, 7/10/2015 18:27
Gold has slipped during Shanghai's stockmarket meltdown. What if China starts selling...?
SO AFTER
asking
this same question repeatedly
for the last 3 years, it looks like – at last – we're starting to find out,
writes Adrian Ash at BullionVault...
What happens to gold and silver prices if China hits a financial crash?
All through China's worsening stock-market meltdown of the last month – slashing 35% off equity values at their lowest – gold trading in Shanghai was weak or declining.
Turnover then pretty much evaporated on Tuesday as the Shanghai stock market lost another 2%...
That rebound, however, in Shanghai gold trading volumes did nothing to support world prices. Instead, gold dipped to fresh 4-month lows beneath $1148 per ounce as Shanghai trading closed for the day. And gold prices inside China were in fact lower still.
Mid-week, Shanghai's main gold contract closed almost $1.20 per ounce below the global benchmark of London-delivered gold. That means, all other things equal, an excess of metal inside the world's largest miner, importer and consumer nation. An excess which cannot be worked off by discounted prices. Well, not legally. Because
China maintains a ban on exports
of gold bullion.
The short-term risk to gold prices? You have to think heavy sales from China, spurred by its worsening financial meltdown, would hurt world prices. But only if that metal could somehow reach the global market.
Investors in China have, after all, been dumping everything else...from iron ore to pig food, sugar and eggs, according to Bloomberg. And they do have a lot of gold to dump, if things get that bad.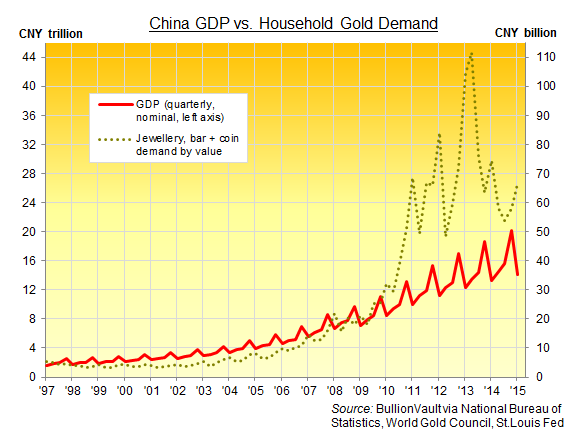 Yes, gold holds a special appeal for investors everywhere. But at the margin? In a financial panic? Consider that...
Chinese households spent 0.5% of the country's entire GDP earned over the last 5 years on gold;
Wholesale dealers hold perhaps as much as 1 years' global mine supply in stock, up to 3,000 tonnes;
The late 1990s' Asian Crisis saw heavy sales from previously big buyer nations, notably Indonesia and South Korea;
The Global Financial Crisis saw India...the world's No.1 consumer nation since time began...make net exports at the start of 2009, the first time since 1935, as households turned sellers to raise cash.
Trouble is, Chinese wholesalers have still been buying gold in big chunks from abroad, importing some 30 tonnes of bullion bars from London as recently as May according to the latest UK trade data. But Chinese-owned metal – if it gets dumped in the next phase of the meltdown – cannot find its way back into the global market. So contrary to many Western bloggers, China's lack of impact on world prices might be a good thing short term. At least, it would be good for gold owners in the West.
Shanghai's newer 'international' gold contract, meantime, remains unloved and unwanted, as
this chart of trading volumes shows
. So perhaps, as we guessed when the SGE's new international contract briefly surged past the main domestic trade in April, it is
more subject to flows of Yuan
– specifically 'offshore Yuan' held in accounts outside mainland China – than it is to investor demand for gold.
Most certainly, the international gold contracts on the SGE are failing to corner the international gold market right now. And China, remember, cannot export its unwanted gold back to the world market.
Small mercies?
As it is, this week's apparent "crash" in the world gold price was nothing of the sort. Compared with industrial metals, oil, food and all other raw materials, the price of gold remains surprisingly firm – proving yet again that this "useless commodity" behaves much more like a currency, at least for financial traders.
Silver, on the hand, suffered a nasty drop Tuesday, down 5% and more at one point against the Dollar, and also breaking new lower ground for 2015 in terms of Sterling and very nearly the Euro as well.
So if you want an analogy, look at
the collapse of Lehman Brothers
in September 2008. Silver prices sank as commodities collapsed amid the destruction of credit, trade and investment which losing a major bank caused.
Gold prices also fell against the Dollar in autumn 2008 as futures and options traders were shut out by their brokers in the scramble for cash. The Dollar is once again the must-have currency for financial players needing to quit and close positions today. The exit of bullish speculators from gold no doubt played a part in yesterday's Dollar-price drop too – forced to close their bets by worsening losses on other commodity trades.
Lehmans met huge physical gold demand, of course, plus a flood of monetary stimulus from Western central banks. China managed to side-step the global depression through a huge fiscal stimulus on top, but household gold demand still struggled. The value of private Chinese gold demand in the first 3 months of 2008 wasn't beaten for another 6 quarters – the longest stretch without a new record-high value of the last 12 years.
How might Beijing respond this time? Its increasingly desperate block on any share sales by institutions or company insiders may have stemmed the slump at the tail-end of this week. But if confidence evaporates again, how soon before the initial panic becomes a solid, determined turn towards gold by professionals and families running big, real money portfolios?
And how soon might all this hit asset prices, credit flows and therefore monetary policy further West?