Central-Bank Gold Standard: Never Again?
Wednesday, 11/14/2018 09:46
100 years of war, growing state control and gold hoarding...
INVESTING in gold is always and everywhere a political decision, writes Adrian Ash at BullionVault.
That's because gold is so very inhuman...an eternal, unrusting memento of when people refuse to trust each other's word or promise.
However much you buy, gold signals some level of doubt and mistrust in how finance, money and therefore society work.
Even a small 5% holding suggests you see a 1-in-20 shot that things will fall apart.
That's why, almost alone among bullion dealers and promoters, BullionVault takes no pleasure when central banks buy gold.
That's not to say we don't think they should. It's just that government gold-buying tends to signal trouble ahead.
Rewind to 1875, height of the classical Gold Standard. Back then money meant gold, both as physical coins and as the official measure of monetary value for bank-notes, small change, contracts and credit.
Yet official gold reserves in fact "amounted to no more than 1,100 metric tonnes" worldwide, wrote Timothy Green in a 1999 research paper for the World Gold Council, "while gold coin in circulation was approaching 3,000 metric tonnes."
Private citizens, in other words, then held the vast bulk of the industrialized world's bullion, and the international
Gold Standard
– "a symbol of sound practice and badge of honour and decency," according to one historian – had begun by default, not design.
The Gold Standard was simply the way private individuals the world over chose to meet and exchange wealth. Nationalized bullion, at this stage, remained but a twinkle in the eye of would-be technocrats and tyrants.
Come 1895 however, and "of the 6,100 metric-tonne of monetary stock, central banks held around 2,750 metric tonnes," writes Green.
"By 1905 the balance had swung in favour of central banks, who then had 4,710 metric tonnes of the monetary stock against private holdings of 3,916 metric tonnes..."
...and on the eve of World War One, after a three-year surge in government gold hoarding led by Wilhelm II's Germany and Tsar Nicholas II's Russia, sovereign states held some 8,100 tonnes in total.
It's hard not to see a link between the "total war" of the 20th century and this "total war" on freely held private wealth.
Those nationalized gold reserves equalled some 20% of all the gold ever mined in history up to 1914. Governments and central banks only got back down to that level a decade ago...
...some 90 years after the slaughter of WW1 took a pause ahead of the even greater catastrophe of WW2.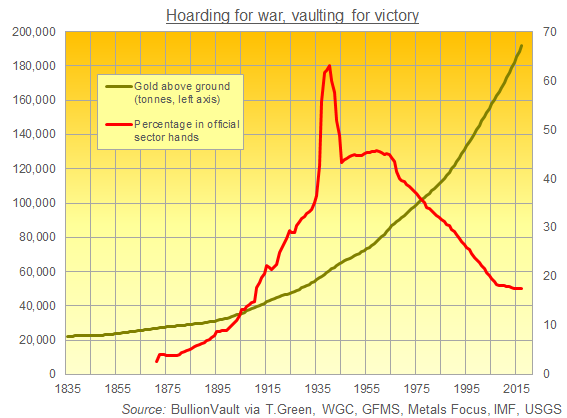 When the field guns withdrew in 1919 and the poppies returned to north-eastern France, the economic disaster that followed only accelerated this nationalization of what had until then been privately-held money.
Gold was sucked into government vaults at an ever-increasing pace, while personal freedoms and liberty were vacuumed up by governments of all stripes...communist, socialist, national socialist and imperial.
Mass unemployment, fascism and European re-armament saw a race to get gold and the power it brought under official control. And no bureaucracy seized control of this wealth more urgently than the United States.
One evil day in 1933...just ahead of the Nazi government in Berlin annexing gold from the vaults of Austria, Czechoslovakia, Poland, Belgium and Holland, as well as from the Jews it murdered across central Europe...the US government actually made private gold ownership illegal, forcing people to sell their gold to the Treasury on pain of a $10,000 fine or imprisonment.
Not content with the tonnage he'd prised from American citizens, President Roosevelt then devalued the Dollar, slashing its value from $20.67 to $35 per ounce of gold and thus encouraging foreign-owned gold to pour into Washington's hoard at the new, higher price.
All told, during the final nationalization of privately held gold that swept the world during the 1930s, fully 60% of all new central-bank gold ended up in US reserves.
The United States then acquired yet more gold during WW2, taking it from the British and Soviet state vaults in return for ships, tanks, food, boots, gasoline and warplanes. Its acquisition of gold continued even after the war, when "European central banks sold what little gold they had left to the US Treasury for badly needed dollars to rebuild their shattered economies," as Timothy Green explains.
At high tide, in 1949, the Treasury held more than 70% of all nationalized gold. Thus did the United States achieve the near-total annexation of the world's monetary gold stock. It coincided with America achieving financial and political pre-eminence worldwide...a dominance which continues today.
First
because central-bank holdings still drive so much attention in gold. See last week's fuss over
Venezuela's gold in London
, for instance, or this week's story in
The Telegraph
about the Banque de
France wanting to nick
some central-bank clients from the Bank of England.
To be frank, any hope Paris has of regaining some role in the gold market looks as forlorn as front-line Tommies waiting for the whistle to go over the top in Flanders. Not even with Brexit threatening London's dominance of other markets led by currency trading.
Because second, and given that non-EU Switzerland already occupies No.2 position in gold behind London (next-to-none of their gold flows come from or go into the Eurozone either), Shanghai presents a much greater challenge to London's role as global gold hub than does Paris...
Might that bombshell perhaps land when the Shanghai Gold Exchange co-hosts next year's London Bullion Market Association conference in Shenzhen?
Pure speculation on my part, but China is after all the No.1 gold miner, importer and consumer nation. The politburo has also been growing China's national gold reserves over the last decade, albeit with less fanfare and fuss than Moscow or Ankara.
If the 21st does prove the 'Chinese Century' as so
many pundits expect
, the direction of gold's global flows already point east.
So fingers crossed that Beijing will feel less need to nationalize and control all that bullion than did the 20th Century's would-be rulers as 1914 approached.
Thirdly however, and whether or not China catches the central-bank gold bug, be careful what you wish for if you believe the world should return to a Gold Standard in money.
Starting from our world of digitized credit, quantitative easing and sub-zero interest rates, it's hard to imagine the length and depth of devastation which could make such an about-turn in monetary policy even possible.
Never say never of course. But with state-control and oversight of private activity only growing since total war finally ended in the mid-20th Century, can the world really get back to a Gold Standard without needing a catastrophe to match the disasters which killed it?
I fear that hope is probably as
forlorn and naive
as the howl of pain which first made Remembrance and Veterans' Day the deep traditions they have become since 11am on 11 November 1918...
"Never again."