Brexit Gold Investing Surge
Monday, 2/22/2016 09:27
Younger UK savers lead jump in gold investing as EU Brexit vote looms...
HOW worried should UK savers be about the risks Brexit might pose to the Pound, government Gilts or the FTSE? asks Adrian Ash at world No.1 online gold investment provider BullionVault.
"Vote Leave" campaigners might see investment risk in Britain remaining in the European Union after 23rd June's referendum, as well as political danger. But whatever your personal view of the EU or the benefits of leaving, the vote plainly creates huge uncertainty for the world's 5th largest national economy – and the number of British people seeking shelter by buying gold is rising fast.
These Brexit gold buyers are putting more money into bullion than the average spend, too. More notable still is a jump in the number of younger UK savers choosing to buy gold.
This sudden 2016 rise in precious metals investing could be due to broader stockmarket and currency fears. Or it could simply be due to people realising how poor the outlook for Sterling and the FTSE has become anyway.
But all major economies face similar risks as the global economy slows and the debt crisis returns. Whereas the upturn in UK gold investing – most notably amongst younger savers – stands out.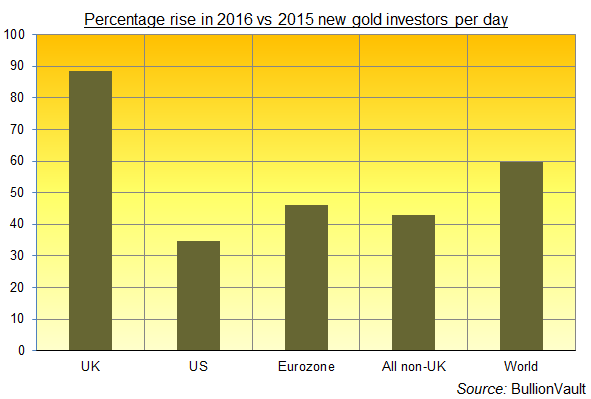 People buy bullion when they fear financial trouble ahead. That's why 2016's global turmoil so far has
seen the gold price jump against all major currencies
, and that's why investors across the world are making a marked return to gold. The largest platform for private investors online, BullionVault has seen the number of new account openings worldwide rise 60% from 2015's daily average.
We are, however, seeing a bigger surge in new UK users. And within that, there's a marked rise in demand from younger UK savers.
Together, these trends suggest a serious and growing concern about the UK referendum on EU membership, and about the risks which some private investors clearly fear Brexit poses to the value of Sterling and of UK financial assets.
With David Cameron now back from Brussels and setting 23rd June as the date of the referendum, February is already Bullionvault's third strongest month of the last two years for the number of new UK users opening their account, and that's with only 20 days gone.
On a daily basis, 2016 is currently 89% ahead of the 2015 average for new UK users, and well ahead of the 43% rise across all other countries worldwide.
These new UK users are also putting much more money into precious metals as well. First deposits, ready to buy gold or silver, are averaging £8,600 amongst new UK users this month, rising 73% from the previous 12-month average.
Finally, we're seeing a marked drop in the average age of new UK gold and silver investors – and age is apparently a big factor in Brexit opinion according to YouGov.
The pollsters say that voters under 30 support continued membership by almost two-to-one. The over-60s, in contrast, support Brexit by 56-44%. Gold is often associated with older, more cautious savers, and amongst BullionVault's existing UK user-base, 30% are aged 60 or over.
But that's fallen to only 7% of this month's new UK users however. Fully 16.5% of February's new UK users are aged under 30 versus the usual 3.8% in that age bracket.
Again, you might caution that the broader financial risks facing the UK are driving this shift – and younger investors are simply ahead of the curve. But while the gold price in Sterling has jumped more in 2016 so far than bullion has risen against other currencies, it's not outperformed by much (18.2% compared to 17.7% for Australian investors, 14.9% for Canadians, 12.7% in the Euro or 15.6% in US Dollars).
Moreover, the drop in the FTSE share index has, to date, been smaller at 5.2% than any other developed-world stockmarket (US S&P down 6.2%, Germany's Dax down 12.6%, Japan's Nikkei down 16.1%).
Brexit fears for the Pound and the FTSE seem to be driving this big jump in UK savers choosing to buy gold, and speaking to new BullionVault users there's a sense of urgency we haven't felt since the financial crisis.
Whatever their personal view of the EU and the benefits of leaving or staying, the number of British savers seeking safety from the uncertainty by buying physical bullion is rising fast. Whether this proves a smart move or not once UK voters make their decision, we expect UK precious metals demand to keep growing as the uncertainty over Britain's decision grows.