Good News for Gold Bulls from the LBMA's Near Bears
Wednesday, 11/12/2014 20:59
LBMA conference 2014's straw poll marks big change from lagging the bear market...
GOOD news for gold bulls from the London Bullion Market Association's conference in Lima, writes Adrian Ash at BullionVault.
Everyone was bearish! Or very nearly. As contrarian signals go, add this to the pile...growing taller every day.
Sure, instead of sipping Pisco Sours in Peru, we're here sipping instant coffee with the same view of Hammersmith's A4 flyover in West London that we get every day. But friends and journalists who didn't think this year's conference too far to go report a
stark, bearish tone
to the chit-chat.
We noted before
last year's LBMA trip to Rome
that the attendees...although "expert" industry insiders (like, umm, us)...have consistently called it wrong with their average 12-month forecast. As an average, the crowd was too timid when prices were rising, and then too confident when the bear began.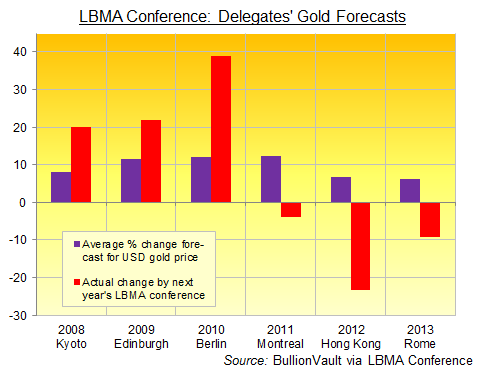 But where this unscientific poll has been consistently late, lagging the gold price up and down, it now forecasts next-to-no change in gold prices by the time of the next conference (Vienna 2015).
This week in Lima, the smallest LBMA crowd since at least 2009 said gold will trade at $1200 per ounce one year from now. As a guide to sentiment, the LBMA delegates' average guess has shown just how wrong the crowd tends to be. And having lagged the turn in prices so badly since 2011, forecasting no change might be as close to bearish as it gets.
When everyone's out...or at least miserable...there's only one way for prices to head. So says the "contrarian" school of long-term investing.
Find an asset that's hated, and deeply oversold. Then fill your boots.
Gold isn't quite there yet, perhaps. It's certainly a very long way from the hated, oversold wreck gold was at the turn of the century...dumped by central banks, investors and even Asian consumers. But with precious metals now the target of parliamentary hearings and heavy fines...and with bullion-bank traders facing personal charges of stiffing their clients...the wheel has turned full circle from the peak of the financial crisis.
Instead of hedge funds and credit derivatives being the focus of lawsuits and new post-bubble rules, it's the turn of gold and silver. Coming at the same time as the "flight" or "exodus" from commodities investing (copyright, all headline writers today), some kind of low must be near.
Near is a relative term, however. This choice cut of CNBC talking-head bearishness sees $1000 as a clear target. Other calls for $800 gold come from big-name fund managers and strategists are also much nearer now than they were.
But that kind of wipe-out...clearing the last of the "momentum followers" who mistook gold for a bull market, rather than a flight from other, more typically profitable assets last decade...is still 30% below today.
Three years after gold and silver peaked, such wipe-out forecasts might also simply reflect recent history too. Because after all, it was extrapolating the trend...just after the top in 2011 at $1900...which gave the world forecasts of
$3000 gold
...
$5000 gold
...even
$10,000 gold
.
Such over-excited forecasts, unlike the anonymous, averaged guess from the LBMA conference floor, are of course looking for headlines. Who can forget
Dow 36,000
...?
But even the mildest group-think cuts both ways, bullish and bearish. Because people tend to predict what they've just seen. Experts included.