Gold Bars Smuggling Jumps in Japan
Wednesday, 7/06/2016 17:28
Japan's QE, negative rates and consumption tax hike spur gold bar smuggling surge...
GOLD BARS smuggling into Japan has surged, according to the Ministry of Finance, following a rise in consumption tax on buying the metal and the Tokyo central bank's move to negative interest rates and record levels of QE money creation, writes Katie Hillan at BullionVault.
Japan's infamous 'yakuza' mafia and other smuggling rings are engaged in the illegal imports, press stories say, reporting how four South Korean women were arrested at the end of June at Kansai International Airport in Osaka Prefecture with gold bars worth ¥136.5 million (US$1.35m) hidden in their undergarments.
The women claim they have smuggled gold bars into Japan 30 times since summer 2015.
Japan had already recorded 177 incidents of gold smuggling over the 12 months to June 2015, according to the Coordination Division of the Finance Ministry in Tokyo – a rise of 22 times from the previous 12 months – with officials
confiscating nearly 700kg
of gold with a total value of over ¥3 billion ($30m).
Those would-be smugglers could have evaded ¥240m ($2.4m) in taxes, the Ministry says.
Consumption tax was raised from 5% to 8% in April 2014, hitting gold purchases alongside other items.
A further rise in consumption tax from 8% to 10% was due in April next year –
"an important element"
in achieving Japan's goal of turning the country's huge fiscal deficit into a balanced budget by 2020 according to Fitch Ratings, one of the world's 'big three' credit rating agencies.
However, Prime Minister Shinzo Abe has pushed that hike back to October 2019 as part of efforts to avert worsening the drop in household spending and risking a return to full-blown deflation in the world's third largest economy – efforts which now also include negative interest rates and ¥80bn ($790m) per year of
quantitative easing money creation and asset purchases
by the Bank of Japan.
"Many customers are wagering that it's better to turn their savings into gold as a safe asset rather than deposit money at banks that offer low interest rates," Takahiro Ito, chief manager at Tanaka Kikinzoku Kogyo, Japan's biggest bullion retailer, said earlier this year.
"Many customers usually sell gold, but we get the feeling that more customers are buying gold even at [rising] prices exceeding."
Consumer demand in Japan almost doubled to 32.8 tonnes in 2015 from 17.9 tonnes a year earlier, according to World Gold Council data, having turned net negative over the previous decade as savers and private investors sold gold bought during the earlier stages of Japan's deflationary "lost decades" from the 1990 stockmarket and real estate crash.
Tanaka KK's gold bar sales in the first 3 months of 2016 climbed 35% from a year earlier, Ito says.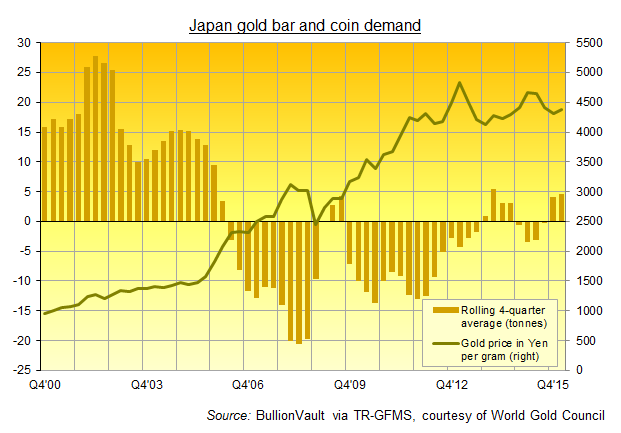 "The majority of the suspects who have been arrested for smuggling are Japanese, but the second-largest number are from Hong Kong," said a spokeswoman from Coordination Division of the Finance Ministry in Tokyo. Of the Japanese arrested, the
vast majority had links
to underground 'yakuza' groups.
Two members of Japan's notorious Inagawa-kai organised crime group allegedly smuggled 112kg of gold into Japan by private jet in December 2015.
A former ring leader estimates that smugglers can yield a profit of ¥200-250,000 ($2,000-2,500) from each
kilogram bar of gold
.
World No.2 gold consumer market India has seen a similar surge in gold smuggling as a result first of the 10% import duty imposed in 2016 and now an extra 1% in excise tax charged in the government's 2016 Budget.