London Beats New York as Gold Bar No.1
Thursday, 8/03/2017 12:34
Commercial vault data reveal London's gold bullion bar holdings...
GOLD BAR data released this week confirm London as the capital of the world's bullion market, writes Sam Williams at BullionVault.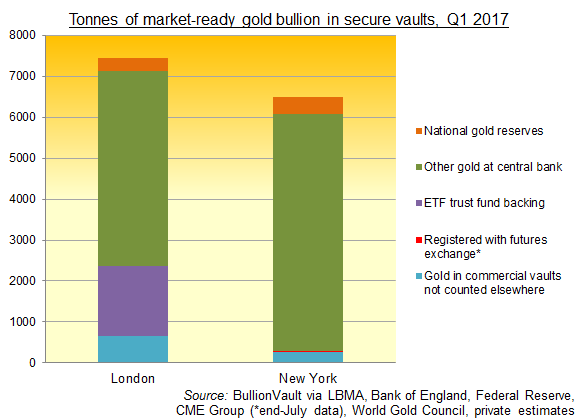 Most of the 7,449 tonnes reported as of 31 March 2017 was in the form of market-ready, wholesale gold bars, produced by the small number of refineries capable and approved by the LBMA to produce these '
London Good Delivery
' bars.
Normally 25 centimeters in length (10 inches), 7cm wide and 3.5cm tall, each bar must weigh between 350 and 430 Troy ounces (around 12.5 kilograms) and carry certain markings stipulated by the LBMA's Good Delivery standards.
The term 'Loco London' refers to gold and silver bullion physically held in specialist vaults within the city's M25 orbital highway.
The majority of Loco London gold sat in the Bank of England's vaults at the end of March, representing about 68% of overall holdings. Most of this was being held by the Bank for foreign central banks, choosing London for its world-leading liquidity in clearing physical bullion trades.
The Bank's own data, launched in February and running from July 2016 to present, shows that the quantity of
gold held beneath the BoE
in Threadneedle Street has remained relatively stable, never rising or falling by more than 1% month to month.
"Changes in total Loco London gold over the past nine months have been driven more by changes in non-BoE gold," says analyst Joni Teves of Swiss investment and London bullion-market clearing bank UBS, explaining the data in
an article for the LBMA
.
"It is in these private holdings that London greatly exceeds New York as a centre for gold bar storage."
Published with a 3-month lag, the LBMA dataset starts from July 2016, when Chinese-owned ICBC Standard Bank – part of the world's largest commercial lender (HKG:1398) – joined investment banks J.P.Morgan (NYSE:JPM) and HSBC (LON:HSBA) in offering London gold custody services by acquiring the vault facilities of former bullion bank Barclays (LON:BARC).
Four secure logistics providers also offer loco-London storage for wholesale gold bars and silver bullion – Brinks Inc. (NYSE:BCO), G4S (LON:GFS), Loomis (STO:LOOM-B) and Malca-Amit.
Ms.Teves' analysis says approximately 1,485 tonnes of London's gold bar holdings – worth some £45.7bn – are used to back the value of exchange-traded trust fund products, led by the SPDR Gold Trust (NYSE:GLD) listed in New York.
Separate data
from mining-backed lobby and market-development organization the World Gold Council suggests the figure may be higher, as the vast majority of global gold ETFs are backed by loco-London gold.
With respect to non-central bank holdings, London's main rival is Switzerland; available data here is sparse but according to estimates the country could contain more privately owned gold than London, although its central bank deposits will be much smaller.
Figures from Shanghai and Mumbai, the world's other large centres for bullion trading, are also not readily available. However, the People's Bank of
China now reports 1,843 tonnes of gold
bars in its foreign currency reserves, while Matthew Turner at Australia-based Macquarie bank's research division estimates total commercial-bank gold holdings across China
may have totalled some 3,000 tonnes
by late 2016. As a consumer market rather than an intermediate (or 'terminal') market, Mumbai's total vault holdings are also likely to be significantly below London's.
As well as gold, the LBMA announcement said Loco London silver holdings totalled 32,078 tonnes at end-March. With central-bank holdings in London thought to be zero, ETF trust fund holdings worldwide stand around 20,000 tonnes, the majority held in London custody.