Splitting the Difference in Gold Analysis
Thursday, 3/31/2016 20:22
Gold analysts GFMS and Metals Focus both just issued their 2016 reports. Devil's in the detail...
NO ONE can agree on what just happened in gold, let alone what comes next in 2016, writes Adrian Ash at BullionVault.
"Gold heads for best quarterly rally in 25 years," says data and news provider Bloomberg.
Not so, say competitors Thomson Reuters. "Gold poised for best quarter in nearly 30 years."
What's 5 years between arch-rivals? The two news-wires' headline writers can't agree on the key driver of gold's sharp Q1 rebound either. Bloomberg says "safe haven demand"; Reuters says "dovish Fed" comments on future rate rises.
But using raw numbers, at least, we can check the first point. So long as we agree which gold price we track.
Spot? Retail coin? Indian jewelry? Comex futures contracts?
The devil really does lie in the detail. Because how you buy gold affects how much you pay (and it really affects how much you'll get back when you sell). But you can't buy cheaper (nor sell dearer) than large-bar gold dealt in London's wholesale bullion market. And based on
its daily benchmark
, gold ended March 2016 higher by 16.5% in US Dollar terms from the last price of 2015.
Using the AM Fix for 31 December where needed (the market now shuts at lunchtime on the last working day of the year), that made Q1 2016 the strongest quarterly rise in gold prices since Q3 1986...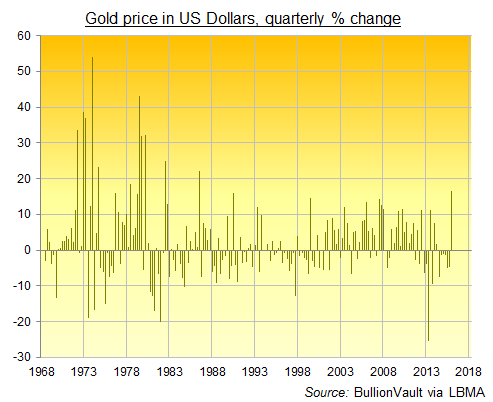 ...pretty much that 30-year record which Reuters called.
Simple! But sadly irrelevant. Because it doesn't help you jump into a time machine, go back to end-2015, and buy gold amid December's deafening chorus of bearish forecasts and frank disdain.
Nor does Q1's three-decade record gain tell anyone considering a gold investment what comes next. Since current data began in 1968, gold prices have averaged 5.9% gains in the 3 months following a quarterly gain of 15% or more. But that simple average masks the fact that half those times it then fell, and half it rose. The median outcome – finding the middle of the range – was just 0.7%. That's not quite enough to cover your costs, even if you choose the
cheapest, safest and simplest route to buying physical gold
.
In gold, in short, the more important a fact seems, the more complex and confused it becomes too.
Total gold mining output, for instance? It rose just 0.8% last year to 3,158 tonnes, said specialist analysts GFMS at the launch of their new 2016 Gold Survey on Thursday morning.
You might think that gaping data difference comes by design. GFMS is now, after all, a part of Thomson Reuters, and its analysis and data can now be accessed through the Eikon platform. Whereas the data from Metals Focus are now available to users of Bloomberg's competitor terminals. GFMS also lost the key World Gold Council contract last year to Metals Focus, who now supply the mining-backed market development group with numbers for its quarterly
Gold Demand Trends report
.
Most notably, the directors and several other of the 15 analysts at Metals Focus learnt their trade at GFMS, back before the 2011 sale to Thomson Reuters. But the older brand-name retains highly-respected specialists too amongst its 18-analyst team, plus almost half-a-century of historic comparisons through the annual Gold Survey, first published in 1967. And rather sparking a battle of headline-chasing conclusions, the devil really does lie in the detail when you study today's two new reports together.
The No.1 source of consumer demand? India last year overtook China to reclaim its centuries-old crown lost in 2012, says GFMS. But no, says Metals Focus. Because China only shrank 1.7% (not 7.0%) and India grew only 3.0% (not 6.3%) starting off a lower base, too.
In terms of global demand and supply, says GFMS, "2015 marked the third year in which the gold market remained in surplus, this time of an estimated 354 tonnes." But the market was in fact pretty much perfectly balanced for a second year running, Metals Focus reports in its new book.
How about scrap sales of metal by existing gold owners worldwide? They rose 1% by weight from 2014, said GFMS, with Turkey's scrap flows jumping 75% on last year's record-high Lira prices.
But scrap sales actually fell 6% worldwide, says Metals Focus, and would have fallen 11% if not for Turkey's 35% growth.
What about central bank gold buying? As a group last year, and net of sales, the "official sector" grew its demand 3.6% to the 2nd-highest quantity since the end of the US Dollar gold standard in 1971, according to GFMS. Whereas Metals Focus puts net central-bank demand down 3.1% to the lowest quantity on its data series since 2010.
Confused? If you think the past is tense, the immediate outlook differs more starkly still thanks to Q1's stellar 15% gain.
GFMS: "We believe that the recent price rally will prove to be short-lived, and once current market turbulence starts to ease we are likely to see the price retreat again."

Metals Focus: "The change in investor sentiment seen in the first quarter is more likely to solidify than melt away in the months ahead."
Can't these experts agree on anything? Other than both having 96 pages in their new annual gold-market reports. Or choosing 31 March to launch their annual surveys. Or picking the very same hotel for one of their launch events on Thursday as well!
Take direct mining costs, for instance. Producing one ounce of gold cost an average $660 worldwide in 2015 according to Metals Focus, or $707 if you ask GFMS. Total costs, judged on Metals Focus's sums for the industry-wide "All-In Sustaining" metric versus GFMS's own "All In" measure, then averaged $897 versus $1310, putting maybe 10% (Metals Focus) or perhaps as much as 50% of global mine output (GFMS) underwater against the year's average annual market price.
Investors in gold-mining shares will surely want to check and understand the difference. But while the absolute levels in today's two reports differ wildly, the direction doesn't, with gold mining costs falling 7-8% in 2015 on Metals Focus' sums and falling 4-5% for GFMS. And it's where the two new reports agree that investors wanting to review their own decision to buy or sell gold will find the comfort of something like a consensus big picture outlook:
US interest-rate policy and expectations were the key driver of Dollar gold prices in 2015, and will be again in 2016;
Investor sentiment is what actually moves the price higher or lower, and the turnaround so far in 2016 has been remarkable;
Gold mining output rose to a new peak in 2015, but whether it now slips (GFMS) or plateaus (Metals Focus) it will not grow. There simply isn't the money or ability to boost production anytime soon;
Hedging by miners wanting to lock in current prices has popped higher on the price jump, but remains small and project-focused, rather than marking a change of strategy;
Russia and China ate the lion's share of central-bank gold demand last year, and they show no signs of stopping;
Asian demand so far in 2016 has been weaker, but the underlying fundamentals of supply and demand are improving, and the impact on prices will show sooner (Metals Focus) or later (GFMS).
Bottom line? Investors wondering which report to trust more will be hard put to tell the difference, both in the sheer quantity and detail of data, but also in the broad outlook.
Metals Focus: "We should see the physical markets furnish gold with a higher 'price floor'...[although] this may not be immediately apparent."

GFMS: "The forecast reduction in global mine supply and a gradual recovery in demand will see the physical surplus narrow in 2016, providing support to the gold price and laying the foundations for better prospects."
Still, if it is confirmation bias you need to support your own pre-conclusions, GFMS are – for now – sticking with their outlook for a 2016 average price little changed from 2015's average of $1160.
Metals Focus, in contrast, see gold trading as high as $1350 by the end of the year. Albeit with a possible low of $1150 throughout Q3 and Q4. Because there's only one thing harder to forecast than the past.