CBGA-4 in Doubt as W.Europe's Hold on Central-Bank Gold Slides
Thursday, 10/10/2013 09:39
Euro central bank gold sales fall to 25-year low, officials give "no comment" on CBGA...
CENTRAL BANK gold sales from Western Europe over the last 12 months fell to a 25-year low according to data published Wednesday, putting the renewal of their Central Bank Gold Agreement further in doubt next year.
Ending on September 26th, the latest year of the current CBGA – under which Western Europe's policymakers first agreed to cap central-bank disposals of
gold bullion
in 1999 – saw 5.0 tonnes sold between the Eurozone, Sweden and Switzerland, said the World Gold Council's data on Wednesday.
That marks the lowest level of net gold selling amongst central banks in Western Europe since 1988 according to analysis by BullionVault. Germany's Bundesbank accounted for all five tonnes sold, and all of it for investment coin production. Europe's only other seller, the Czech National Bank, sold 0.7 tonnes. It is not a Eurozone member or signatory to the CBGA.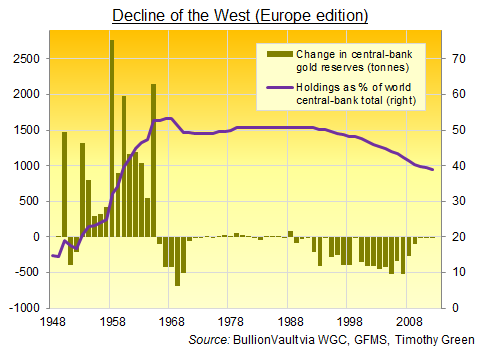 The current 5-year agreement, known as CBGA-3, is due to expire in September 2014. It allows for annual sales of 400 tonnes between the signatory central banks.
Last week speakers from the German Bundesbank, Banque de France and Bank of England all declined to comment on the likelihood of a new CBGA being signed. Market analysts questioned the need for signing the current agreement in 2009, as Western European gold sales sank towards today's historically low levels during the global financial crisis.
"Back in the early 2000s," Bloomberg quotes Macquarie Group analyst Matthew Turner, "this agreement was seen as a real key support for the gold market.
"Now it seems a bit superfluous."
Analysis by BullionVault meantime puts the proportion of all central-bank gold worldwide now held in Western Europe's central banks at a five-decade low, beneath 39%. The switch comes despite the slowdown in sales, as Asian and other emerging-market central banks have continued to accumulate gold bullion.
Net-net, central banks worldwide bought 535 tonnes of gold bullion in 2012, the most since 1964. This year's total may reach 350 tonnes, according to World Gold Council estimates.