1931 for the Euro, Part I
Wednesday, 2/17/2010 20:06
"We chose Gold not because gold is gold, but because Britain is Britain..."

HEDGE FUNDS keep confusing the two, but the Euro is not gold.
It might just collapse, however, under the same pressures – and with the same "bang!" beyond the markets – that killed the international Gold Standard eight decades ago.
"Nobody invented this remarkable system, no grand plan was ever devised, no one ever wrote a rule book on the necessary codes of behavior," as the late Peter Bernstein wrote of gold – and not of the Euro – in his 2001 tome, The Power of Gold.
That's not to say rules and codes didn't apply. Indeed, it was suspending and then wilfully breaking them which brought about the Gold Standard's demise, first as Europe and then as the world slipped into chaos in 1914 and twenty years later. But for a short half-century, this frock-coated theatre applied the rule of law to the way humanity had scrabbled about to store and exchange value for more than 5000 years.
The Gold Standard, which coalesced into international fact around 1870, meant "having a currency that was universally accepted, because it was backed by stuff before which humanity had been genuflecting since the beginning of time," Bernstein explains. Put another way, "Currencies were just names for a particular weight of gold," as Robert Mundell, Nobel economist (and 'father of the Euro' ironically enough) once said.
There was a competitor, of course, in silver. But "We chose Gold not because gold is gold, but because Britain is Britain," as Ludwig Bamberger, co-founder of Deutsche Bank, told the Reichstag after leading the newly-unified Germany to nail its money to gold in the early 1870s. Similarly, by the end of the century that followed, it was Germany – rather than simply its Deutsche Mark – which everyone wanted to ape.
Never too hot or too cold, the world's third-largest economy had side-stepped the 1970s and '80s inflations...re-embracing its poor eastern sibling in the '90s more easily than anyone guessed...and offering a clear template for sustained growth, built on what now sounds like a Victorian if not barbaric aim:
Sound money.
The trick? It was simple, really. Just keep a lid on the money supply. Raise rates whenever things get too warm. Thereby ensure – with diligent savers avoiding both housing and consumer bubbles – that interest rates can stay low the rest of the time.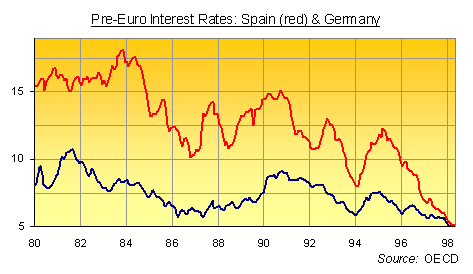 See the "convergence" between interest rates on profligate Pesetas and the doughty Deutsche Mark as the birth of the Euro approached?
Note also how it came about. First, the political fudge cooked up at Maastricht 18 years ago this month offered to share Frankfurt's "sound money" with its "Eurozone" neighbors. They too could borrow at low German rates, rather than being whipped by "hot money" flows and "speculative attacks".
So second, and with the convergence clock ticking, bond-buyers the world over took their cue to start bidding up West Europe's high-yielding debts.
Down went Portuguese, Italian, Irish, Greek and Spanish interest rates as these "speculators" poured cash into previously wayward economies, safely anticipating the day that a single, pan-European central bank housed in Frankfurt would set the cost of money for the PIIGS, Finns, French, Belgians, Dutch, Austrians and Germans all at once.
Bond speculators got a sure thing; the newly Germanized states got access to cheap money. What could go wrong? All it required was everyone played by the strict terms of the treaty.
But just the Euro isn't quite gold, so Spain wasn't quite Germany, as the charts below from Global Property Guide show...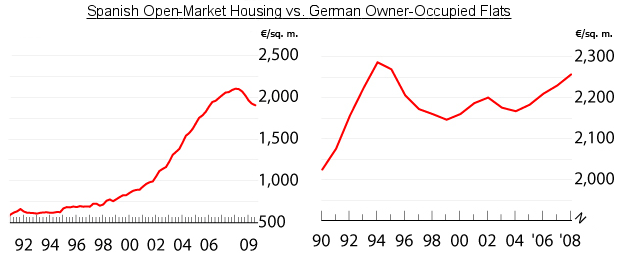 The single European currency wasn't the first attempt at creating European Monetary Union (EMU). Hell, between Feb. and Sept. 1992, the pre-Euro union even tried to include the United Kingdom!
But unlike the so-called Latin Monetary Union tried by France, Italy, Belgium and Switzerland in 1865 – and unlike the coinage minted by Emperor Charlemagne a thousand years earlier – the Euro arrived with that unsurpassed wisdom only the very end of the last century enjoyed...a sure knowledge that history's worst horrors were over thanks to clever people pulling this level, twiddling that dial, and framing new laws for the good of their voters.
Pulling together through treaties and summits, European leaders could steer what they called their "free-market economy" to unending growth...all boom and no bust...enjoying German-priced finance without first having a Weimar-style lesson etched onto their brains. The rules, it was hoped, were quite simple. "In order for [monetary union] to function smoothly," as the European Council still bother to say, "member states must avoid excessive budgetary deficits. Under the provisions of the Stability and Growth Pact, they agree to respect two criteria:
"A deficit-to-GDP ratio of 3% and a debt-to-GDP ratio of 60%."
And to keep the union's 12 (and now 16) members in line, "Only an exceptional and temporary excess of the deficit over the reference value can be exempt from being considered excessive," as the European Central Bank says, "and then only if it remains close to the reference value..."
Yet 12 of today's 16 Eurozone members – including Germany and France, as well as the PIIGS – are now so wide of these rules, they are subject to excessive deficit procedures (EDP), a set of deflationary budget demands imposed by the union's governing council in Brussels. And it's not just Eurozone states either who stand in breach of their vows. Twenty of the European Union's 27 political members are also now subject to EDP slap-downs – just the kind of "austerity" budgets currently being applied to the Greek financing crisis, bringing out strikers and marches across the nation.
Here in London, for instance, the UK Treasury laughed off the threat of EDP after its 2007 spending overgrew tax receipts by 2.7% of gross domestic product. Sixteen months later, EDP was begun as the UK's state deficit shot above 12% of the annual economy.
"Bringing an end to the excessive government deficit situation by 2013/14," announced the European Council last year, "implies an average annual fiscal effort of clearly beyond 1% of GDP over the period between 2010/11 and 2013/14."
But can you imagine? Fiscal shrinkage worth 1% of GDP each and every year until 2014...?! That's enough to turn Paul Krugman's beard white. And it's just the kind of supra-national deflationary stricture which caused the Gold Standard to crack at the start of the Thirties.

Read Part II of 1931 for the Euro here...or click through to BullionVault now if you're Ready to Buy Gold...