Rome, Dollar Debasement & Emperor Obama
Wednesday, 10/02/2013 14:19
Behold the mighty Dollar of Emperor Obama, sat alongside the currency debasement of ancient Rome...
US DOLLARS still rule the monetary world, writes Adrian Ash at BullionVault. So too did the Roman Denarius long ago, when Rome was in charge and its emperors chose who lived and died.
Hence the best slide, perhaps, of this week's London Bullion Market Association conference in Rome. It shows debasement in action, twice.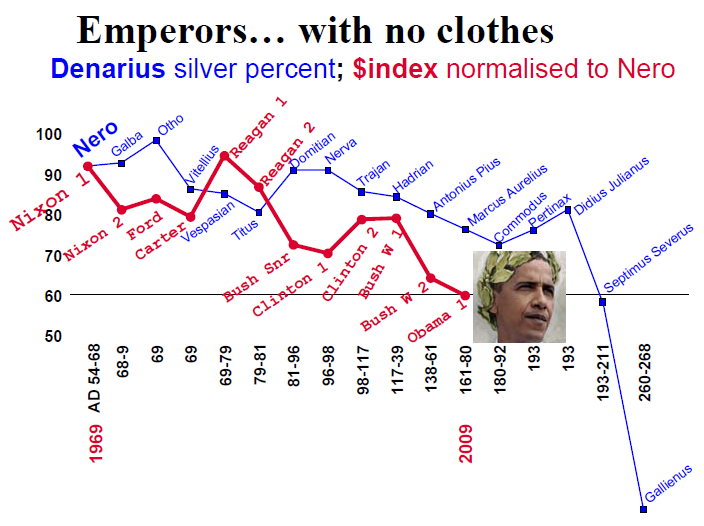 This slide certainly got the biggest laugh. But long-independent analyst
Andy Smith's view of the Dollar
– and the gold price as a result – was very serious.
"Inflation is neither sufficient nor necessary for gold prices to go higher," he explained in the closing day's panel debate.
"It's about psychology," Smith went on, saying that the current US outlook – of a shrinking tax base, but ever-more government dependents "who also vote" – will undermine confidence in the Dollar just as surely as Roman emperors cut the quantity of silver in the empire's Denarius coin. Faith is being debased just the same.
"Having failed to create inflation [to devalue US debts], asset theft will be next," he warned the conference (and again, to some but less laughter). And alongside inflation, savers will suddenly meet a heap of investment fears, over counter-party risk, higher taxation, and the return of capital, rather than the return on it.
Now, long-time gold investors and traders well know Mr.Smith's
bearish stance of a decade ago
(scroll near the end of that page). But it's worth noting, perhaps, that the pre-modernized, non-Western environments in which then he could only see gold appealing, now apply to his outlook for the rich West, most especially the States.
"Indians are eminently right to buy gold," he told the LBMA on Tuesday, "because they distrust government. We're moving to an India-type scenario in the West [and] we will learn very fast how sophisticated the Indians have been to
buy gold
."
Our own Miguel Perez-Santalla here at Bullionvault told a similar story last month about
the shock of Lehmans' collapse
. Because it showed how fragile and unsophisticated the modern US economy really is.
In sum? According to Andy Smith the empire cannot hold, not for savers and investors without gold. Because "more debtors than creditors vote." Just ask Emperor Obama.