Coronavirus: Keep the Beaches Open
Monday, 3/09/2020 23:06
It's all psychological. We've got a panic on our hands...
JUST who does UK Prime Minister Boris Johnson think he is? asks Adrian Ash at BullionVault.
Well, he models himself on Winston Churchill of course.
Some of his enemies
think so too
, because they keep stating the differences.
As for the arch-Brexiteer himself –
soon-to-be father
of n+1 – he of course wrote a book about Britain's great war-time leader...
But no, that's all wrong.
At least twice, the blond beast has said that he models himself on quite another character.
"My political hero is the Mayor from Jaws...
"...because he kept the beaches open!"
That 1975 blockbuster really is a great movie.
(I watched it again myself a couple of weeks ago, part of a 'These are proper films!' education for my teenage kids.)
One summer a giant shark starts eating people swimming at a popular holiday town.
The coroner and the police chief want to shut the beaches.
But the Mayor? He saw the damage to tourism, to businesses, to the big Fourth of July!
So to quote Boris Johnson:
"Yes, he REPUDIATED, he FORESWORE and he ABROGATED all these silly regulations on health and safety and declared that the people should SWIM! SWIM!"
Cue much laughter from Johnson's audience.
Johnson went on:
"Now, I accept that as a result, some small children were eaten by a shark.

"But how much more pleasure did the MAJORITY get from those beaches as a result of the boldness of the Mayor in Jaws?"
Such a utilitarian view of life has a noble history...
...even if such does cost a few people an arm or a leg.
But fast forward to March 2020, and the joke has come back to bite the former newspaper columnist (who was already a Mayor himself, twice).
Johnson now faces a very Jaws-like problem. So do politicians and officials the world over. So do we all.
See where the global stock market set a new and (so far) final record high? See how confirmed cases of novel coronavirus suddenly turned higher the very next day?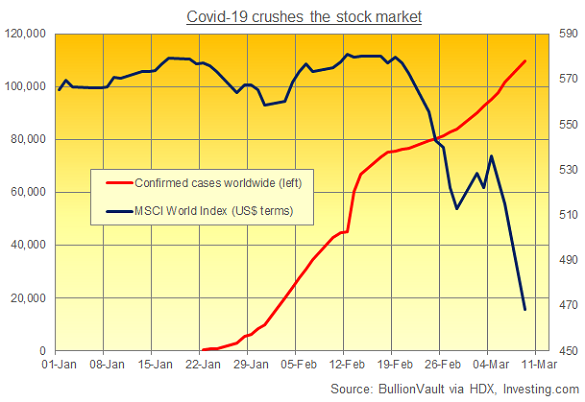 "One of the theories," the British Prime Minister told a morning TV chatshow here in the UK last week, "is that perhaps you could
just sort of take it on the chin
, take it all in one go and allow the disease to move through the population, without taking as many draconian measures.
"At the moment, what [the experts] are telling me is that actually...things like closing schools and stopping big gatherings don't work as well as perhaps people think at stopping the spread."
Maybe those experts should also tell France, Germany and
Israel
.
Maybe they should tell Italy's Prime Minister Giuseppe Conte...who just
imposed a shutdown of everything
, declaring the Eurozone's 3rd largest economy "a protected area" where only essential travel is permitted because "there is no more time" to waste in trying to stem the spread.
Maybe they could also tell China, source and ground zero for Covid-19.
Beijing shut the beaches, and pretty much everything else.
That spurred the steepest drop in activity recorded in what is now the world's second-largest economy.
20 years ago this might not matter. The 2003 outbreak of SARS didn't get too far, and the global markets barely blinked.
But now, even the US Federal Reserve's
sudden half-point cut
to Dollar interest rates last week failed to stem the panic in equities, commodities and bonds.
Because to quote the markets, and the police chief in Jaws:
"You're gonna need a bigger boat."
One boat for investors to climb aboard is clearly government debt. Those plunging bond yields...now sinking towards or further below zero everywhere...come thanks to the weight of money pouring in.
Another, much smaller boat is yellow and shiny. Its hull may prove stronger however. And there's little danger of it capsizing any time soon, shark or not.
Over the last 7 days, trading volumes on BullionVault have jumped 102% from the previous 52-week average, with more than £38.2m of gold, silver and platinum changing hands in total ($49.6m, €44.1, ¥5.2bn).
Net of client selling, gold demand has risen 545.3% from the prior 52-week average, totalling 6 large bars last week, each weighing 12.5 kilograms.
What's more, new interest has surged, enabled by BullionVault's 24/7 technology. Yesterday and the Sunday before have seen the two strongest number of new account openings on any Sunday since the shock result of the UK's Brexit referendum in June 2016.
Bottom line? If you think gold is a panic investment, then 2020 has already proved a good year to panic often and early.
But like the 2008 plunge in industrial commodities, today's collapse in crude oil prices shows how useful gold can become when economic growth collapses.
It's the only natural resource which investors flock to when its consumer demand looks set to drop. Used for little else besides storing value, gold has served that role in all cultures in all ages.
And using BullionVault of course, you don't even need to risk taking the bus into town to buy or sell, and you can talk to our staff without meeting face-to-face.
For your info, those staff may not be in the office if you do call or email. Like our I.T. team, they are now able to work from home...logging in through state-of-the-art security protocols.
Such preparation is only wise, and it's not a dramatic task for a tech-business like ours.
We hope the beaches can stay open. But even if the Mayor changes his mind, you can expect full service at
BullionVault
.