Chinese New Year Gold Demand: Bigger Than Guessed?
Saturday, 2/14/2015 12:24
China's gold demand for coin, bar & jewelry matched only 60% of 2014 supply...
The CHINESE New Year marks the peak period for Chinese households to buy gold, writes Adrian Ash at BullionVault.
Already ahead of the Lunar New Year on February 19, official 'Year of the Goat' gold coins issued by the People's Bank of China
are sold out, and reports are spreading
of gold-plated fakes being sold to unwary older-aged buyers.
Stereotyped for some Western observers by what they find
the comic figure of the 'dama' or 'middle-aged auntie'
, such consumers have also become a key figure for analysts trying to track gold demand in the world's second-largest economy. After all, demand from Chinese citizens for gold bars, coins and jewellery now accounts for one ounce in every five sold worldwide over the last half-decade, second only to India.
That's got to matter to gold prices, right?
There's debate about whether China's gold demand isn't in fact very much larger again. Because while bullion exports are effectively banned, China's gold-mining output has led the world since 2007, and it is one of the heaviest importer nations too. China's gold mine output hit new record highs in 2014, and imports last autumn began going directly into Shanghai as well as through the traditional entry-port of Hong Kong.
Added together, these mining and import supplies were two-thirds greater than reported retail demand last year. The gap might be explained by Chinese banks or investment funds buying and holding gold. Beijing's central bank hasn't updated the world on how much gold it's got since 2009, when it announced a 75% jump to rank No.6 amongst central-bank holders.
But this isn't the first time Western observers have seen
a big gap between China's visible gold supplies and reported demand
. And no matter the true data, and whatever accounts for reported household demand equaling only 60% of 2014 supply at best, the fact is that China's huge gold demand responds to moves in world prices. It doesn't set them.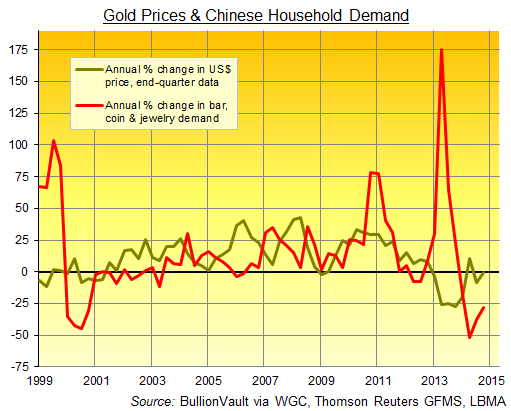 Over the last 15 years, China's household gold demand has shown zero connection with world prices on average. Or rather, the data show a slightly negative correlation on a rolling four-quarters basis between year-on-year changes in prices and the size of China's private demand for bar, coin and jewelry. The connection is negative more often than not, with demand moving inversely to prices.
In particular, look at the last two years. Because in 2013 as a whole, China's gold bar, coin and jewelry demand jumped more than 60% by weight to new all-time record highs. Yet prices fell 30% that year against the Yuan as well as against the Dollar, Euro and Pound. 2014 then saw China's household gold demand ease back dramatically, erasing almost all the previous year's gain on the best available data. Gold prices in contrast held steady in Dollar terms last year, and actually rose for Yuan and other non-US buyers.
So for all its size, China's bargain-hunting demand remains a price-taker in gold, not a price-setter. That fact will only be starker if China's "true" demand is greater still. Its households, investors and perhaps central bank are happy to buy gold at discount prices from Western money managers – whose decisions clearly set the price near-term – now selling since the financial crisis peaked in 2011-2012.
Should that crisis return, or when fresh trouble hits, the turnaround in Western sentiment will find Western stockpiles heavily depleted. Bullion-industry insiders first noted this happening
after gold's 2013 price crash
, and occasional 'tightness' in London – historic heart of the world's bullion trade – hit bankers
looking for bullion supplies
throughout 2014 too.
Beijing in contrast, currently maintains an export ban on gold bullion bars. Because it views gold as a politically and financial important metal, one to buy and hold for the long run.
So do Chinese households. Especially if they can buy gold at a lower price.