China: Gold Demand Jumps
Thursday, 5/19/2011 11:49
Mainland China's private demand to Buy Gold just keeps trending higher...


"IN THE competition for growing Chinese disposable incomes, gold is very quickly losing market share," said a London-based analyst in 2004.

Hardly has gold or China looked back since, says Adrian Ash at BullionVault...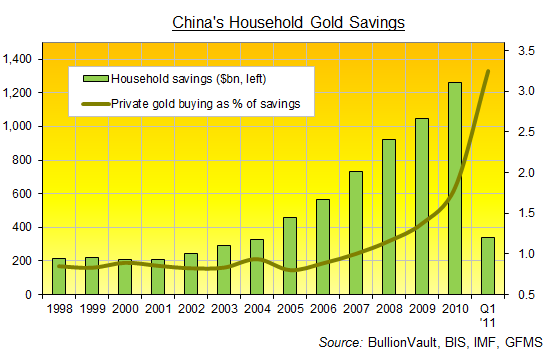 China is now 10 years into opening up its gold market – half as long as India. But since nabbing the No.2 spot in terms of private demand in 2005, it's only grown hungrier for gold bullion, despite becoming the world's No.1 mining-producer nation, too.

How much hungrier? Courtesy of the data-fest buried in today's new Gold Demand Trends from our friends at the World Gold Council...
Just like in 6 of the previous 7 years, Chinese New Year 2011 marked a new quarterly record for private gold demand in mainland China;
In each of the last 3 years, the third if not third-and-then-fourth quarters went onto set new all-time highs again;
On the new stats, the Chinese New Year saw private mainland demand to Buy Gold equal 0.71% of GDP in the first quarter. That still lags India's huge 2.65% allocation for 2010 as a whole, but compares with 0.47% in Q1 2010;
In grams per capita, both Indian and mainland Chinese Q1 demand were equal to fully one-half of 2009 demand;
As our chart shows, an increasing volume of China's increasing savings is being devoted to gold. Yes, the Q1 figure over-states it, because the Chinese New Year marks very heavy demand. But it's plain that substitution for other, more "sophisticated" savings mechanisms hasn't just failed to grow; it's gone into reverse.
That's the first rush from BullionVault's reading anyway. Whether you're long, short or indifferent, it's worth reading the WGC's new report for yourself. Because anyone looking to defend their purchasing power long-term cannot ignore the way emerging Asia is storing an ever bigger chunk of its fast-growing savings.

Buying Gold today for your long-term savings? Get the safest metal at the lowest prices using world No.1 online, BullionVault...