Buying China with Gold
Tuesday, 3/30/2010 11:54
Want to buy China's growth story? Cut to the chase by Buying Gold instead...

The WORLD GOLD COUNCIL'S excellent new 74-page report on Chinese gold demand – Gold in the Year of the Tiger – contains many graphics, tables and charts.
Time-pressed investors should focus on just two: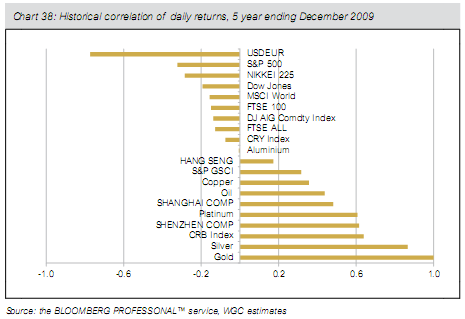 "Gold has a low-to-negative correlation with mainstream financial assets," reports Eily Ong, author of the WGC's report.
But note how the chart splits in two. And note where mainland China's domestic stock markets sit.
Over the last 5 years – and correlated against the Shenzhen and Shanghai stock markets – gold has in fact been more tightly linked with the "China story" than with either crude oil or the GSCI commodities index.
Put another way, if you've wanted to buy China, buying gold would have got you a good way there, and with lower volatility than other proxies such as Hong Kong's Hang Seng index, too.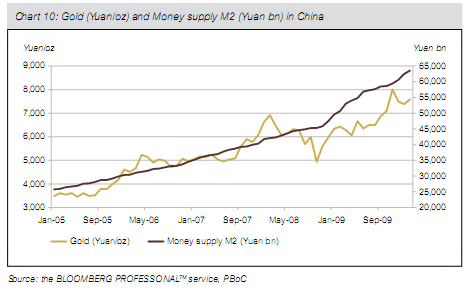 The second notable chart shows pretty much the only thing to have risen faster than the Gold Price in Yuan since the start of 2005 – the money supply.
Over the last year, China's GDP rose by perhaps 12%. Yuan Gold Prices have added 15%. Helping to fuel them, China's M2 money supply rose well excess of them both, swelling by 26%.
"Today, China's gold market is enjoying the benefits of liberalization and deregulation," writes Ong. But more than lower dealing costs and reduced import tariffs, gold is benefiting from rapid growth in the volume of cash and bank deposits.
Yes, the People's Bank of China has repeatedly warned that it will tighten monetary policy to curb inflation and stem banking lending. But the Yuan's Dollar peg effectively imports US monetary policy, imposing sub-zero real interest rates on Chinese as well as US households. Both are likely to seek inflation-beating returns outside "risk-free" cash now that "risk-free" means a guaranteed loss. Rare, tightly supplied gold is a clear beneficiary.

Looking to Buy Gold today? Make it simple, secure and cost-effective by using BullionVault...