China Gold Demand 'Not So Bleak', US Fed 'More Important'
Tuesday, 10/27/2015 11:49
Gold prices determined far more by US Fed policy, say China analysts...
CHINA's gold demand rebounded in the third quarter of 2015, according to new analysis published today, but it remained weak enough to be overtaken by former No.1 India as the world's heaviest consumer nation.
"Higher demand in India was offset by a slow recovery in Chinese offtake," reports the new Gold Survey: Q3 2015 Review and Outlook from specialist analysts Thomson Reuters GFMS, "although demand in the latter was not as bleak as in the first half."
Published since 1967, the latest Survey says physical gold demand worldwide rose 7% in the July-to-September quarter from the same period of last year, reaching the highest level since Q1 2014 thanks to an increase in central-bank buying and "a stellar level of retail" gold investment demand for small bars and coins.
Dollar gold prices, in contrast, were 12% lower on average in Q3 from a year earlier.
Putting China's total private gold demand at 196 tonnes – some 18% of visible Q3 demand worldwide, behind India's 23% – GFMS says that showed a 3% increase year-on-year, as investors "lost faith in the domestic equities market, making gold more attractive as an alternative investment."
In particular, the new Gold Survey Update goes on, Chinese demand "for both [gold] jewellery and investment bars picked up immediately after the gold price breached $1100 in mid-July," marking a new 5.5-year low. Alongside the People's Bank of China's own extended purchases, "another game changer" for private demand according to GFMS was "the official depreciation of the Yuan" announced in mid-August, which "raised fears of further depreciation in the future and helped to boost gold's safe-haven appeal."
Speaking to industry professionals at last week's London Bullion Market Association annual conference, held this year in Vienna, "Gold prices
showed a strong correlation
with Chinese demand in 2000 to 2011," said Shu Jiang, chief analyst at China's giant state-owned gold mining group Shandong.
"But if that was important, then you have to explain the weak correlation of 2012 to 2014."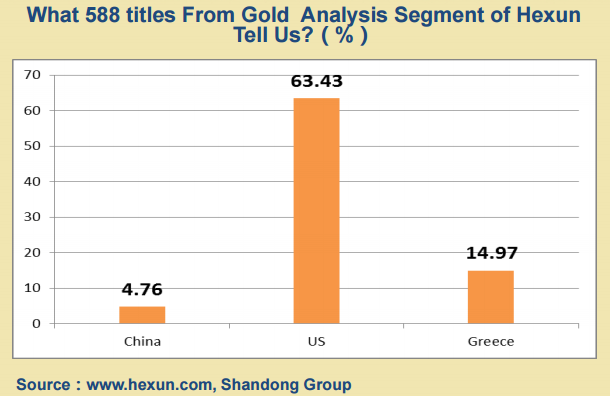 Looking further at the impact of China's strong demand for gold on domestic and global prices, Shu reviewed the main focus of 588 recent articles about gold on
Hexun.com
– the country's largest financial news site, launched in 1996.
Even within China itself, he concluded, professional analysts believe that other factors – most notably US Federal Reserve policy on QE and interest rates – are far more important to gold prices than the level of Chinese demand.
Imports of gold to mainland China through Hong Kong – previously the only recognized route, until Shanghai and Beijing
both began taking direct shipments
in 2014 – jumped to a 10-month high in September, official data meantime said Tuesday.
Net of exports, gold inflows through Hong Kong reached above 97 tonnes last month, over 4 times as large as July's 12-month low, and 42% ahead of September 2014.