Gold, China's GDP & the Decline of the West
Wednesday, 6/11/2014 18:43
Just how much power does China really hold over global economics and gold...?
BELIEVE
everything you read, and the rich Western world
started losing power to Asia
before the First World War began 100 years ago,
writes Adrian Ash at BullionVault.
Closest to home for us today, the shift of global gold holdings...from West to East...most clearly marks that same decline of the West in the 21st century so far. Or so lots of people have said. Including us.
There's a tide in all things however. And China's recent economic rise isn't quite the world-beater you may have been told. At least, that's what you'll be told if you scoot around the internet today.
"Although China is an increasingly large player on the global scene measured at market exchange rate," says a World Bank economist, "it's still much smaller than the US or the Euro area, and even more so with the two combined."
So the World Bank's new 2014 forecasts today say that growth in the rich West will, in short, outweigh the slowdown in China. (
See page 31 here
.)
Likewise in gold, "This
isn't a China story
," says metals economist Jeffrey Christian at the CPM Group consultancy in New York.
"More investors bought more gold stored in Switzerland over the past 6 years than they bought gold stored in China."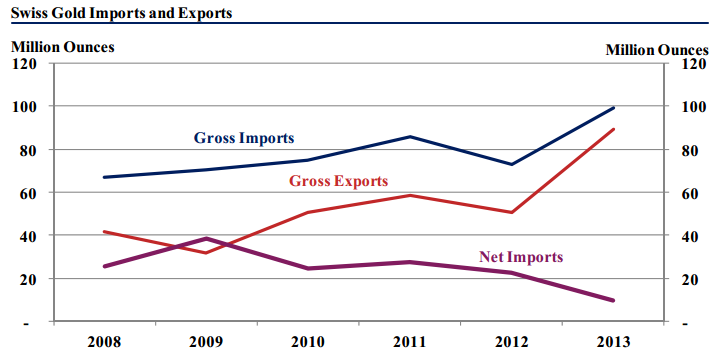 Gold, like the global economy, is about much more than China. So are world stock markets. Only today, and with MSCI's Asia-Pacific index hitting new 6-year high, that benchmarking group
rejected domestic Chinese shares
from its key indices, blaming Beijing's tight controls on how much stock foreign investors can own. Because that thwarts inflows of money from global money managers, who might need to buy an index's constituent parts to match their stated mandate.
Also note, however, that China's exchange controls are slowly being eased. Not least in gold, with two foreign banks winning import licenses, and the Shanghai Gold Exchange
actively planning an international bourse
for metal landed in the city's free trade zone.
What's more, the trend for net additions to Swiss gold investment holdings remains lower, as CPM's chart shows. On top of that, lots of Swiss gold imports are impure doré (aka "raw gold" or "formes brutes" to French speakers) while exports are primarily refined bullion bars. So 2013's true balance by fine weight was likely negative already, as
shown by the significantly greater value of Swiss gold exports
over and above imports last year, and at much higher prices per kilo.
No, massive Chinese gold demand didn't reverse 2013's sharp drop in prices. But over time, the biggest consumer and mining nation is likely to seize greater sway in how prices are set. Or merely pick it up as Western economies cast price-discovery aside for being
too grubby and somehow "not fair"
.
Western households fearing any loss of comparative spending power can't ignore the role in economics or gold which China is coming to play. The decline of the West has much further to run yet.