Central Bank Gold Agreement: Dead at 20
Friday, 9/27/2019 19:00
Capping leases drove gold bull more than sales cap...
THURSDAY this week marked the 20th birthday of the Central Bank Gold Agreement, writes Adrian Ash at BullionVault.
It also marked its sad demise.
Humming 'Eleanor Rigby' is apt, because indifference was all that kept the agreement alive for its last 10 years, when the signatories renewed it twice to no purpose.
Why bother? Central bankers hate making a choice or a headline if they can help it. But they hate even more selling gold when prices are high, and they'd rather chew glass than sell when their currencies and financial markets face chaos.
Quite the reverse in fact.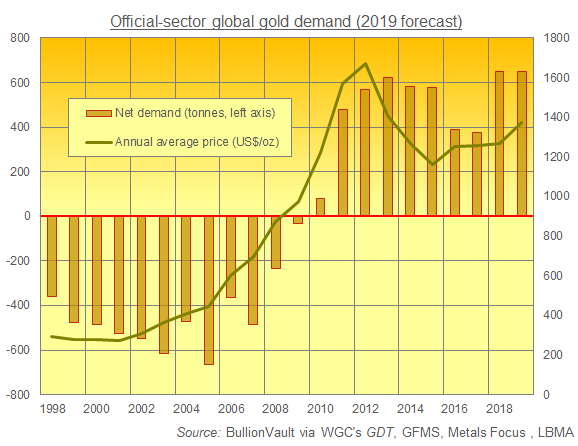 "Any sales cap [which was what the CBGA agreed] became redundant when Western selling ended amid the global financial crisis in 2009. So too did any pretence of wanting to defend Western currency values or needing reserve assets to do so, replaced by bail-outs, QE money creation and near-zero to negative interest rates.

"Together, this has revived a strongly symbolic role for gold among the public (shown by grass-roots campaigns to 'Bring home our gold!'). It has also seen a surge in emerging-market nations buying gold to hedge those Western reserve currencies under attack from their own issuers."
Here in September 2019, might the CBGA's parents mourn its passing?
That agreement, first signed on 26 September 1999 and renewed every 5 years since, was in fact the unwanted child of what was, frankly, a sympathy shag between two misfits in a dark, forgotten corner of the party to end all parties when the 20th Century ended.
European central banks were stuck with piles of unfashionable, unyielding bullion. They just wanted to make a little money from their gold. Gold mining bosses wanted to do the same from their underground stockpiles.
So with prices falling all through the 'long boom' of the 1980s and '90, how about paying the central banks a small rate of interest to borrow some gold...then sell it today before prices fell further...and return it from new production in future?
Us again:
"Hedged by borrowing and selling well over one year's full output, global mine production set a run of new records even as prices kept falling. But central banks as a group had lent out half as much again, giving speculators perhaps 1,500 tonnes to play with."
Indeed, when the UK Treasury finally joined the selling in May 1999 – announcing it would start auctioning off more than half the nation's reserves that July – more than a fifth of the UK Treasury's own gold was out on loan according to Bank of England, potentially helping short sellers front-run Gordon Brown's sales with gold from the very same pile!
Shocked by the UK's wilful if not vindictive announcement, the
gold market price
cratered that spring. It sank to set 18 fresh 20-year lows inside three months, losing 10% between the day of Brown's press release and the start of his sales. That cost the UK Treasury nearly $43 million on the first 50 tonnes sold compared to gold's average 1999 price before his announcement.
Central bankers across the Channel were aghast. What was London thinking?! And what could they do to support the gold price as they continued selling gold from their massive but now-devalued holdings?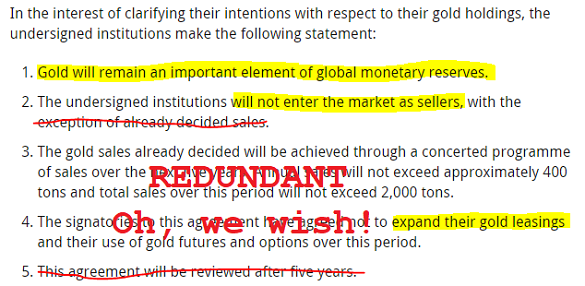 Signed as an aside at a long-scheduled meeting of the IMF in Washington, that first Central Bank Gold Agreement of 26 September 1999 shocked the market even harder than the UK's sales decision 4 months before.
The next morning gold made its sharpest one-day jump since 1982, starting a two-week gain of 25% that has yet to be beaten.
Glancing back, you might think that the sales cap put that floor under gold prices. Lots of people still do, because it cleared the uncertainty and squashed the rumors about how much extra gold central-bank selling would add to world mining supply.
First agreed among the 15 signatories at 400 tonnes per year, the sales cap was raised another 25% at the CBGA's 2004 renewal, but trimmed back to 400 tonnes in 2009. Meantime, gold prices enjoyed a relentless decade-long bull market.
But the sales cap was only one half of the Agreement. The central banks involved also promised not to lend out any more gold the market. And hindsight says that was what really changed the dynamics.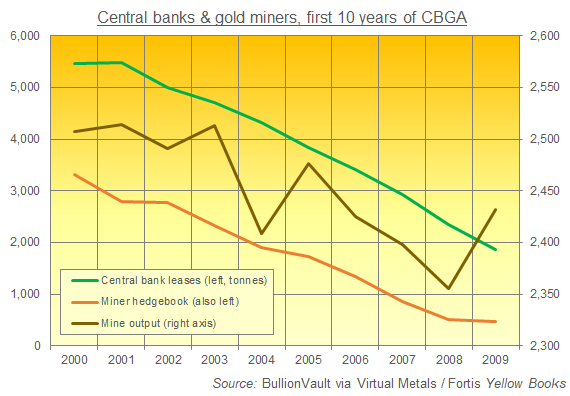 What cannot keep rising tends to fall back. So when central banks capped their gold lending at 1999's peak, the shock first took one of Africa's largest miners (and heaviest hedgers)
to the brink of collapse
. It then saw the world's gold-mining sector as a whole move and then scramble to close out their forward sales and other short positions by buying back the metal they had already sold.
Between 2000 and 2005, the industry nearly halved its outstanding hedgebook, effectively buying back over 1,500 tonnes of exposure. Gross mine output meantime totaled 12,400 – but the net effect of the dehedging was greater than simply negating 1 ounce in every 8 of new supply dug from the ground. It actually doubled that impact, because what was being dehedged was also not being added to the sector's total supply.
By the turn of this century, gold-miner hedging had added a total of around 3,500 tonnes to mining supply. That mountain of obligations and sales – equal to 16 months of global mine output – both helped to finance record-high output (2000's top wasn't beaten until 2010) and to add extra supply to the market on top of those records. So when hedging went into reverse, the net effect of dehedging 1 ounce of gold in fact knocked 2 ounces off annual mining-industry supply compared to the late 1990s, because it was both 1 ounce bought from the market and 1 ounce not sold.
Over the decade following the first CBGA, the world's gold miners as a group supplied 13% less gold to the market than they dug out of the ground. But the total effect was nearer a 26% turnaround versus the pre-CBGA flows, because what was removed by dehedging also wasn't supplied in new short sales.
Contrast that with the impact of the CBGA's much-applauded cap on official gold sales. The central banks' annual supply to the market actually rose after September 1999, growing 58% over the next 10 years from the 10 years prior to the Washington Agreement, because the agreed limits were greater than how much they'd been selling before.
Still, central banks as a group have now been net buyers of gold since 2010, thanks to European sales collapsing while China, Russia, India and other emerging-market nations have bought. Together with the rocket-fuel from dehedging, that's seen the metal trade today at 6 times the price of 20 years ago.
So what happens now?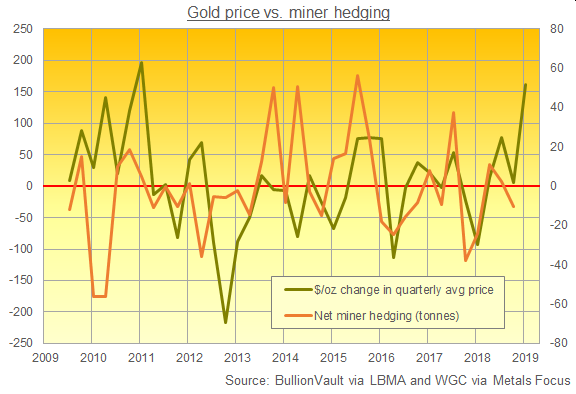 Gold-miner hedging has become a minority sport since dehedging emptied the global short position in 2010. But while it's been limited to small deals (mostly linked to specific projects), the total worldwide has started to move in line with prices, which is what you'd expect.
Price drops should dissuade miners from borrowing and selling gold, or shorting it via the derivatives market. Rising prices should invite it. And so far this decade, the outstanding total of gold-miner hedges has moved in the same direction as US Dollar gold prices in 24 of 38 calendar quarters based on data provided by specialist analysts Metals Focus to the World Gold Council – some 63% of the time.
So take note that, here at the end of September 2019, gold prices have risen $161 per ounce across Q3 2019 from Q2's daily average. That's the largest quarterly gain since the current US Dollar price-peak of Q3 2011, and the 8th largest quarterly rise in percentage terms so far this century at 12.3%.
All the gold still left in European central-bank vaults – and now free of any sales caps or leasing limits – continues to pay them no interest meantime. Nor does the gold now piled up in the FX reserves of No.1 gold-mining nation China or No.3 Russia.
Well, not unless they can find someone wanting to borrow it for a small rate of interest that is.