Buying Gold Deterred in Turkey, India as Price Hits Demand
Tuesday, 9/13/2016 11:00
Banking alternatives to buying gold widened after 'limited' success...
GOVERNMENTS in two of the gold market's top consumer nations are raising their efforts to deter savers from buying gold or holding it physically.
The schemes in India have met only "mixed success" so far according to analysts, with both India and Turkey – formerly world No.1 and No.4 for private gold buying respectively – instead seeing demand fall hard because gold prices have risen so sharply in 2016.
Both countries aim to 'mobilize' the monetary value of some private gold into the banking system, India to reduce future gold imports – cutting its large current account deficit – and Turkey to boost commercial bank lending as well as the central bank's own gold bullion reserves .
India's gold monetisation scheme was launched in late 2015 and invites owners to deposit gold into a bank for a low rate of interest. Although it has
"yet to take off"
, the scheme will form a key plank of the Indian government's "comprehensive gold policy" due in New Year 2017, reports the
Business Standard
– a change which may see gold bullion exports
allowed for the first time
.
The government of BJP leader Narendra Modi is now promoting GMS heavily ahead of end-October's Diwali festival – the Hindu calendar's peak season for buying gold.
The Central Bank of the Republic of Turkey is meantime increasing the quantity of gold which commercial banks can deposit with it, meeting a portion of their reserve liability requirements using metal deposited by customers in return for a rate of interest.
That gold is then held in the CBRT's own account at the Bank of England, reports specialist consultancy Metals Focus, boosting the country's reported gold reserves.
Launched in late 2011, Turkey's gold deposit policy helped push the central bank's own reported gold reserves 350% higher by their peak 3 years later.
But "up until now, the scheme has met with mixed success," says Metals Focus' latest Precious Metals Weekly.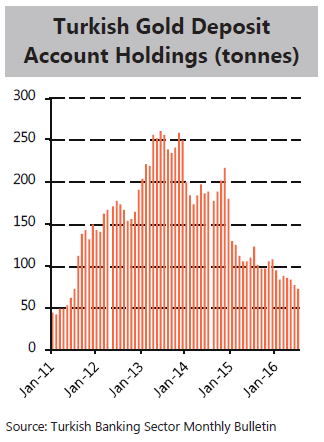 "Although at its peak in June 2013 some 260 tonnes was held in gold deposit accounts, the bulk of this was made through cash payments, rather than from gold collected from the public.
"Furthermore," says Metals Focus, "gold held in these deposits has since fallen sharply, to now stand at around 70 tonnes."
Existing household and temple stockpiles in India meantime total 20,000 tonnes on some estimates, around one ounce of gold in every nine ever mined in history.
That "should be put to productive use," said Modi when launching three initiatives to cut imports and deter savers from buying gold last November.
The gold monetisation scheme invites gold owners to put jewelry or bullion on deposit at a bank to earn 2.5% annual interest, making it available to meet new demand and so reduce imports.
By mid-July, the official GMS had collected only 3.1 tonnes of gold from the public and temple trustees. More popular are accumulation schemes offered by jewelers, but
this year's new Companies Act limits how much
any one business can take in deposits, and caps the interest rate they can pay at 12%, as well as imposing anti-money laundering rules and reports.
India imported well over 900 tonnes of gold in 2015, second only to China and matching 28% of new gold mining output worldwide.
Demand has fallen dramatically as prices have risen so far in 2016, with net imports sinking by 55% in the third quarter on specialist analysts Thomson Reuters GFMS's estimate. Blocked from re-exporting bullion, dealers have built a glut of metal, and are currently quoting prices $15-20 per ounce below global levels according to specialist news providers Fast Markets.
Domestically-minted coins were also launched last November, with the aim of using gold gathered through the gold monetisation scheme and produced by MMTC Pamp – a joint venture between the Indian government and Switzerland's largest refining group.
The latest offer of India's sovereign gold bonds meantime closed last Friday. The fifth tranche since launching alongside the monetisation scheme and bullion coins 10 months ago, it promises to track the Rupee gold price and pay an annual interest rate of 2.75% to savers choosing this product instead of buying gold.
The first two tranches currently
show a price rise of more than 20%
on top of their interest payment. The fourth tranche, issued in July and now showing a 1% gain, drew investment cash equivalent to almost 3 tonnes of gold.
Besides risking a high cost to the government when investors sell, sovereign gold bonds "are a very urban phenomenon," says mining-backed market development organization the World Gold Council's managing director for India, Somasundaram PR, contrasting with India's physical demand to buy gold, which is skewed to some 60% from rural states.
"[The SGB] is a stock market kind of an asset class, linked to gold...probably taking away market share of exchange traded funds rather than taking away physical gold."