Buying Silver Coins? Check the Exits Before You Go In
Tuesday, 11/10/2015 09:58
Crazier than a hedge fund, anyone buying silver coins just missed a 16% rally in 9 weeks...
The U.S. MINT
looks on track to break new all-time records for demand to buy its Silver Eagle coins in 2015,
writes Adrian Ash at BullionVault
, based on
latest sales data
.
Why anyone would want to pay such high costs remains beyond us. But it isn't just "retail" investors spending 30-40% more than they need who are
losing their minds over silver
.
Latest data show hedge-fund traders betting with borrowed money set new bullish records for silver at the end of October.
Again, quite why anyone would want to play
the devil's metal
with the added and unnecessary risk of leverage is something we just don't get.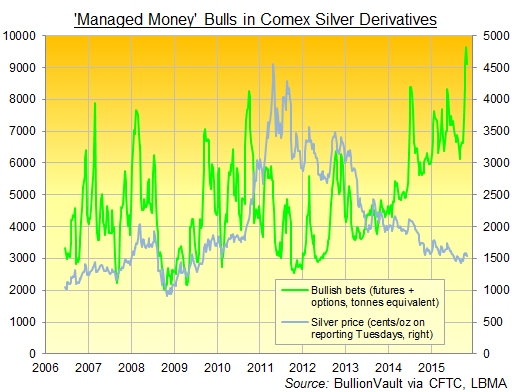 Even allowing for that group's bearish bets, the hedge funds' position on silver set new all-time highs as this chart shows too.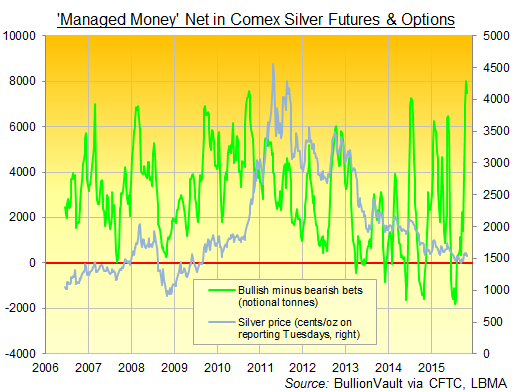 Will these people never learn? Hot-money hedge funds were net bearish at the summer's new 6-year lows in silver. Come late October, and with prices peaking 16% higher, they broke all-time records for bullish bets.
Frankly, these people display less understanding of risk-and-reward than a toddler. You have to wonder how they justify their fees, or sleep at night. Indeed, given their miserable performance for clients, "There are
too many hedge-fund billionaires
," writes one long-term client of the sector in the
Financial Times
.
More broadly, private investors making their own decisions
enjoy two clear advantages
over professional fund managers, notes a quick article at
The Daily Telegraph
.
First, it's hard for private investors to "sell short". So you're spared the risk of dashing to buy back a share (or derivatized metal) which you bet would go down when it shoots higher.
Second, notes The Telegraph, private investors lack the access to corporate executives which money managers get. So we are saved the slick sales-spiel of those "over-confident spin merchants" when we're looking at company shares.
Whether that's useful or not, we would add a third advantage – one which some hedge funds do share, but which the broader financial industry has long lost.
Because when you manage your own money, you are motivated like no-one else could ever be to cut costs and avoid unnecessary risks.
Too many professionals, in contrast, aren't running their own money into the ground. It's their clients who pay for poor decisions, such as greedy leverage.
Why pay so much more than you need to get a lump of bullion? Where might you then store your property securely? And how in the hell do you expect to get best price for it when you ever come to sell or take profit?
We know lots of BullionVault users who like to keep a little silver to hand, just in case. Many like to keep buying a little silver each month too, whatever the price. And we know lots also buy more when prices drop. Because who doesn't love a bargain when their long-term view sees value rising from here?
But it's no good seizing a price drop if you can't then take advantage of a rise...
...and silver's 16% surge from late August to late October left even the sharpest silver coin buyers out of pocket.
How come? In quiet times, silver coin prices start at 10% above wholesale 'spot' prices. European investors face 19% VAT sales tax on top, or more. And this summer, as prices hit new 6-year lows, major US coin shops quoted 30-40% above spot for silver Eagles and
even on "junk" silver bags
, as demand leapt in response to the news.
BullionVault saw a surge in silver over the summer demand too.
That was the highest reading since April 2013, when the nastiest price-crash in 30 years unleashed untold demand worldwide.
October 2015, in contrast, saw silver prices in the spot market peak at $16.36 per ounce – more than 16% above late-August's new 6-year lows. And because BullionVault users can sell just as easily as they buy, that enabled users to take profits – or cut losses – live in real-time, with instant settlement.
The upshot? BullionVault users were net buyers overall as a group yet again, adding more than 4 tonnes to hold a new record 535 tonnes – fully allocated and evidenced in public by
the Daily Audit of client gold, silver and cash
– in each client's choice of London, Singapore, Toronto and Zurich.
But our Silver Investor Index sank to a new series low – way down at 47.8 – as the number of people reducing their holdings across the month overtook the number of people choosing to begin or add to their silver investment.
You'll find
full details on GoldNews here
. You'll also see what gold's similar (but less marked) price rally in October did to overall investor sentiment for the heavier monetary metal, too.
Bottom line? Any investment worth the name has to be liquid when you sell...not just when you buy.
Gold and silver may have unique qualities as financial assets. But the same rule still applies...
Check the exits before you go in.
Yes, silver is a smaller market than gold...one-tenth the size by value. So it is prone to sharper price jumps and drops as money moves in and out. But the wholesale trade – which
you can access from 1 gram at a time
for just 0.5% fees – offers deep liquidity and tight spreads. Retail coins and small bars do not.