2020 Physical Gold Buying Sinks 25% to 11-Year Low
Tuesday, 10/20/2020 23:03
Gold ETF investing jumps, Asian jewelry sinks on Covid recession, record prices...
DIWALI 2020 will find global demand to buy gold 25% lower from 2019 according to an expert estimate, with this year's total end-user purchases shrinking to the smallest since 2009 as the Covid pandemic and social restrictions hit consumer incomes and spending, but precious metals investment soars.
The global collapse in consumer gold demand was worsened by this year's surge in bullion prices to fresh all-time highs says specialist consultancy
Metals Focus
, now projecting physical purchases of barely 3,000 tonnes across jewelry, coins and small bars, industrial use and central banks in 2020 – some 30% below the last decade's average.
This year's 20% surge in bullion prices has come as gold-backed ETFs have seen record inflows, with these exchange-traded trust funds needing an extra 1,000 tonnes so far this year to meet investor demand for their shares.
That beats the
gold ETFs
' previous net record of nearly 650 tonnes, also set in 2009, when the financial crisis spurred the first worldwide recession since the end of World War 2.
Global GDP fell that year by 1.8%. Latest estimates say it will drop this year between 4.5% (
OECD
, September) and 5.2% (
World Bank
, June) with next year's rebound forecast between 4.2% and 5.7%.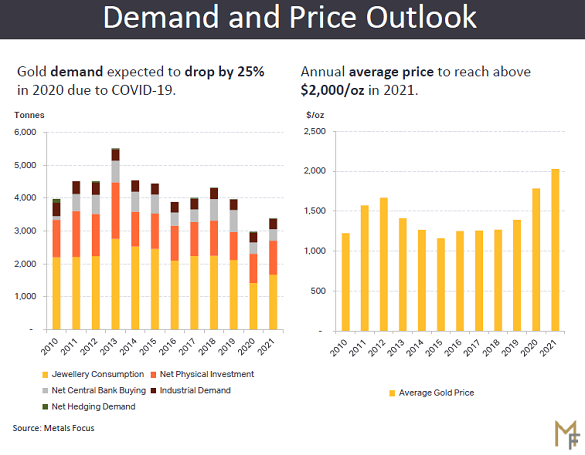 Demand among India's bullion dealers has begun "improving slowly" ahead of next month's key Hindu festive season culminating with Diwali – formerly the world's single largest gold-buying event, but now overtaken by Chinese New Year – because "they expect a revival in retail purchases during the festival season," says Mukesh Kothari at RiddiSiddhi Bullions in Mumbai.
But despite a steep rise in August's gold imports, total inflows to India – pushed into 2nd place among gold consumer nations since 2013 by China – have now sunk 57% over the past 6 months of Covid Crisis compared with April-September last year, with record-high prices denting demand alongside job losses, lower incomes and economic uncertainty.
Wholesale gold demand in China meantime "
continued to improve
in September" says Ray Jia, research manager for China at the mining industry's World Gold Council, and consumer jewelry buying may then have proved less muted during the National Day holidays than early reports suggest, with official data saying that Covid restrictions on foreign travel caused a boom in domestic tourism which meant
total retail spending rose 4.9%
on last October's Golden Week.
Giant jewelry manufacturer and retailer Chow Tai Fook (HKG: 1929) says July-September saw
annual sales growth of 21.1% in mainland China
while Hong Kong and Macau saw a 51.6% drop – a pattern for Q3 echoed by beauty and cosmetics group Sa Sa (HKG: 0178), which now says Golden Week sales rose 38.7% in the mainland compared to last year's holidays.
With China's household gold demand down 48% however in January-June on Metals Focus' data compared to the first-half of 2019 – itself the lowest total since 2011 – wholesale bullion on the Shanghai Gold Exchange has
now traded at a discount to London
prices non-stop since March, highlighting a surplus of supply over demand inside the metal's No.1 mining, importing and consuming nation.
Setting new records at $20 per ounce in April – and worsening as
China's ban on exporting gold bullion
blocked traders from selling it onto the world market – the Shanghai discount ran as deep as $90 as global gold prices peaked above $2000 in August.
Prior to New Year 2020, China's benchmark gold price averaged a premium of $9 per ounce over London, offering an incentive to new imports. On a weekly average basis, this year's historic discount has now halved as global prices have retreated 6% from start-August's peak, aided by the Yuan strengthening from this spring's 12-year lows
to reach 19-month highs
against the US Dollar.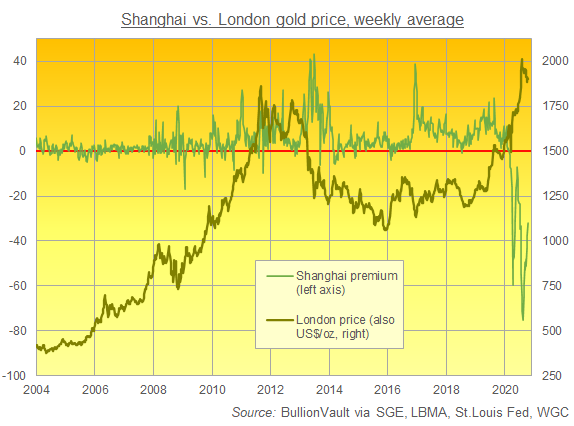 Wholesale gold bullion bar prices in India, before accounting for the country's 12.5% import duty and 3% sales tax on bullion, have meantime rallied in October to show a $1-2 premium per ounce over global quotes. That snaps what has been
a discount in all but 4 of the last 60 months
according to data compiled and published by the World Gold Council.
"These are heated times," says brand-strategy consultant Harish Bijoor of the
#BoycottTanishq campaign
. "Consumers are very active in their search for causes to stand by, defend and attack."
India's plunging gold and silver demand "has helped in
narrowing the country's trade deficit
" by squashing bullion imports, says the
Deccan Herald
, with the gap between the nation's imports and exports shrinking below at $23.5 billion in April-September against $88.9bn in the same period last year.
"The dominant flow of gold in September was from east to west," adds Reuters,
reviewing Swiss trade data
and reporting that the refining hub last month imported "record volumes of bullion from Hong Kong" – where police have begun seeing increased
bullion smuggling out of mainland China
– while sending metal to Britain, where London remains the global bullion market's central storage and trading point.
Metals Focus expects the global economy rebound widely projected for 2021 to see jewelry demand recover some of this year's plunge even as prices continue to set new all-time records, averaging more than $2000 per ounce across next year as a whole.