Brexit's Abyss of Chaos? No One Buys Gold
Tuesday, 12/11/2018 13:44
Well, very nearly no one...
PEOPLE tend to buy gold when they fear trouble ahead, writes Adrian Ash at BullionVault.
Gold prices are also seen as a barometer of fear, rising when trouble looms or strikes.
But gold being a rare kind of financial asset, demand and price are not the same thing.
And right now price and demand are saying very different things about how the gold market sees the UK's Brexit mess playing out in 2019.
Whether political, economic or financial, that's because there's no human problem (and few physical processes) that a lump of unchanging gold cannot ignore without even a shrug.
The stuff is born, after all, when collapsed giant stars collide into each other, creating
a "kilonova" explosion
so powerful that it distorts spacetime – true chaos compared to a mere stock market crash.
Here on earth gold often rises in price when other things fall apart. In part that's because it carries no credit or counterparty risk. Wanted by billions of buyers from central banks to young couples, micro-chip factories to Hindu temple-goers, gold is also instantly priced anywhere in the world – sometimes higher, sometimes lower, but always tradable.
...jumping 2.0% for the day to reach the mid-point of its post-2016 referendum range as Theresa May cancelled Parliament's "meaningful vote" on her withdrawal agreement with the EU...
...the meaning of course clearly being that MPs like the country are split almost exactly 3 ways.
Here, as a reminder, is the "will of the people".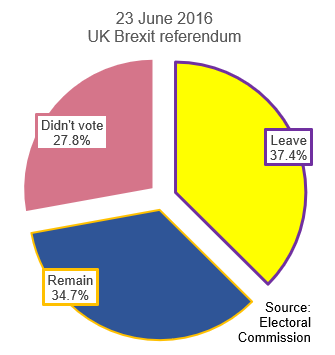 Ex-Remainer politicians fearing some kind of English
«gilets jaunes»
protests have now joined pro-Brexit cheerleaders in never tiring of reminding us that 17.4 million people voted to leave the EU.
More than 33.5 million didn't, but so what? "Many Remainers in the political and intellectual classes [show] a deep, visceral contempt for the people," claims
rent-a-rant Melanie Phillips
in
The Times
. But no one imagines that visceral hatred could actually drive the chattering Chianti classes of anti-Remoaner cliché to set fire to anything apart from a scented candle.
In contrast to the yellow/purple strip of
UKIP rosettes
in fact, the Remoaners' version of a "yellow vest" protest would no doubt involve some nice, inoffensive, middle-class colours – something from
Farrow & Ball
for instance.
Matchstick, Radicchio or Mouse's Back perhaps. Or how about London Clay in a finish of Modern Eggshell...or Stony Ground in a finish of Soft Distemper...?
Either way, it's hard to argue with
Paul Fisher's assessment
, given last week in the gold market's biennial LBMA seminar in London.
The direction of travel for Europe is towards a single, unified state;
(...and there needs to be; just look at the Euro mess or France's inability to make supply-side reforms;)
Britain has spent 3 centuries and more trying to stop that happening;
There will never be appetite for ceding more sovereignty to Brussels;
If we don't address this now, we'll have to do it someday in the next 20-30 years;
But only half-in the UK now wants half-out of the European Union, hence the mess.
Back on the barricades of the gold market, summer 2018 said
Brexit would be a breeze
. The British Pound attempted a rally against other currencies, squashing the UK gold price down to a new post-referendum low in early October as May prepared to bring home her deal.
Since then however gold has jumped liked a scalded cat, surging more than 10% for UK investors to hit 14-month highs just shy of £1,000.
Over the same 9 weeks, the UK-focused FTSE250 share index has lost 9.1% and the more global FTSE100 has lost 6.0%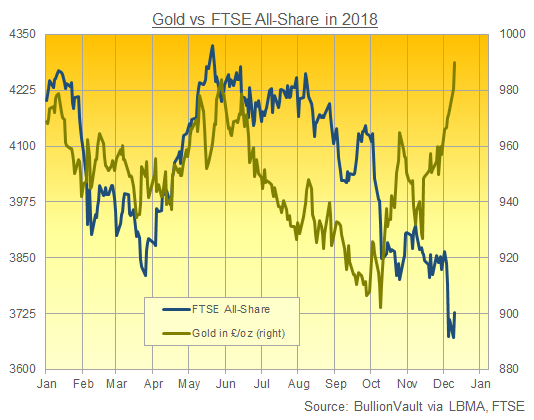 Yet despite all the wailing and gnashing of teeth in Westminster and across the media both legacy and social, private investors look awfully sanguine about the Brexit mess.
Monday saw BullionVault users as a whole turn net buyers of gold for the first time in 9 days, and even then of just under 1 kilogram between them.
That gold buying contrasts with net selling of 120 kilograms on the metal's multi-month highs in December so far.
Volume also leapt on May's U-turn on holding her "meaningful" vote this week, with £1.5 million of gold changing hands on Monday versus a recent average nearer £1m per day. But while inflows of cash to clients' BullionVault accounts have risen, Sterling deposits are running at only the strongest since New Year. More telling still, the number of new first-time UK users also defies any expectations or claims that there's a rush into gold.
Yes, this December's count of new first-time UK gold buyers is running 61.8% ahead of last month. But that only puts it back in line with the 2017-2018 average and so really doesn't say anything much either.
Long and short of it? Beware any UK gold dealer claiming there's a queue out the door to buy. Up here near £1,000 per ounce the temptation to sell is strong. It's also – so far – proving as big a disincentive for new gold buying as warnings of a Brexit abyss of chaos might seem to offer a spur.
That's not to say gold won't extend its surge versus Sterling in 2019. It simply says that, for now, gold's barometer of fear is rising only for price. Private investors look very relaxed. Maybe too relaxed. But relaxed all the same as seen through their current gold buying behaviour.